WASHINGTON — The House select committee investigating the Jan. 6, 2021, attack on the United States Capitol has referred Ohio U.S. Rep. Jim Jordan to the House Committee on Ethics for failing to comply with a subpoena.
In the Jan. 6 panel's summary of its final report, Jordan is listed as one of four GOP congressmen listed for potential further investigation after not responding to orders to testify on the events of that day. The others are House Minority Leader Kevin McCarthy, Arizona Rep. Andy Biggs, and Texas Rep. Scott Perry.
"The Rules of the House of Representatives make clear that their willful noncompliance violates multiple standards of conduct and subjects them to discipline," the summary read. "If left unpunished, such behavior undermines Congress's longstanding power to investigate in support of its lawmaking authority and suggests that Members of Congress may disregard legal obligations that apply to ordinary citizens."
The committee wrapped up its duties on Monday by notably recommending four criminal charges against former President Donald Trump, whom they claim engaged in a "multi-part conspiracy" to overturn his 2020 election loss. The report found Trump and others spread false allegations to convince his supporters the presidency had been "stolen" from him, when it fact he legitimately lost to now President Joe Biden.
Jordan, a founding member of the conservative House Freedom Caucus, has been one of Trump's strongest allies on Capitol Hill and even received the Presidential Medal of Freedom less than a week after the Jan. 6 insurrection. While the panel did not formally recommend Jordan be charged with a crime, it did accuse him of being "a significant player in President Trump's efforts" to overturn the election.
According to the summary, Jordan was involved in multiple meetings and calls with both Trump and others where they discussed how they could delay the Jan. 6 joint Congressional session that would formalize Biden's victory. The day before the attack, he also texted White House Chief of Staff Mark Meadows that then Vice President Mike Pence should "call out all the electoral votes that he believes are unconstitutional as no electoral votes at all," something Pence ultimately refused to do as he led the final electoral count.
The committee further claims Jordan spoke with Trump over the phone "at least twice" on Jan. 6, something Jordan has not confirmed publicly either way. He also talked to Trump lawyer and former New York Mayor Rudy Giuliani as law enforcement were working to get the situation at the Capitol under control, and even allegedly asked the White House about possible pardons for members of Congress connected to Trump and his post-election activities.
"Mr. Jordan talked about Congressional pardons, but he never asked me for one," Meadows' former Chief of Staff Cassidy Hutchinson testified. "It was more for an update on whether the White House was going to pardon members of Congress."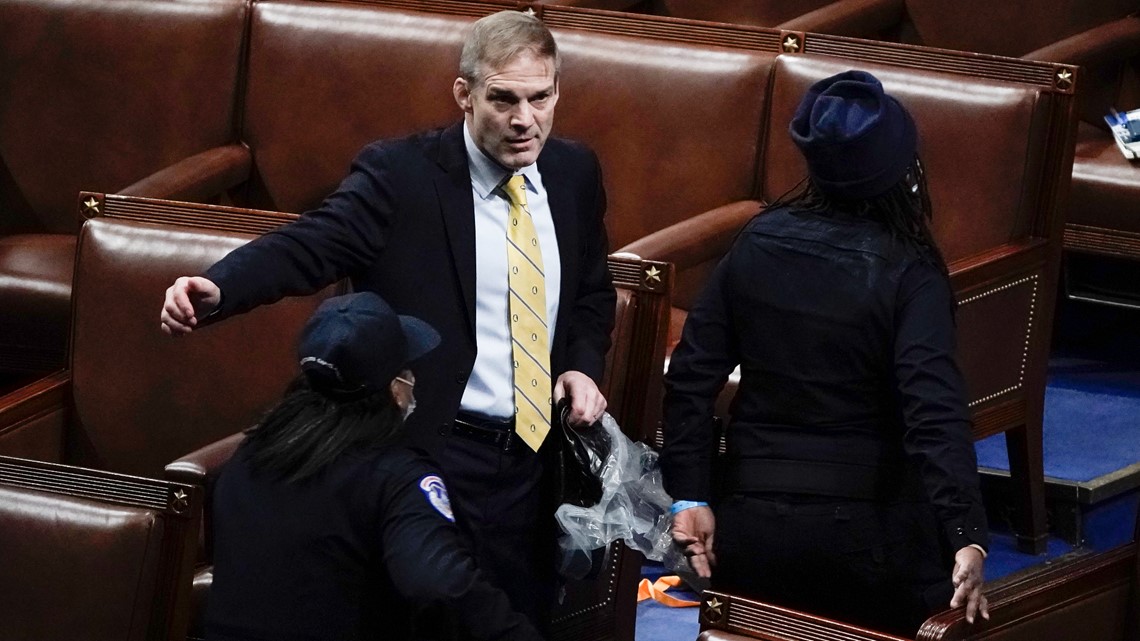 Considering Jordan to "have had materially relevant communications with Donald Trump or others in the White House" both before, during, and after the attack, the committee subpoenaed Jordan this past May, but he ultimately did not appear. In a letter sent to the panel, the congressman stated "a variety of objections" and "also requested material from the Select Committee, including all materials referencing him in the Select Committee's possession and all internal legal analysis related to the constitutionality of Member subpoenas."
When reached by 3News for comment on today's referral, Jordan spokesperson Russell Dye issued the following statement:
"This is just another partisan and political stunt made by a Select Committee that knowingly altered evidence, blocked minority representation on a Committee for the first time in the history of the U.S. House of Representatives, and failed to respond to Mr. Jordan's numerous letters and concerns surrounding the politicization and legitimacy of the Committee's work."
Dye did not specify how the committee may have "knowingly altered evidence" in its investigation. In addition, while seven of the panel's nine members were Democrats, two were Republicans, including Vice Chair Liz Cheney.
After Republicans in Congress blocked what would have been a broad bipartisan probe of Jan. 6, the Democratic-led House decided to press ahead with its own select committee, giving the GOP the option of appointing up to five of their own members. Jordan was originally on McCarthy's list to participate in June of 2021, but Speaker Nancy Pelosi blocked his selection since he "would be one of the targets of the investigation. With both Jordan and Indiana Rep. Jim Banks barred, McCarthy pulled his remaining three nominees and refused further cooperation, leaving staunch Trump opponents Cheney and Kinzinger as the only Republicans taking part.
With Republicans recently gaining control of the House of Representatives and McCarthy in line to potentially become speaker, it seems unlikely the ethics panel will take up the referrals once new members are sworn in on Jan. 3. At that time, the 58-year-old Jordan is also set to become chair of the powerful House Judiciary Committee.
Unlike Jordan, multiple Trump allies who declined to testify had their cases referred to the Department of Justice for potential criminal violations. So far, only former strategists Steve Bannon and Peter Navarro have been indicted for contempt of Congress.
The DOJ will ultimately make the final decision as to whether Trump or any others are charged.