PIKE COUNTY, Ohio — Ohio Attorney General Mike DeWine said Monday that investigators are putting together leads "once piece at a time," but declined to discuss a possible motive for a "pre-planned execution" of eight members of a Piketon family.
The suspect or suspects remain at large.
DeWine told The Cincinnati Enquirer Monday in an interview that investigators are not approaching the case "with a grand theory" about what might have happened. Instead, he said, "we are looking at each piece of information and see where it takes us, without any preconceived notions."
"That's the way you end up solving these crimes," he said.
It's still not clear, DeWine said, whether three marijuana growing operations found at the crime scenes are connected to the killings.
He also expanded on comments made in a radio interview Monday about possible evidence of cockfighting on one of the properties. He said the single roosters kept in individual cages "is consistent with" cockfighting.
"The one thing I saw were chickens out there. These would be cockfighting chickens," he said explaining his wife, Fran DeWine, could identify the types of coops used for fighting chickens from the aerial views of the scene shown on television.
When asked earlier Monday about the marijuana operations on the Rhoden properties, DeWine told 700WLW radio personality Bill Cunningham: "Three of the four houses had, what I would call, a commercial marijuana operation. In other words, this isn't a plant in the window or six or seven plants out in the backyard in a garden or something. They were doing this to sell. We don't know whether this is relevant or not, but at this point, everything is relevant."
Cunningham also pressed DeWine on the timeline of the incident, asking if a time of death had been determined. DeWine declined to confirm anything specific.
Victims of Pike County Mass Shooting
With most of the victims being found in bed, most of the victims being killed in their own beds without really getting up and moving, it tells you this was a surprise," he said. "The one thing I can't get out of my mind is that one very young mother who had given birth four days before was shot and killed in her own bed with her baby right beside her."
Killed were Hannah Gilley, 20, Christopher Rhoden Sr., 40, Christopher Rhoden Jr., 16, Clarence "Frankie" Rhoden, 20, Dana Rhoden, 37, Gary Rhoden, 38, Hanna Rhoden, 19, and Kenneth Rhoden, 44.
The Attorney General's office released a family tree, identifying the Rhoden connections: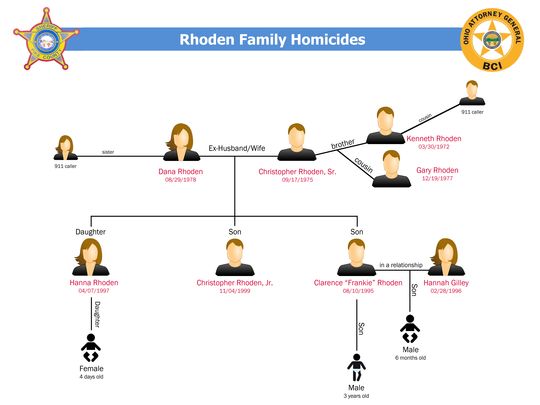 The only survivors of the vicious attack were three young children, a 3-year-old, a 6-month-old, and a 4-day-old, which brought more speculation to why they were allowed to live.
"I thank God that they spared the children," Pike County Sheriff Charles Reader Reader said Monday morning on NBC's TODAY show. "My only guess, and I'm completely speculating, is that they're not witnesses."
The Attorney General's Office also reported:
• All eight autopsies have been completed.
• Search warrants have not yet been filed with the court.
• Roadblocks leading to the crime scenes will remain in place until the scenes are released by law enforcement.
DeWine made a pledge to the residents of Pike County: "This is a major commitment from our office. We're in this for the duration. We're not going to leave Pike County until this case is over with."