Ohio Rep. Nino Vitale criticized the actions of Governor Mike DeWine and Ohio Department of Health Director Dr. Amy Acton on Friday morning in a Facebook post that included the hashtag #MasksDoNotWork.
Despite DeWine previously stating that the stay-at-home order would be extended, Vitale, who represents the 85th district in the Ohio House, took issue with it officially being done so in the early hours of Friday morning and referred to Acton as a "Globalist Health Director."
"Your basic human rights of life, liberty and the pursuit of happiness do not come from an unelected Globalist Health Director, who signed the order in the dark of night. Your basic human rights are inalienable and cannot be bought, sold, traded or taken from you," he wrote. "The Ohio legislature is scheduled to be in session May 4th. It's time for every member of the Ohio House and Senate to go DO THEIR JOBS, get to the state house and vote on all these unconstitutional orders that defy your liberties and freedoms!"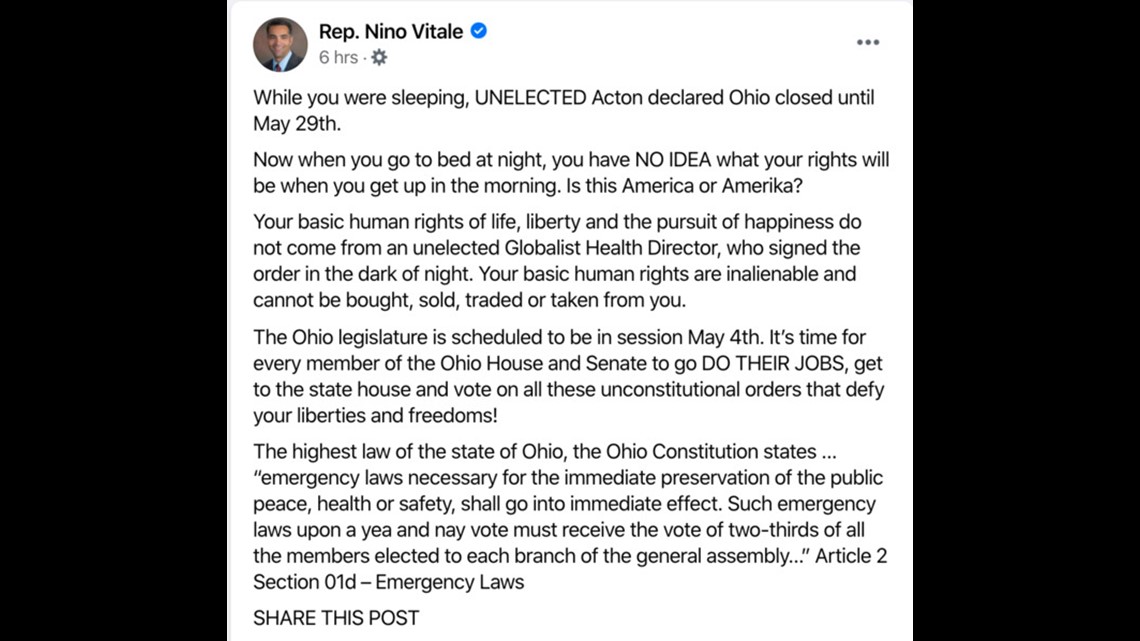 Vitale's post included a series of hashtags including #OpenOhioNow, #KillYourTV and #MasksDoNotWork.
"To throw the doors open on May 1 and say, 'Get rid of the stay at home order. Get rid of the distancing. Get rid of everything' would be totally irresponsible," DeWine said. "I have an obligation as the governor of this state to do two things right now at work every day: get people back to work and keep them safe. That would not be consistent with keeping people safe."