The sign on Home Road in Mansfield that reads "Road Subject To Flooding" was spot on.
21-year-old Nate Lawrence realized it when he sped out of control in relentless rain and flooding on Tuesday evening.
"Once I got into the ditch my car started to sink," Lawrence says, a day later, happy to be alive.
He's looking at his car in the creek more than 24 hours later, still sunk and totaled.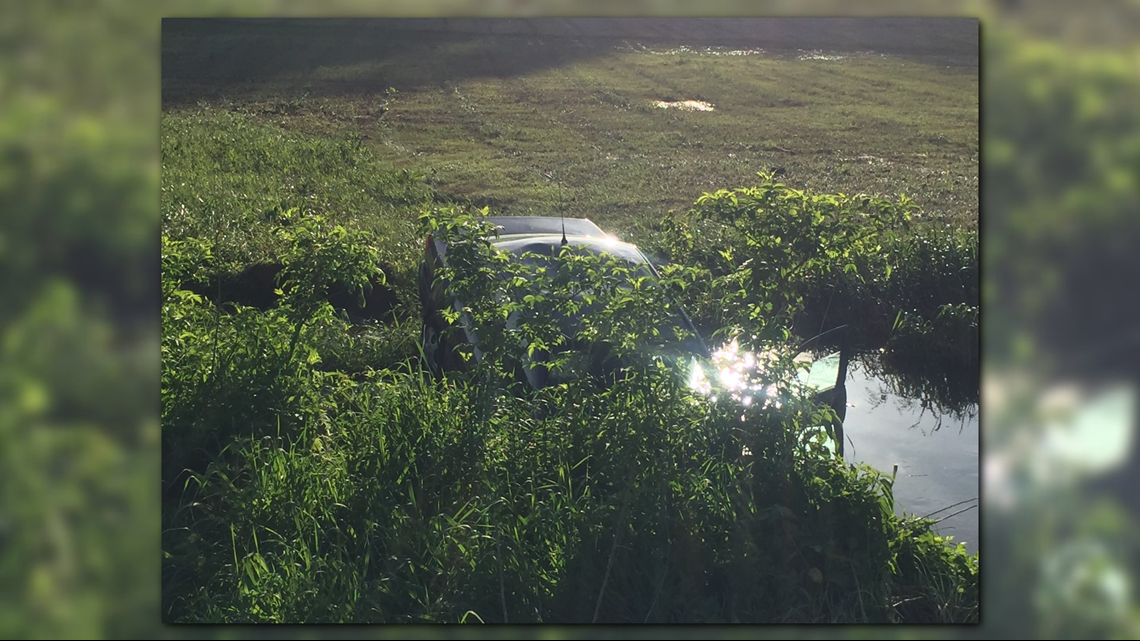 25-year-old Hunter Woodruff is standing there as well when he recounts what unfolded the day before.
"I saw the car over there," he motions to Lawrence's Toyota Corolla with water still flowing through it.
Woodruff was on his way home from work when he made sure Nate wasn't a casualty as well.
"I could see him in his car going back-and-forth trying to get out," Woodruff says.
Lawrence remembers, "When I realized I couldn't open the door I kind of froze and I kind of panicked".
That's when Woodruff says, "I started walking out and when I got to the edge it sunk me and the water was straight up to my neck".
Lawrence remembers it well when he says, "just to see him wading thru that water, was a relief. It was coming pretty fast".
Woodruff had a friend run to get a hammer out of his car to smash in a window while he himself rushed in.
In the meantime,Woodruff noticed that the door was partially opened, "I got the car door, ripped it open and pulled him out."
In Lawrence's words, "Thankfully he did it in time because the water was over the top of my driver seat in about five minutes," he said.
" It really didn't strike me until I was on top of the bridge looking at my car watching the water rise to where I would have been stuck in the car. I owe him my life."
Woodruff doesn't see it that way.
"I didn't really think it was a huge deal. I just figured I was lending a helping hand where I can. I didn't think it was a super super big deal," said Woodruff.
Woodruff barely finishes the sentence when Lawrence jumps in, laughs and says, "I DID!"
Lawrence adds, "He was simply doing the right thing. Just a regular guy helping a regular guy and I'm sure from here on out we're going to be really good pals".
Sure seems like Lawrence is a good stuff guy himself.
We noticed he wore an "Autism Awareness" wrist band during this interview.
He says it's because he helps out with Autistic kids at his mom's school.
When asked if maybe it's clear now his work wasn't done, he smiles and says, "No ma'am, it never is."
One thing is for sure. Nate Lawrence won't be taking any days for granted when he remembers the rising water on May 22, 2018.
"It got up to eight feet by the time the state trooper arrived and I was already out," Lawrence says.
What also rose up out of that ditch is renewed gratitude for what's really important.
Take it from Nate Lawrence when he says, "Just cherish every moment. Don't go to bed angry. Always tell your loved ones you love them. You never know, it could be the last time."