Every year at this time, teachers across northeast Ohio take students on field trips, and WKYC was proud to host one today.
Some 200 sixth graders from the LeBron James Family Foundation in Akron got to see what putting a newscast together is all about during their "Anchor for a Day" field trip. These are sixth grade I PROMISE students who live by the educational promises they make to LeBron, their families, and themselves. Students in this program now range from third through 10th grade.
PHOTOS | LeBron James Family Foundation students visited WKYC Studios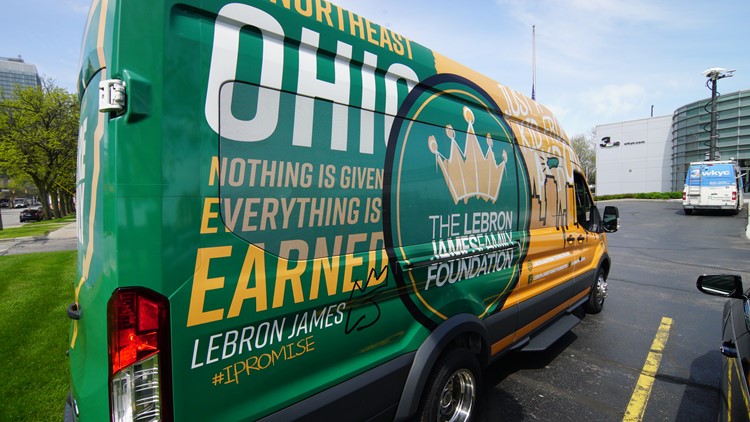 During their tour, the kids sat in on our Live on Lakeside broadcast, toured our Akron-Canton mobile newsroom, and tried their hand at weather reporting. Keiara Dinkins really enjoyed seeing how a green screen is used when our meteorologists give their weather forecasts. But, don't wear the color green or you'll disappear!
"I think my favorite thing was being in front of the green screen and seeing how you can be invisible in front of it," Keiara said.
Julius Simon liked the green screen, too, but watching the live portions of Live on Lakeside was also cool.
"It was exciting and to see all these cameras and see how everybody does their job," Julius said. "It was a fun experience."
For Robert Greene, seeing the Akron-Canton mobile newsroom and learning how a reporter and videographer work together on news stories peaked his interest.
"I really enjoyed that because I like going on the road. I like traveling and I like seeing things in person," Robert, who is interesting in acting, said. "I think this is a real game changer for me and I think this will open a whole new world for me."
The students also visited our newsroom to see how stories are assigned and even had a chance to sit in anchor chairs and practice their news delivery by reading from a teleprompter.
Panel discussions were also held: The kids had a chance to ask questions to reporters Jasmine Monroe and Will Ujek, along with Adam Miller, WKYC's Director of Content. WKYC President and General Manager Micki Byrnes also talked with students.
Of course, no visit would be complete without lunch. Akron-based Swenson's sent their food truck to provide burgers, chicken nuggets, and fries to the students.
That menu was just fine with Julius.