Summer reading – kids may howl about it, but studies prove that reading during summer break keeps children's grades from slumping when they return in the fall.
And that's why WKYC reporter Brandon Simmons recently returned to his old stomping grounds, the Maple Heights city schools, to help kick off a summer slide prevention program called "Kids Read Now."
Simmons, who attended Maple Heights schools and graduated in 2007 from Maple Heights High School, was a featured speaker at two high-energy reading rallies designed to inspire the city's elementary-aged students to read all summer long.
Accompanied by high school cheerleaders, band musicians, dancers and even varsity football players, Simmons talked to students at John F. Kennedy School about the importance of reading over the summer.
From there, the group marched across the parking lot and right into another reading rally at nearby Abraham Lincoln School.
"Don't take the summer off from reading. That was my biggest message to them," said Simmons, who now is a regular reader of bedtime stories to his two little ones.
WKYC's Brandon Simmons kicks off summer reading rally with Maple Heights students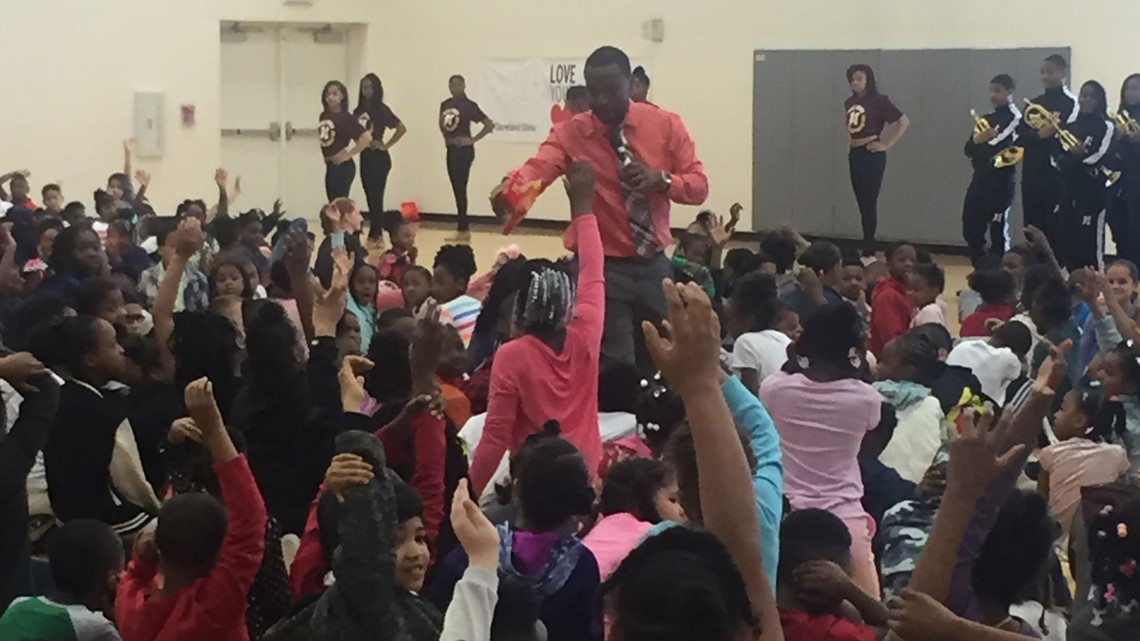 Being part of the festivities was like going home, said Simmons, whose mom is a teacher's aide at John F. Kennedy School.
He was introduced at the rally by Laura Netzband, his former first- and second-grade teacher.
The hoopla kicked off a summer-long partnership between Maple Heights schools and the Cleveland Kids' Book Bank. Each child was allowed to select six books to take home, provided by the book bank – a significant number, since research shows that reading just six books during the summer can keep a struggling reader from regressing.
Students who read and report all six books over the summer will be invited to run out on the football field at the first varsity home game. More importantly, they will not fall behind while school's not in session, said book bank Executive Director Judy Payne.
What's innovative about the Kids Read Now pilot project is that parents will report to the school district, via text, email or website, when their children finish a book. "It's a way to keep connected" with families over the summertime, said Maple Heights literacy coach Rae Smedley.
The program is funded in part by a grant from WKYC's parent company, TEGNA.