RICHLAND COUNTY, Ohio — At Dayspring Assisted Living and Care Facility in Richland County, strict policies are in place to keep everyone safe.
"They used to go out to places and so forth. They can't do that. And who knows when that will happen," said Dayspring maintenance worker, Michael Barretta.
The policies are working, as the facility is currently COVID-free. Still, workers here know the toll social isolation has taken on residents.
"We still get to see our loved ones. Unfortunately, because of COVID in the congregate setting, our residents can't," said Dayspring officer manager, Heather Knipp.
So, they got creative. Dayspring executive director Michelle Swank asked Barretta to build something so residents could safely hug their loved ones again.
"I built a wall to divide it, which I insulated and I put a 36 door in it. So then I got a wooden screen door, removed the screen and got a crystal clear, heavy mil plastic, and put it in place in the screen," Barretta said of his process. "I went to Hobby Lobby and took the rings for crocheting or whatever they do with them. And that's what I used to capture it through the clear plastic, as well as the arms."
The result? A hugging door. Finally, residents would get that embrace they had been waiting on for so long.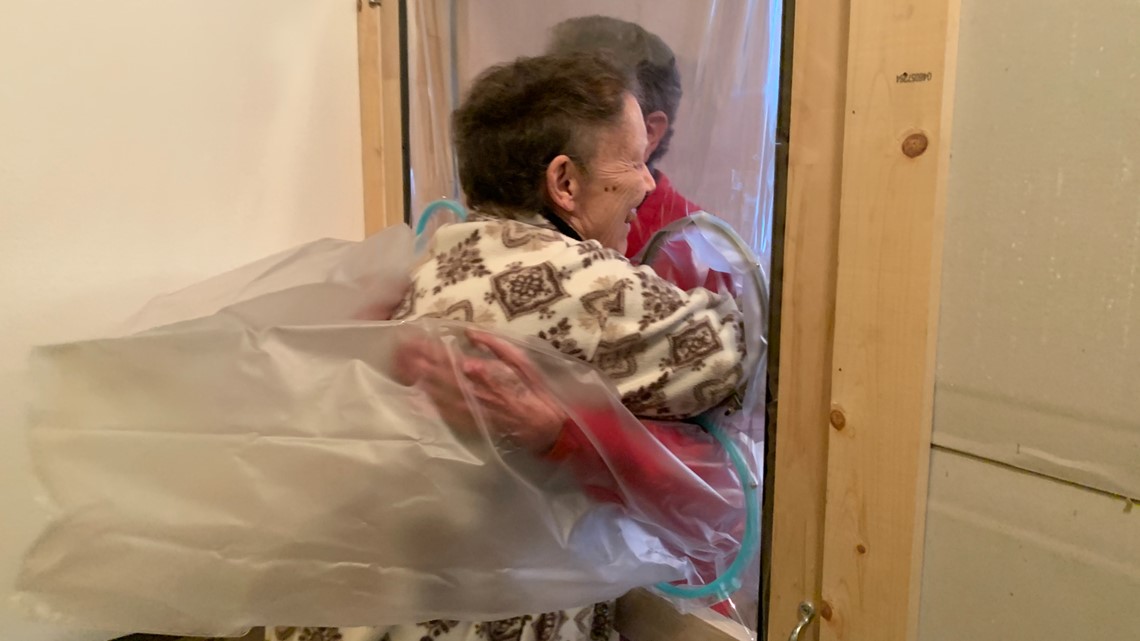 "The residents come up to me afterwards and thank me and they really appreciate it," Barretta said. "I'm helping them survive actually, you know, that's the way I look at."
There's also another new way for residents to connect with family members. Barretta worked on a window equipped with a speaker and microphone. It's not the same face-to-face that they're used to, but it's giving them exactly what they need during such a challenging time.
"They have been so overwhelmed with joy and gratitude," Knipp said. "I was here all day Saturday doing visitations and I teared up quite a few times just watching get to finally hug. I mean, they haven't been able to hug for nine months."
Safety is still a priority. Both the hugging door and window are thoroughly sanitized after each use. It's hard to say when it will be safe enough for hugs with loved ones without the door, but in the meantime, residents have family right where they are.
"We get to come in here every day and seriously see these wonderful, wonderful people. And so for us to be able to bring like this to them, it's just been unbelievable," Knipp said.
For more information on Dayspring, click HERE.
Editor's Note: The below story aired on November 12, 2020: