STARK COUNTY, Ohio — The Ohio State Highway Patrol is investigating a rollover crash involving a Marlington Local Schools bus that happened on Monday.
The rollover crash happened on Columbus Road near Beeson Street in Stark County's Marlboro Township at around 2:30 p.m. Troopers say as the bus was negotiating a curve onto Columbus Road, it traveled off of the right side of the roadway. The bus struck multiple traffic signs and then overturned into a ditch.
According to the OSHP, there were 20 total occupants on the school bus at the time of the crash. Five juvenile passengers and the bus driver were transported to an area hospital with minor injuries. According to Marlington Local Schools Superintendent Dan Swisher, all six people have since been released from the hospital.
The crash remains under investigation.
The bus driver, 58-year-old Debra Weisel of Hartville, was cited for failure to control a motor vehicle. On Tuesday, Swisher told 3News that Weisel has also been placed on administrative leave.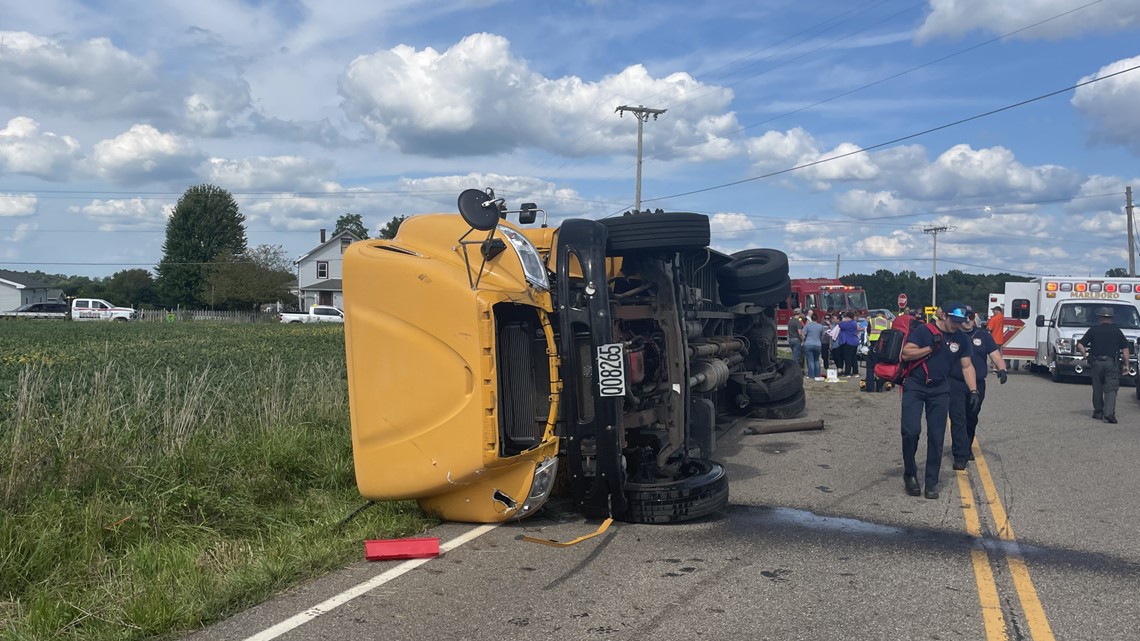 A public records search of Weisel's criminal history showed multiple minor misdemeanors involving traffic violations dating back to 1991. Before Monday's citation, Weisel had at least eight traffic offenses on her record. The most recent citations before Monday's crash were in 2018 for failure to control a motor vehicle, as well as a citation for not allowing enough distance between vehicles to avoid a collision.
Weisel's Marlboro crash happened on the same day Governor Mike DeWine's school bus safety working group met for their first meeting. 3News asked DeWine at a press conference Tuesday if the hiring standards for bus drivers have lowered due to the nationwide school bus driver shortage.
"We have a working group looking at this," DeWine said. "I've told them to look at every piece of evidence that there is. We also are looking at the drivers. What kind of training do the drivers have? All of these things. There's nothing out of bounds, everything is in. And we want this group to take a hard, hard look at that."
The state of Ohio has an 18-point list of requirements for anyone that wants to be a school bus driver. While that list includes regular motor vehicle records checks, it does not list a specific number of points or a timeframe that records checks must go back.
Records obtained by 3News show a number of local districts only go back two years for most infractions, not including drug or alcohol infractions, or violations that involve railroad crossings.
3News submitted a public records requests to the Marlington Local School District for Weisel's personnel file. We have not heard back from the district in terms of that request.
However, Swisher did release the below statement following the crash on Monday.
"I would like to thank all emergency responders, parents, administrators, volunteers, students, and other school staff for their quick action and for putting the safety of our students and staff first. Student safety is always our top priority. All families of the students involved were notified. A follow up to all students and staff happened this evening and we are thankful that everyone has been medically released. The District's protocols for bus accidents are being implemented, and we will continue to support these students as they return to school. I want to thank the Marlington community for their thoughts and concerns."
This is a developing story. Stay with 3News for more details as they become available.
More from 3News: