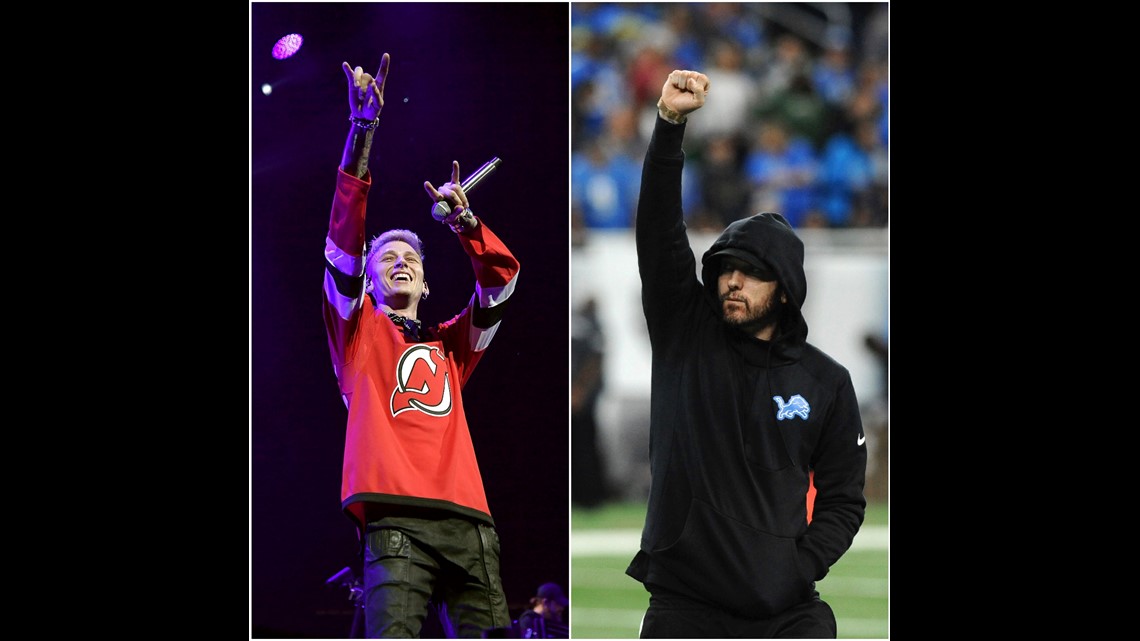 Eminem isn't ready to stop firing shots at Machine Gun Kelly just yet.
Even the track's artwork threatens MGK, whose real name is Richard Baker, with a gun-sight drawn over a depiction of the young rapper's face with the eyes crossed out in red X's.
"Shut the (expletive) up," Eminem starts the rap before insulting MGK's appearance.
"How you gonna name yourself after a (expletive) gun and have a man bun?" Eminem muses.
"Your reply got the crowd yellin' 'Ooo', so before you die let's see who can out-petty who with your corny lines," he raps. "I'm 45 and I'm still out-selling you."
He continued, "Know your facts before you come at me lil' goof. Luxury. Oh, you broke? (Expletive) yeah, I had enough money in '02 to burn it in front of you. You the whack me. It's funny but so true, I'd rather be 80-year-old me than 20-year-old you."
The two have had issues since 2012, when MGK tweeted that Eminem's then-16-year-old daughter, Hailie, was "hot as (expletive)," which MGK has since said resulted in him being blackballed in the industry.

Their feud was reignited when MGK fired back at Eminem in a new diss track "Rap Devil", just days after he was dragged by the rapper on his new album "Kamikaze."
Fans were also quick to react to the track on social media, many of whom thought the "Killshot" diss was fire and labeled MGK "over."
"#MachineGunKelly bye bye. Its over... @machinegunkelly is over," one user tweeted.
"Machine gun ran out of ammo," another shared.
"When Eminem said he 45 outselling MGK...." another said with a gif.
Others weren't a fan of the track, some pointing out homophobic lyrics.
"was really hoping @Eminem MGK response was better. you made so much of it basically calling him gay which is so stupid nowadays," one user tweeted. "He really dosent do much dissing in it anyway."
Famous feuds: 10 meaty celebrity beefs