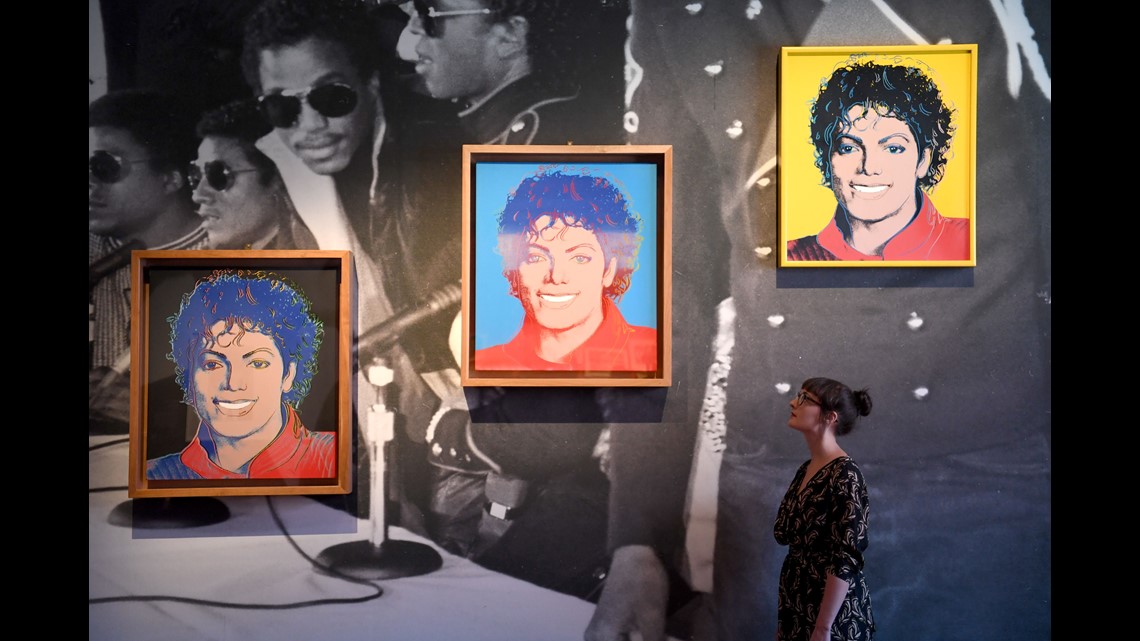 LONDON — A new exhibition that opens in London on Thursday aims to tell "the untold story" of how pop superstar Michael Jackson's inspired some of the world's leading contemporary artists.
Among the images on display in "Michael Jackson: On the Wall" at the National Portrait Gallery are artworks by the legendary pop artist Andy Warhol — who first used Jackson's image in 1982 — and the last portrait commissioned by the singer, called "Equestrian Portrait of King Philip II (Michael Jackson) by New York-based painter Kehinde Wiley.
Wiley began the painting — featuring Jackson astride a prancing horse — months before the singer died on June 25, 2009. He completed it after Jackson's death.
Wiley, who is known for portraying contemporary black figures using European art history to question stereotypes, described working with Jackson as "extraordinary."
"His knowledge of art and art history was much more in-depth than I had imagined," he said in a description accompanying the painting on a wall at the gallery. "He was talking about the difference between early and late Rubens' brushwork…One of the things we talked about was how clothing functions as armour. And if you look at the painting, he's on horseback in full body armour."
Wiley's work draws on the 17th Century painting by Peter Paul Rubens, "Equestrian Portrait of Philip II in the Battle of St Quentin 1557."
'Michael Jackson: On the Wall' exhibit opens in London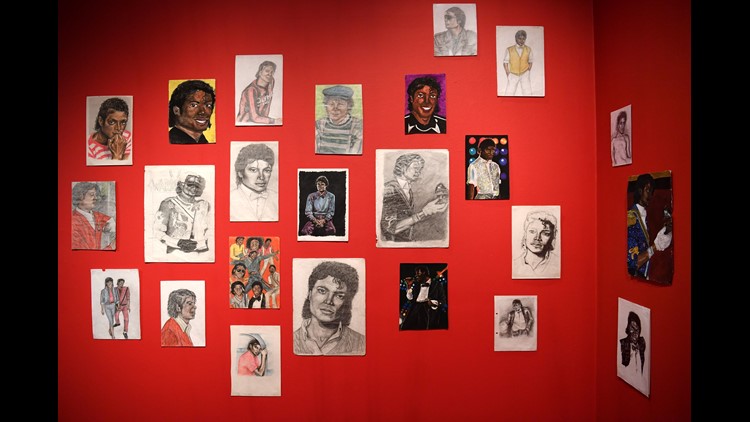 The exhibition's name is a play on the late singer's 1979 album "Off the Wall," and features the work of over 40 artists from around the world. it is timed to coincide with what would have been Jackson's 60th birthday, on Aug. 29.
Nicholas Cullinan, director of the National Portrait Gallery and the exhibition's curator, said the showcase "takes an entirely new and quite radical approach by exploring the cultural impact of a unique figure through contemporary art."
"All the artists included — despite coming from different generations and parts of the world, and employing a range of media — are fascinated by what Jackson represented and what he invented," he said in a statement.
"It is rare that there is something new to say about someone so famous, but here that is the case," Cullinan added. "Like its subject, we hope this exhibition will be inclusive in appeal, uncompromising in artistic integrity and in the process break down barriers."
Other works on display include a ghoul-like painting of Jackson in his "Thriller" video by British artist Dawn Mellor, a painting Jackson commissioned Mark Ryden to create as the cover for his 1991 album "Dangerous," and an outline drawing of Jackson as a child based on a picture of the 11-year-old star that was on the cover of Rolling Stone magazine in 1971, by Irish-born artist Michael Craig-Martin.
Describing the portrait, Martin said: "This is an image of Michael Jackson as a child, already famous as a brilliant singer and performer, a beautiful little boy, unambiguously black, a child star, but a child whose subsequent life would become a sad and hopeless search for the childhood he never experienced."
"Michael Jackson: On the Wall" will be at the National Portrait Gallery from June 28 to October 21 before moving on to the Grand Palais in Paris, France; The Bundeskunsthalle in Bonn, Germany, and Espoo Museum of Modern Art in Finland.
Remembering Joe Jackson: 1928-2018