At about 2 a.m. Thursday, lightning struck the horse barn at Classic City Clydesdales.
"It shook the whole house," said Shannon Martin, who owns the farm with her husband, Mark. "One minute I am in bed. The next minute I am standing up next to the bed trying to figure out what bomb went off."
It rattled the horses, especially the 3-week-old trapped inside with more than a dozen others. With flames all around, the barn doors were locked and the power was out.
"We could not get the large overheads open," she said.
That's when their 16-year-old son, Macon Martin, jumped into action.
"I just ran right out. I had no clothes on, no shoes, no nothing," he said. "I just jumped in our Gator and I just ran it right into the door."
He used the John Deere utility vehicle like an action hero, his mom said.
"He busted through like Rambo and opened up the end of the stalls and said, 'Mom, this way,' " she said. "And we were able to push the horses out that way."
All of the Clydesdales, a breed of draft horse most famous for starring in Budweiser commercials, are doing fine — including Phoebe. She's expecting a foal, and her due date was Thursday.
The barn is a total loss.
"It will take some time to rebuild," Shannon Martin said. "This was a dream. We saved and built it brick by brick. We'll have to start over."
But their horses, which travel to events and parades across the USA, will be starting over with them.
"Big horses everybody thinks (are) real tough," she said. "but Clydes are sort of the beauty queens of the draft horse world. They can be pretty fragile."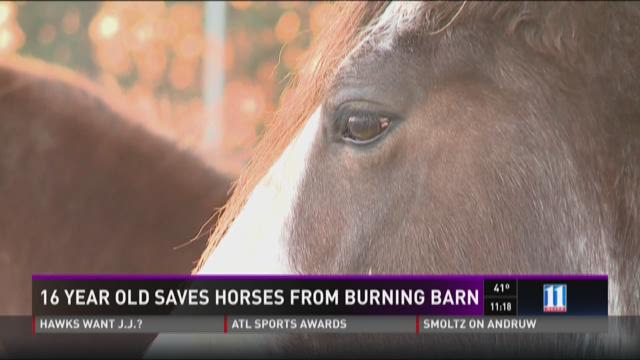 Meet 4 Budweiser Clydesdales