"After close review of recent Tweets from the @realDonaldTrump account and the context around them we have permanently suspended the account due to the risk of further incitement of violence," Twitter posted Friday.
"The 75,000,000 great American Patriots who voted for me, AMERICA FIRST, and MAKE AMERICA GREAT AGAIN, will have a GIANT VOICE long into the future. They will not be disrespected or treated unfairly in any way, shape or form!!!" Trump Tweeted Friday morning.
A short time later, he tweeted, "To all of those who have asked, I will not be going to the Inauguration on January 20th."
Twitter said the the announcement Trump would not attend the inauguration was being seen on social media as him not accepting the election results -- something he has falsely claimed for two months since the election. It could also be seen as a signal for those considering violent acts that it was a "safe" target because Trump would not be there," the platform said.
Twitter also said the term "American Patriots" to describe some of his supporters was being interpreted on social media as support for those involved in Wednesday's riot at the U.S. Capitol in which Trump supporters stormed the building during a joint session of Congress to confirm President-elect Joe Biden's victory.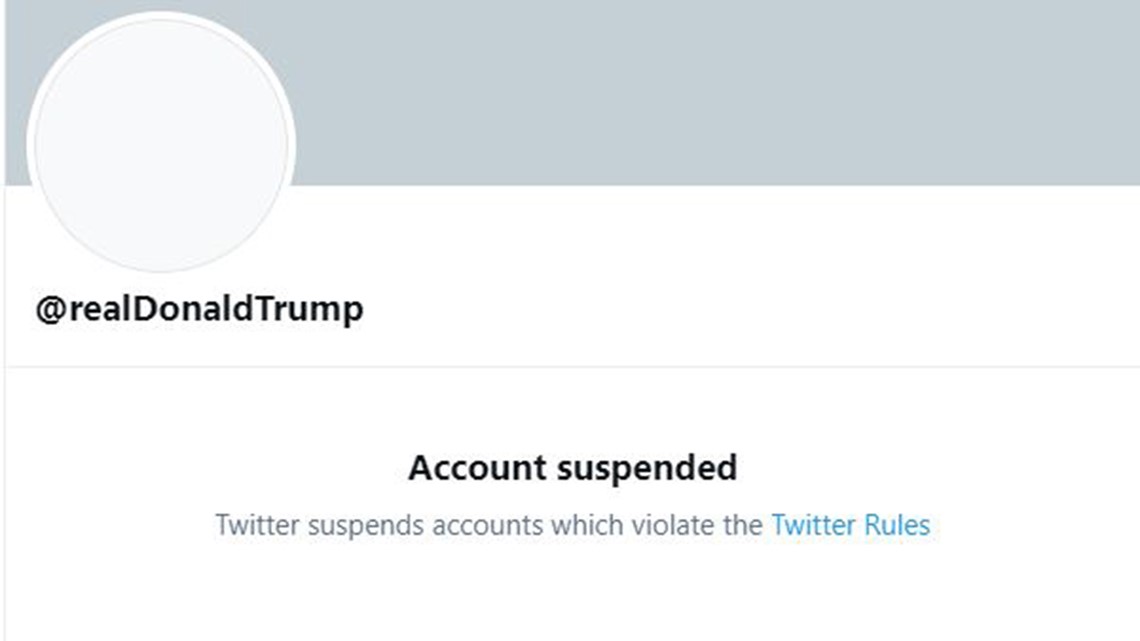 "Plans for future armed protests have already begun proliferating on and off-Twitter, including a proposed secondary attack on the US Capitol and state capitol buildings on January 17, 2021," Twitter wrote.
"As such, our determination is that the two Tweets above are likely to inspire others to replicate the violent acts that took place on January 6, 2021, and that there are multiple indicators that they are being received and understood as encouragement to do so."
The social media platform has been under growing pressure to take further action against Trump following Wednesday's deadly insurrection at the U.S. Capitol that left five people dead. Twitter initially suspended Trump's account for 12 hours after he posted a video that repeated false claims about election fraud and praised the rioters who stormed the Capitol. But Trump was warned that future violations to its policies could mean a permanent ban.
"In the context of horrific events this week, we made it clear on Wednesday that additional violations of the Twitter Rules would potentially result in this very course of action," Twitter said Friday.

Twitter's move deprives Trump of a potent tool he has used to communicate directly with the American people for more than a decade. He has used Twitter to announce policy changes, challenge opponents, insult enemies, praise his allies (and himself), and to spread misinformation.
Trump tweets on @POTUS
The move did not sway Trump. He went to @POTUS, the official account for the President of the United States, and posted this thread Friday that was removed minutes later.
"As I have been saying for a long time, Twitter has gone further and further in banning free speech, and tonight, Twitter employees have coordinated with the Democrats and the Radical Left in removing my account from their platform, to silence me — and YOU, the 75,000,000 great patriots who voted for me," Trump tweeted. "Twitter may be a private company, but without the government's gift of Section 230 they would not exist for long."

Section 230 of the Communications Decency Act provides protections for tech companies so they cannot be sued for content posted by others on their platforms. Trump, in his battle with big tech, has demanded for months that it be repealed. He even vetoed the National Defense Authorization Act over it. Congress voted to override the veto -- the only time it has done so during the Trump administration.
"I predicted this would happen," Trump continued. "We have been negotiating with various other sites, and will have an announcement soon, while we also look at the possibilities of building out our own platform in the near future. We will not be SILENCED! Twitter is not about FREE SPEECH. They are all about promoting a Radical Left platform where some of the most vicious people in the world are allowed to speak freely. STAY TUNED!"
Then, a game of Trump Twitter whack-a-mole started. Trump would tweet on another account and Twitter would promptly shut it down. After posting his @POTUS statement on the @TeamTrump account, Twitter suspended it. It later appeared that Trump campaign digital director Gary Coby tried to give Trump access to his account. Twitter suspended it.
Twitter employees demanded company take action
The Washington Post reports it obtained an internal letter from about 350 Twitter employees to top company executives, including CEO Jack Dorsey, They are demanding an investigation into decisions made by the company which may have led to Twitter's role in Wednesday's riot.
"Despite our efforts to serve the public conversation, as Trump's megaphone, we helped fuel the deadly events of January 6th," the employees wrote, according to the Post.
The president's son, Donald Trump Jr., lashed out at Twitter.
"So the ayatollah, and numerous other dictatorial regimes can have Twitter accounts with no issue despite threatening genocide to entire countries and killing homosexuals etc... but The President of the United States should be permanently suspended. Mao would be proud," Trump Jr. tweeted.
The @POTUS account has often used been used to retweet @realdonaldtrump. But once Trump's personal account was suspended, all those retweets disappeared from @POTUS, leaving it comparably barren to what it had been before.
At noon on Jan. 20, when Biden takes office, his team will take control of @POTUS and all the tweets in the account during the Trump administration will be archived.
Facebook on Thursday announced it was suspended Trump's account until Biden takes office.