CLEVELAND — You can always count on the road to the White House running through Ohio, as President Donald Trump found out three years ago when he won the state by eight points. But while the next election is still more than a year away, statistics are showing voters in the Buckeye state may want a change.
A new poll released by Emerson College shows President Trump trailing Democratic contenders Joe Biden (53%-47%), Bernie Sanders (also 53%-47%), and Elizabeth Warren (52%-48%) in hypothetical head-to-head matchups across the state. 837 people were randomly sampled across a four-day period ending Wednesday, with a margin of error of +/- 3.2%.
The data comes in the wake of last week's announcement by House Speaker Nancy Pelosi of an impeachment inquiry against Trump, claiming he and others not only improperly sought to obtain foreign influence in the 2020 race but attempted to cover it up. According to Emerson, 47% of Ohioans support impeaching the president compared to 44% against.
Trump's current approval rating in the state stands at just 43%, just a tick above his FiveThirtyEight national average of 41% and far below the 52% of Ohioans who voted for him when he beat Hillary Clinton in 2016. In addition, only 46% of Ohio men approve of the president's job performance, a demographic he earned 52% of nationally three years ago.
While the survey shows Ohioans are open to voting out Trump, just who they would prefer to run against him remains very much up in the air. Among state Democrats, former Vice President Biden leads Vermont U.S. Sen. Sanders just 29%-27% in the state's Democratic primary (well within a +/- 5.2% margin of error), with Massachusetts U.S. Sen. Warren not far behind at 21%. No other candidate has more than 7% of the vote, and U.S. Rep. Tim Ryan (the only Ohioan in the race) fails to get even 1%.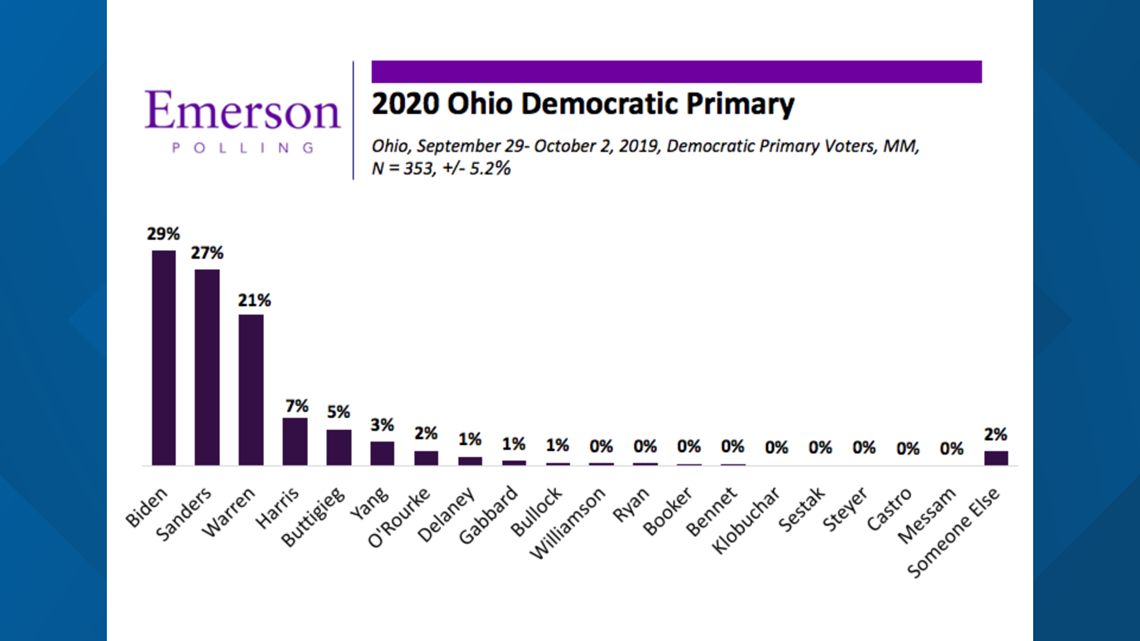 The numbers are somewhat troubling for Biden, who in a Quinnipiac University poll last July led the rest of the Dem field by 17 points in the state. However, the former VP remains the national front-runner, and his six-point edge over Trump is only a tad below the eight-point margin Quinnipiac had him at months ago.
Thirty-three percent of Ohio voters also rated the economy as their No. 1 issue, something that could bode well for Trump if the American economy remains in its current strong position. Among just Democrats, healthcare (27%) was the top issue, and it has been a hot topic of debate during primary season.
The next debate between 12 of the 19 remaining Democratic candidates is scheduled to take place Oct. 15 in Westerville, Ohio. Sanders has suspended campaigning for the moment while he recovers from heart surgery, but is expected to be on the stage that night.