CLEVELAND — We are less than three months removed from the 2022 midterm elections, and almost two years away from the 2024 race. Yet even with all that time to look forward to, talk is already heating up about who will eventually run for President of the United States.
So far, only one major candidate has declared his intentions for 2024: Former President Donald Trump, who is seeking to become the first man since Grover Cleveland to win a second non-consecutive term in the White House. Unlike his 2020 reelection campaign, Trump is expected to face a litany of serious challengers for the Republican nomination, but on Tuesday, he officially earned the support of Ohio's newest statewide officeholder.
In an op-ed published in The Wall Street Journal, U.S. Sen. JD Vance endorsed Trump for president in the next election, citing his "successful foreign policy" during his first term from 2017-21. Specifically, the state's junior senator praised Trump for "not starting any wars" during his presidency and bringing what he called "the first real disruption to a failed consensus" that brought on conflicts in Iraq, Afghanistan, and elsewhere.
"In Mr. Trump's four years in office, he started no wars despite enormous pressure from his own party and even members of his own administration," Vance wrote. "Not starting wars is perhaps a low bar, but that's a reflection of the hawkishness of Mr. Trump's predecessors and the foreign-policy establishment they slavishly followed."
Perhaps Trump's most consequential foreign policy decision came during his final year in the White House, when the administration agreed to a deal with the Taliban that sought to end the U.S.'s nearly 20-year war in Afghanistan. While a separate agreement between the Taliban and Afghan government never materialized, Trump's successor Joe Biden declined to extend the troop withdrawal deadline, and the Taliban quickly took back control of the country.
Though some argue Trump at least partly contributed to the issues we see today, Vance instead put most of the blame on his immediate predecessors: George W. Bush and Barack Obama. He also sought to counter those saying Trump lacks the "statesmanship" for the job, given his history of incendiary remarks.
"For many, statesmanship means having a polite social-media presence and throwing out slogans about 'freedom' and 'democracy' while starting world-historic catastrophes in the Middle East," Vance said. "I prefer a different kind of statesmanship: one that stands athwart the crowd, reminding leaders in both parties that the U.S. national interest must be pursued ruthlessly but also carefully, with strong words but great restraint."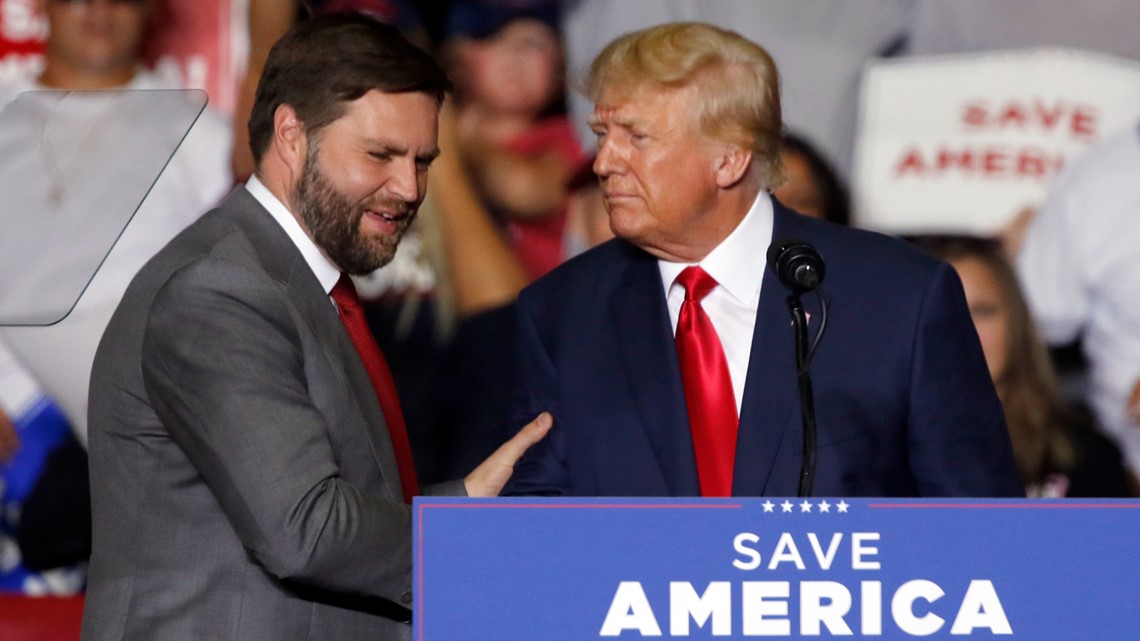 In the Wall Street Journal, he appeared to echo those prior sentiments. While he did not specifically advocate for ending aid, he did question the notion of Ukrainian President Volodomyr Zelensky prematurely claiming Russia had fired a missile into Poland only to receive a "hero's welcome" in Washington weeks after the incident.
"In making the accusation, Mr. Zelensky was pushing on the dominoes that could start the world's first war between nuclear powers," Vance said, noting NATO now believed the missile was an accidental fire from Ukraine's own forces. "American taxpayer money has continued to flow to Ukraine. A wiser foreign policy wouldn't have let such conduct go unnoticed."
Although Vance won his race, many of Trump's other hand-picked candidates were defeated in swing states, contributing to Republican losses in the Senate and less-than-expected gains in the House. With the former president continuing to spout lies about the 2020 election being "stolen" from him, many in the party have wondered if it is time to move on from the twice-impeached leader.
Vance, however, does not share that opinion.
"Donald Trump's presidency marked the first real disruption to a failed consensus and the terrible consequences it wrought," he stated in his op-ed. "That fact, more than any single accomplishment, is the enduring legacy of Mr. Trump's first term. But there is much more to do, and I'm supporting him for president in 2024 because he's the only person certain to do it."
EDITOR'S NOTE: The video at the top of this story originally aired in November of 2022