AKRON, Ohio — Jimmy Dimora, the former Cuyahoga County commissioner serving one of the longest prison terms ever given an American politician, told 3News Investigates his latest court appearance was "disappointing to say the least!"
Dimora sent an email to 3News Investigates Wednesday night, just hours after learning that his 28-year prison term was only being reduced to 23 years after his partial appellate court win.
He remains in custody at a federal prison medical facility, where he receives treatment for myriad health conditions. Dimora, who turns 67 in two weeks, has served nearly 10 years of his original sentence.
In his email, Dimora outlined the limited options remaining, but not before once again targeting federal prosecutors and former Cuyahoga County Auditor Frank Russo, who admitted receiving bribes and gifts worth over $1 million during his long tenure in office.
Russo and Dimora were considered the plum prizes of a wide-ranging federal investigation into political corruption in Cuyahoga County that netted over 70 arrests and prompted the county to change its form of government.
"Yes, my resentencing was disappointing to say the least!," Dimora wrote in his email to 3News Investigates. "I hate that the government continues to link me with Russo still. I have nothing to do with the scams that Russo was involved with.
"Russo never paid any of his restitution at all and only served [about] seven years of his sentence. I never steered a contract or rigged any bid like Russo did."
Dimora again insisted on his innocence, saying he was just one of three commissioners who voted on contracts. He said any gifts he received were noted in ethics reports filed with the state of Ohio. U.S. District Court Judge Sara Lioi barred Dimora's trial attorneys from showing the reports to jurors during the 2012 trial that ended with Dimora convicted on 32 criminal counts, including bribery and violating the Hobbs Act.
After winning a partial appeal, he was resentenced on 30 counts. Federal sentencing guidelines called for a sentence of 19.5 years to 24.5 years. But Dimora's attorneys pointed to a federal study showing 93 percent of cases ended with lower prison time.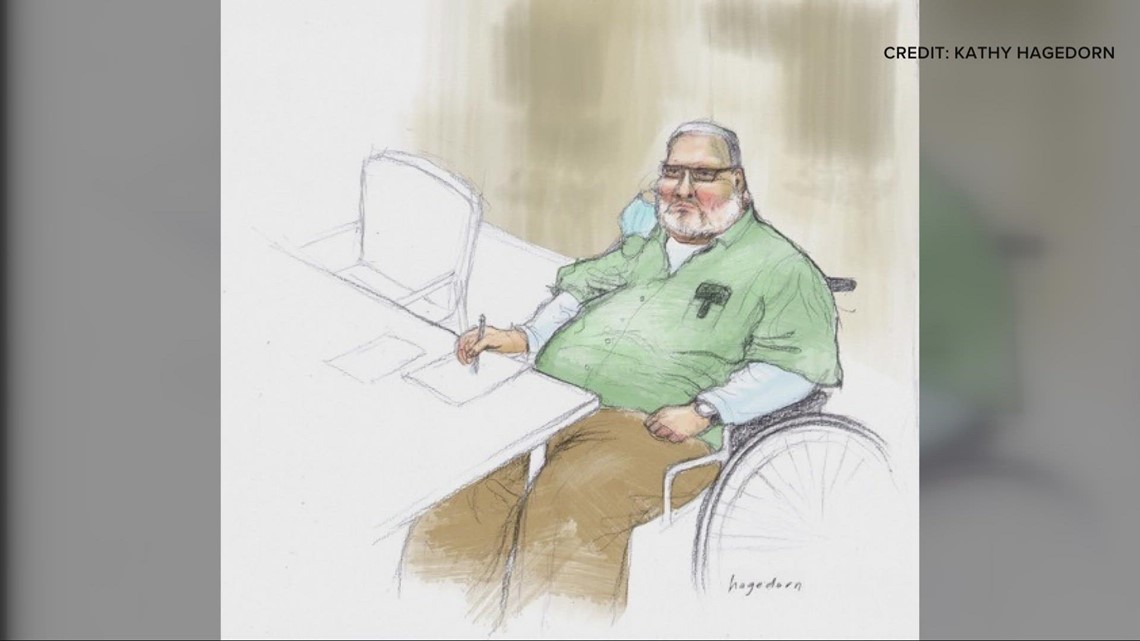 Furthermore, the data shows political figures like Dimora received on average 12 years in prison.
"I was one of three commissioners and only had one vote my own vote," Dimora wrote. "I always followed county staff's recommendations and 99% of the time voted for the lowest and best bidder.
"For the Judge and prosecutor to say that I influenced any of the other commissioners to vote a certain way is absolutely not true. I can't even buy a light bulb with my own vote because you need two votes to purchase anything. It is just plain wrong how the government and Judge Lioi are describing me as a public official!"
During Wednesday's hearing in U.S. District Court in Akron, Lioi and assistant U.S. Attorney Megan Miller described Dimora's conduct as "egregious" and "insidious."
They revisited some of the evidence against Dimora: gifts such as an expansive outdoor patio remodeling at his former home, meals and the infamous trip to Las Vegas that FBI agents secretly recorded.
"I helped my constituents every way possible! I never asked anyone for anything in return for my help!" Dimora said in his email. "Some people showed their appreciation when I helped them with a problem or issue they were having.
"If it required me to list that person on my Ohio ethics reports I did just that! But there never was ever a quid pro quo arrangement. Never! For the feds to use my Ohio ethics reports that I filed to prosecute me.
"Then Judge Lioi refusing to allow me to use those same ethics reports to show the jury that I wasn't concealing or keeping secret my relationships with individuals that gave me a thing of value was just plain wrong."
Lioi was unmoved by Dimora's health concerns, noting that he is receiving the medical care he needs while being housed in the prison medical ward near Boston.
She was also unmoved by statistics showing that Dimora's 23-year term is about twice as long as the average sentence given to convicted elected officials.
In 2012, Lioi handed Dimora his original 28-year term, putting him on-par with the likes of former Detroit Mayor Kwame Kilpatrick and Pennsylvania Judge Mark Ciavarella, who accepted over $1 million in bribes.
During Wednesday's hearing, Dimora's attorney, Philip Kushner, scoffed at comparisons between Dimora and the other elected officials, pointing out the conduct of Kilpatrick and Ciavarella far outweigh Dimora's.
Dimora's options now are limited. He can appeal his sentenced to the Sixth U.S. Circuit Court of Appeals, or he can request "compassionate release" from his prison warden.
Russo was released by his prison warden in May 2020 as the Covid-19 pandemic was spreading. He died in April at age 72.
"So back to the 6th Circuit to appeal once again an unjust sentence and counts that should of also been overturned," Dimora wrote.
Dimora then sent a follow-up email Thursday.
"I also want to be crystal clear on this issue that both the judge and prosecutor said I sold county jobs," he wrote. "That is absolutely unequivocally an outright lie!
"I never ever asked anyone for anything of value especially for money to get a job with the county. I want to say that for the record! They both kept intermingling me with that scum bag Russo. He admitted to selling jobs and promotions to his employees. They both need to check their facts before they say things that are not true!"