CLEVELAND — President Joe Biden was in Cleveland on Thursday for his first visit to Northeast Ohio since taking office in January.
3News offered full coverage of the president's remarks. Follow our time-stamped updates below:
3:20 p.m. - On its way back to the airport, the presidential motorcade made an unusual stop. President Biden visited Honey Hut ice cream in Old Brooklyn and got himself a treat before heading back to D.C.
According to the pool report, President Biden ordered, "chocolate, chocolate chip" and "butter pecan." The president told the shop to keep the change on his order. One employee called it "her best day of work ever."
3:01 p.m. - The president has concluded his remarks and is headed back to Hopkins Airport for his flight back to Washington. You can re-watch full coverage of his visit in the player below:
2:25 p.m. - President Biden has begun his remarks at Cuyahoga Community College.
Biden began by recalling that he had been scheduled to hold a campaign rally at Tri-C in March of 2020. The event wound up getting canceled because of Gov. Mike DeWine's order to stop large gatherings as COVID-19 was evolving into a pandemic.
"14 months later, we finally made it to campus," he said with a smile.
During his speech, Biden noted that 50% of American adults are now fully vaccinated and unemployment claims are down by more than one-third, which is the lowest since COVID-19 coronavirus pandemic started, according to the White House.
The president warned naysayers in Congress not to "get in the way" of his big infrastructure plans. At one point, he held up a card with the names of Republicans lawmakers who had rejected his coronavirus aid bill in Washington but later promoted its assistance when they were back home in front of voters. He warned them not to play similar games as he pushes this next legislative priority in Congress.
"I'm not going to embarrass anyone, but I have here a list," he said. "If you're going to take credit for what we've done," he continued, "don't get in the way of what we need to do."
Biden also called on Congress to raise the minimum wage to $15/an hour. "No one should work 40 hours a week and live in poverty," he said.
(The Associated Press contributed to this report)
2:00 p.m. - Accoding to the White House pool reporter, the following local politicians are attending today's remarks by President Biden:
Rep. Tim Ryan (OH-13)
Cleveland Mayor Frank Jackson
Cuyahoga County Executive Armond Budish
Youngstown Mayor Jamael Tito Brown
Ohio House Minority Leader, State Rep. Emilia Strong Sykes (Akron)
State Senator Kenny Yuko (Cleveland)
State Representative Stephanie Howse (Cleveland)
1:50 p.m. - The president is going through a walking tour at Tri-C's Manufacturing Technology Center.
The tour stops at a demonstration of a robotic arm used in training students as well as at a 3D printing demonstration.
1:45 p.m. - 3News Mark Naymik is standing by for President Biden at Cuyahoga Community College.
Thursday 12:54 p.m. - President Biden lands at Cleveland Hopkins International Airport. He was greeted by Rep. Marcy Kaptur upon his exit from Air Force One.
You can see our Photo Gallery of Biden's visit to Cleveland below:
President Joe Biden visits Cleveland, tours Cuyahoga Community College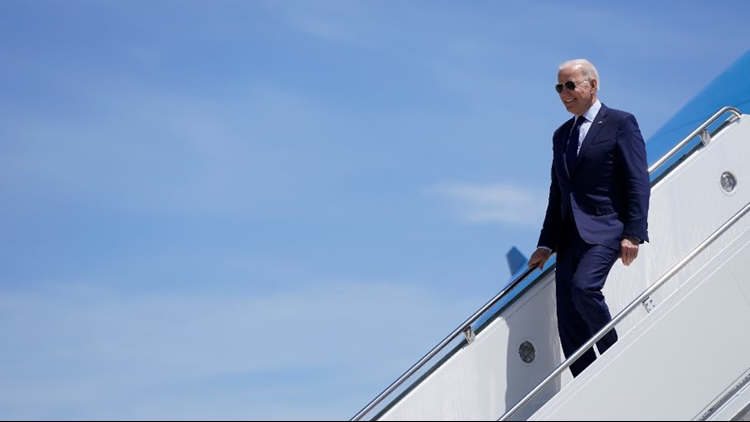 Before departing for Cleveland on Air Force One, Biden tweeted the following: "In March of 2020, I went to Cleveland for a campaign event — but our rally was cancelled due to growing concerns about COVID-19. A long dark year lay ahead. Today, America is on the move again and I'm headed back to talk about our progress. See you soon, Ohio!"
"His economic plan is working," White House Press Secretary Jen Psaki told 3News Wednesday. "He thinks now is exactly the time we should more in our workforce, invested in roads and bridges, do more to help families with child care and paid leave."
Biden will likely discuss his $1.7 trillion dollar infrastructure bill, which Psaki says will be a huge boon for Ohioans.
"We know that there are a lot of outdated road rails and bridges back in Ohio, and a lot of people that could be put back to work or long-term work by investing in those projects," she said.
But Republicans are pushing back, countering the bill's budget.
"[We need to] get a bill to something that is actually be more reasonable," Republican National Committee spokesperson Paris Dennard said. "Somewhere in the neighborhood of $500-$600 billion is where the Republicans are."
As a labor shortage continues to slow the reopening of the cities like Cleveland across the country, the Biden Administration says the pandemic is still to blame.
"There [are] a number of bigger factors that have contributed to the workforce not going back quiet yet," Psaki said. "One them is that we are still at war with the pandemic."
The GOP, meanwhile, wants to hold the administration accountable for a slow-recovering economy.
"What the nation could do is have the economy get back to normal by eliminating a lot of these rules and regulations and mandates that have not been helpful to a lot of the states," Dennard said.
The last time Biden was in Cleveland was last September, when as the Democratic Party's nominee he took on then-President Donald Trump in the first presidential debate of the 2020 general election campaign. Following a debate that was rife with interruptions and personal attacks, Biden later stopped in Cleveland and Alliance the next day as part of an Amtrak "whistle stop" tour, and even sat down for an interview with 3News' Russ Mitchell before his train left.
Despite winning the election, Biden lost Ohio to Trump by a relatively wide margin of 53%-45% last November, becoming the first victorious president to not carry the Buckeye State since John F. Kennedy in 1960. The result led many to wonder if Ohio's days as a pivotal swing state are over, something Biden and the Democrats will hope to change by 2024.
Biden currently boasts a solid approval rating of 53% according to FiveThirtyEight (higher than Trump had at any point during his own presidency), and won support from voters across the political spectrum with his $1.9 trillion American Rescue Plan that passed Congress in March. However, some worry the economic recovery from COVID-19 may be starting to slow down, especially after an underwhelming jobs report that saw just 266,000 jobs created nationwide in the month of April. The U.S. unemployment rate currently stands at 6.1%.