CONCORD, N.C. — The 2022-23 NBA season is still months away. But LeBron James won't have to wait that long to be at the center of a competition.
When Chris Buescher's No. 17 Ford Mustang hits the pavement at the NASCAR Cup Series Race at Michigan International Speedway on Aug. 7, it will do so representing the LeBron James Family Foundation. Buescher's car will be painted in green and gold -- the same colors as James' alma mater, Akron St. Vincent-St. Mary -- and outfitted with decals representing the LeBron James Family Foundation and its 'I Promise' school.
Other features include the words "est. Akron" and the Foundation's guiding philosophy "We are family" written on the bumper. You can see a rendering of the vehicle below.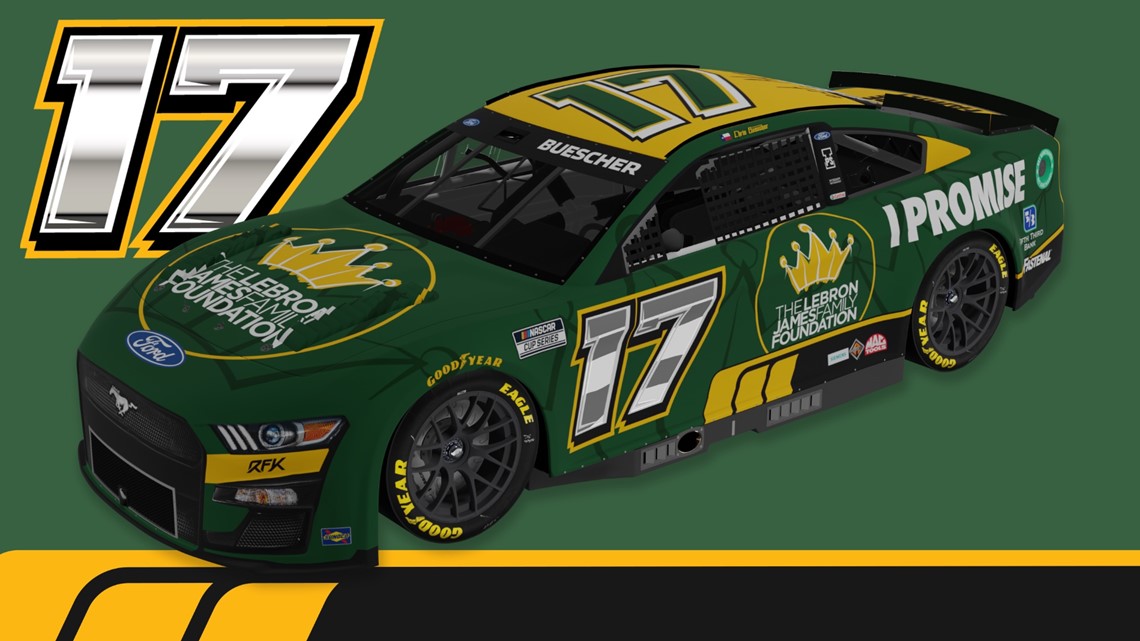 "To see our Foundation represented alongside one of the most iconic racing teams in NASCAR shows our kids from Akron that anything is possible and nothing is out of reach for them," said Michele Campbell, Executive Director of the LeBron James Family Foundation. "It's incredible that our partners at RFK Racing have created this opportunity for them to connect with racing in a meaningful way that opens up a whole new world of possibilities for our kids and families."
On Thursday, James took to Twitter to celebrate the new car design.
Last year, James became a minority owner in Fenway Sports Group, which is a parent company of RFK Racing. The upcoming activation is intended to "engage I PROMISE students in the sport of racing while elevating the Foundation's innovative work in providing a new approach to transforming communities through education."
"For the students of LeBron James Family Foundation to be represented on the NASCAR track is an important symbolic first step in connecting them with the sport," said Fenway Sports Group Chairman Tom Werner. "We hope this special relationship with RFK Racing will provide these talented students with an understanding of all the opportunities available to them as they contemplate their bright future."