Students at the I PROMISE school in Akron received a special visit on Thursday from artist Kris Rhymes.
The visual artist based in Phoenix, Arizona made the long trip to Northeast Ohio to present the school with a new piece of art called "Kings Music." He also engaged with students in a special lesson about art that was incorporated into their daily learning.
Watch highlights of Kris Rhymes' visit and presentation at the I PROMISE school below courtesy of the LeBron James Family Foundation.
"Kings Music" is a composition of art made of 12-inch vinyl album covers – cut in pieces of famous recording artists all from Ohio used to create the image of LeBron James, who has partnered with his family foundation and Akron Public Schools to make the I PROMISE school a reality.
Some of the performers featured in the piece include Dean Martin, John Legend, The O'Jays, Macy Gray, The Isley Brothers, Ohio Players, Kid Cudi, Bootsy Collins, Bone Thugs -N- Harmony, Nine Inch Nails, Art Tatum and Tracy Chapman. Created in 2017, "Kings Music" is a part of his "Cover to Cover" collection.
PHOTOS | Kris Rhymes visits LeBron James' I PROMISE school, presents gift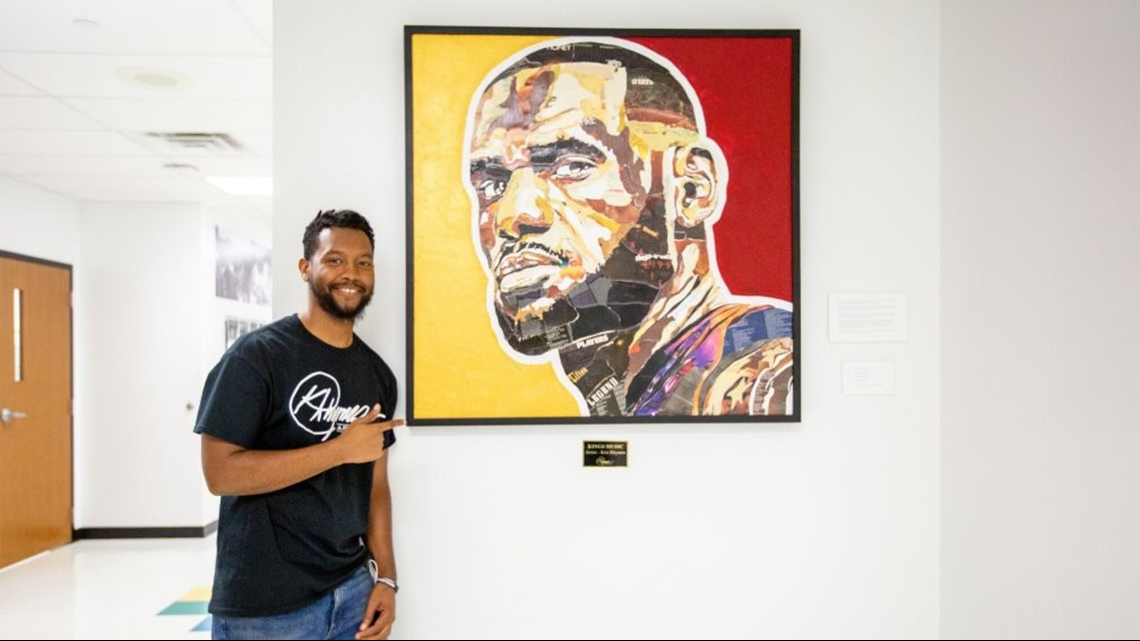 After learning about the I PROMISE School, which opened in August, Rhymes offered to personally deliver the special piece to Akron.
"I hope Kings Music will serve as a source of inspiration to the students of the I Promise School," said Kris Rhymes.