CLEVELAND — Start making your plans now!
In just one year, a swath of the United States will experience one of the most spectacular skygazing events -- a total solar eclipse -- and Northeast Ohio will be in the direct path of totality when the eclipse happens on Monday, April 8, 2024.
"A total solar eclipse happens when the moon passes between the sun and earth, completely blocking the face of the sun," NASA explains. "The sky will darken as if it were dawn or dusk."
"The eclipse will last just under four minutes in Cleveland, which is one of the longest durations for major cities in the path," according to Destination Cleveland.
NASA says the eclipse will begin at 1:59 p.m. in Cleveland. Totality begins at 3:13 p.m. with maximum effect at 3:15 p.m. Totality ends around 3:17 p.m. before the partial eclipse finishes at 4:29 p.m.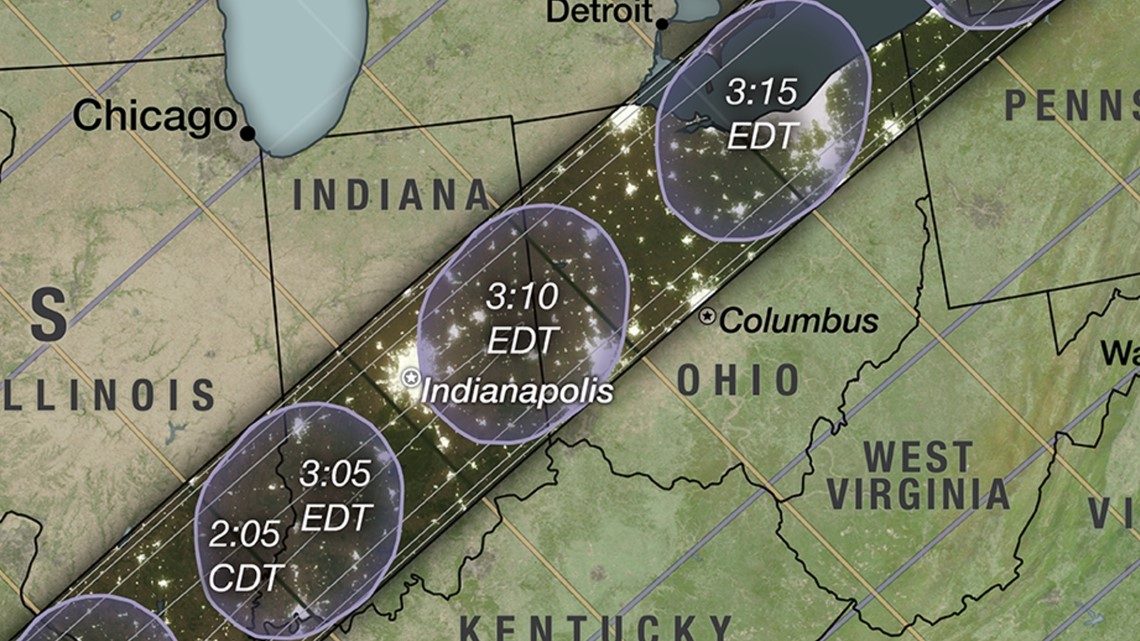 Just how rare is this moment?
The last total solar eclipse in the United States happened on Aug. 21, 2017. Northeast Ohio experienced a partial eclipse that day.
The 2024 eclipse will be the last one to appear in North American until Aug. 23, 2044.
The next total solar eclipse in Ohio won't come until 2099, according to the Ohio Department of Natural Resources.
The last total solar eclipse visible in Ohio was back in 1806.


Toledo: 3:12:17 p.m. Duration: 1:53
Sandusky: 3:12:23 p.m. Duration: 3:45
Mansfield: 3:12:23 p.m. Duration: 3:16
Ashland: 3:12:43 p.m. Duration: 3:19
Elyria: 3:13:05 p.m. Duration: 3:52
Wooster: 3:13:39 p.m. Duration: 2:25
Parma: 3:13:41 p.m. Duration: 3:45
Cleveland: 3:13:46 p.m. Duration: 3:49
Akron: 3:14:14 p.m. Duration: 2:46
Cuyahoga Falls: 3:14:15 p.m. Duration: 2:56
Mentor: 3:14:21 p.m. Duration: 3:48
Ashtabula: 3:15:15 p.m. Duration: 3:45
Conneaut: 3:15:38 p.m. Duration: 3:44
Warren: 3:15:44 p.m. Duration: 1:57
Not in Ohio? NASA also lists these these American cities as being in the solar eclipse path of totality:
Dallas, Texas
Idabel, Oklahoma
Little Rock, Arkansas
Poplar Bluff, Missouri
Paducah, Kentucky
Evansville, Indiana
Erie, Pennsylvania
Buffalo, New York
Burlington, Vermont
Lancaster, New Hampshire
Caribou, Maine
In preparation for the upcoming eclipse, it might be a good idea to get your viewing supplies now as they could become much more difficult to find as the event gets closer. Remember, you should never look directly into the sun, but you can view the eclipse safely using specific glasses like these.
In 2017, Northeast Ohio experienced a partial solar eclipse with an 80-85 percent blockage of the sun. 3News' Chief Meteorologist Betsy Kling experienced that eclipse in the path of totality from Jefferson City, Missouri. Watch her reaction to the "incredible moment" she was able to witness in the player below: