CLEVELAND — Ukraine is a world away yet it tugs at most of us with deep emotion, peppered with fear. In defiance to the Russian military onslaught ordered by Russia's autocratic leader, Ukraine stands firm, vowing to fight even with a hastily-called civilian force.
Thousands of miles away in the Northeast Ohio air, the Ukrainian flag waves.
As it is throughout the world, in Cleveland there is an emotional tie to the Ukrainian people and Ukrainian soil. The Ukrainian greenspace is one of 33 gardens of the world-renowned Cleveland Cultural Gardens. Each garden represents an ethnic community in Greater Cleveland. This unique set of gardens celebrates this city's ethnic diversity.
In the Glenville neighborhood on Martin Luther King Junior Boulevard and East Boulevard, from the East Shoreway to University Circle, the gardens, each with the flag of the country or ethnic group each represents, is a "United Nations" highlighting some of each group's history. In Ukraine's garden with the flowers left there are profound feelings about the country where trouble and death has been dropped at its doorstep.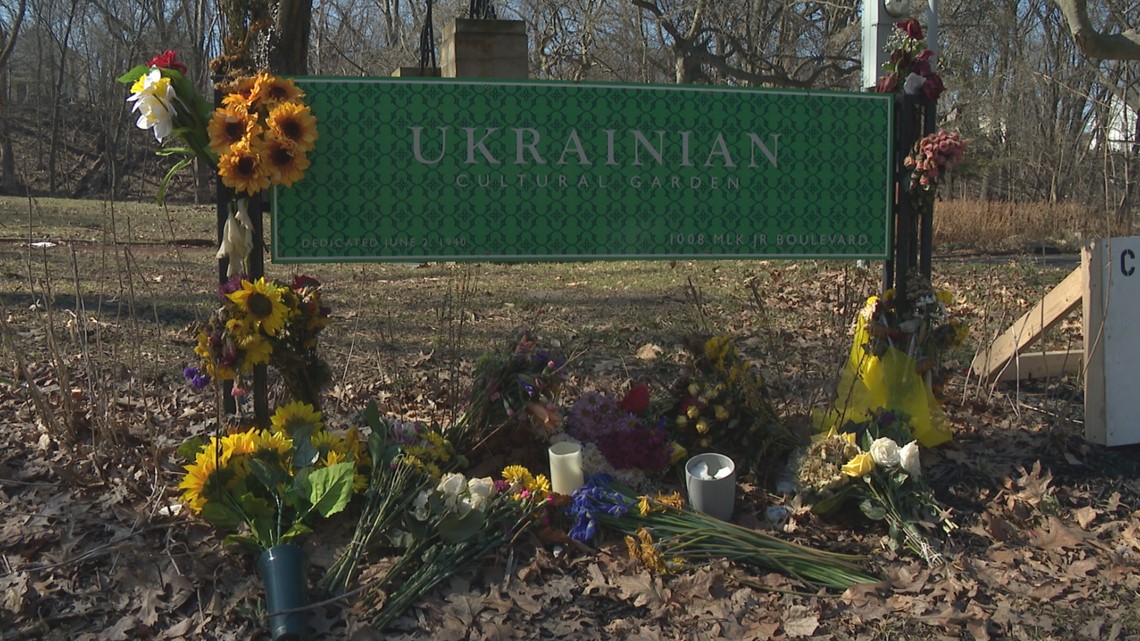 Diane DiPiero-Rodio is a freelance writer who came to the Cultural Gardens to show her support. "It's very far off, Russia and Ukraine, but we come here to the Cultural Garden. We see how Ukraine is a part of our country."
When Russia invaded Ukraine, the Russian flag was taken down. A co-founder of the Russian garden announced the flag removal because those behind the garden "don't want to be associated in any way" with Russia's criminal activity.
Even here, the emotions run high.
Begun in 1916, the gardens have increased in number to 33.
Most of the gardens are interconnected one to another. Open to everyone, each is a window to an ethnic community. More than a century ago with their establishment. The idea was to create a pathway of peace representing international friendship among nations.
But there can be wide gulfs between high ideas and realities. Even with the gardens have come international battles, bullets, bloodshed. From the Russian invasion, Ukraine now bleeds. Because of the invasion, all freedom-loving people are hurting. In a way, we are all citizens of Ukraine in that all democracies are affected. Or can be.
So in a special place thousands of miles from its homeland, a flag of a people waves … still.