Last week, Ohio State head coach Urban Meyer announced his retirement from Ohio State, effective following the Buckeyes' matchup against Washington in the Rose Bowl.
With that, one of the most unique eras in Ohio State history in terms of talent will come to an end.
Although Meyer inherited plenty of talent from Jim Tressel and Ryan Day will be expected to live up to his standards as his successor, there's no denying Meyer's recruiting prowess. Between the 5-star studs he lured from across the country and the overlooked 3-stars he helped develop into future first-round picks, the 3-time national champion head coach always laid claim to one of the top rosters in the country throughout his seven seasons in Columbus.
How much talent did Meyer attract and/or develop during his Ohio State tenure? Just take a look who would comprise his all-time Buckeyes team.
Quarterback: Dwayne Haskins
When it comes to the quarterback position, Meyer saved his best for last.
While Braxton Miller, J.T. Barrett, Cardale Jones and even Kenny Guiton excelled is Meyer's spread system, none did so as prolifically as Dwayne Haskins, who will also start the final game of Meyer's OSU career against Washington in the Rose Bowl on New Year's Day.
In his lone season as the Buckeyes' starting signal-caller (2018), Haskins set Big Ten records for passing yards (4,580) and touchdowns (47) while leading Ohio State to a 12-1 record, including a victory over Northwestern in the Big Ten Championship Game. For his efforts, the Maryland native was voted a Heisman Trophy finalist, finishing third for the award behind the winner, Oklahoma quarterback Kyler Murray, and Alabama quarterback Tua Tagovailoa.
Running back: Ezekiel Elliott
All things considered, Ezekiel Elliott enjoyed a pretty unmemorable sophomore season.
And then the postseason came.
With the Buckeyes down to their third-string quarterback, Elliott asserted himself as one of the nation's top players, rushing for a combined 696 yards and eight touchdowns in wins over Wisconsin, Alabama and Oregon en route to Ohio State winning the first-ever College Football Playoff championship.
Elliott then proceeded to enjoy a stand out junior campaign in 2015 before leaving Columbus as the Buckeyes' third all-time leading rusher (3,961 yards) despite only spending three seasons at Ohio State.
The No. 4 pick of the 2016 NFL Draft, Elliott has gone on to enjoy a successful career with the Dallas Cowboys. After leading the league in rushing and earning All-Pro honors as a rookie, the St. Louis native is once again the NFL's top rusher with 1,262 yards through 13 games.
Wide receiver: Michael Thomas
Like Elliott, Michael Thomas played a key role on arguably two of the most talented teams in Ohio State history. In 2014, he enjoyed a breakout campaign with 54 receptions for 799 yards and 9 touchdowns, before adding 56 catches for 781 yards and 9 scores as a junior the following year.
Since being selected by the New Orleans Saints in the second round of the 2016 NFL Draft, Thomas has only seen his star power skyrocket, earning Pro Bowl honors in 2017. Through the first 13 games of the 2018 campaign, the Los Angeles native ranks second in the league in receptions (102), fifth in yards (1,218) and ninth in touchdowns (8) on a Saints team currently considered one of the front-runners to win the NFC.
With three games still to go in 2018, he already lays claim to the most catches (298) by any player through the first three years of his NFL career.
Wide receiver: Devin Smith
With 44 catches serving as his career-high, Devin Smith wasn't one to fill up a stat sheet. But when he did get the ball in his hands, he made most plays count, particularly in 2014 when he averaged a national high of 28.2 yards per catch.
Over the course of his four-year career, the speedster from Akron recorded 121 catches for 2,503 yards and 30 scores. It was nearly impossible, however, to quantify the impact his ability to stretch the field had on the OSU offense, particularly in the team's run to the 2015 College Football Playoff championship.
H-back: Curtis Samuel
Upon his arrival in Columbus, Meyer brought with him the 'H-back' position, a wide receiver/running back hybrid first made famous at Florida by Percy Harvin.
At Ohio State, no player played the part better than Curtis Samuel, who earned All-American honors in 2016 while tallying 1,636 yards (865 receiving, 771 rushing) and 15 total touchdowns (8 rushing, 7 receiving) -- including one very memorable game-winner in double overtime against rival Michigan.
The Carolina Panthers selected Samuel in the second round of the 2017 NFL Draft.
Tight end: Jeff Heuerman
Although he was recruited to Columbus by Jim Tressel, it didn't take long for Jeff Heuerman to find a place in Meyer's spread offense. From 2012-14, he recorded 51 receptions for 767 yards and 7 touchdowns at a position that had been previously an afterthought for the Buckeyes.
Perhaps most memorably, Heuerman served as a captain and team leader on Ohio State's 2014 national title team. Selected in the third round of the 2015 NFL Draft, Heuerman has since tallied 49 receptions for 564 yards and 4 touchdowns over the course of three seasons with the Denver Broncos.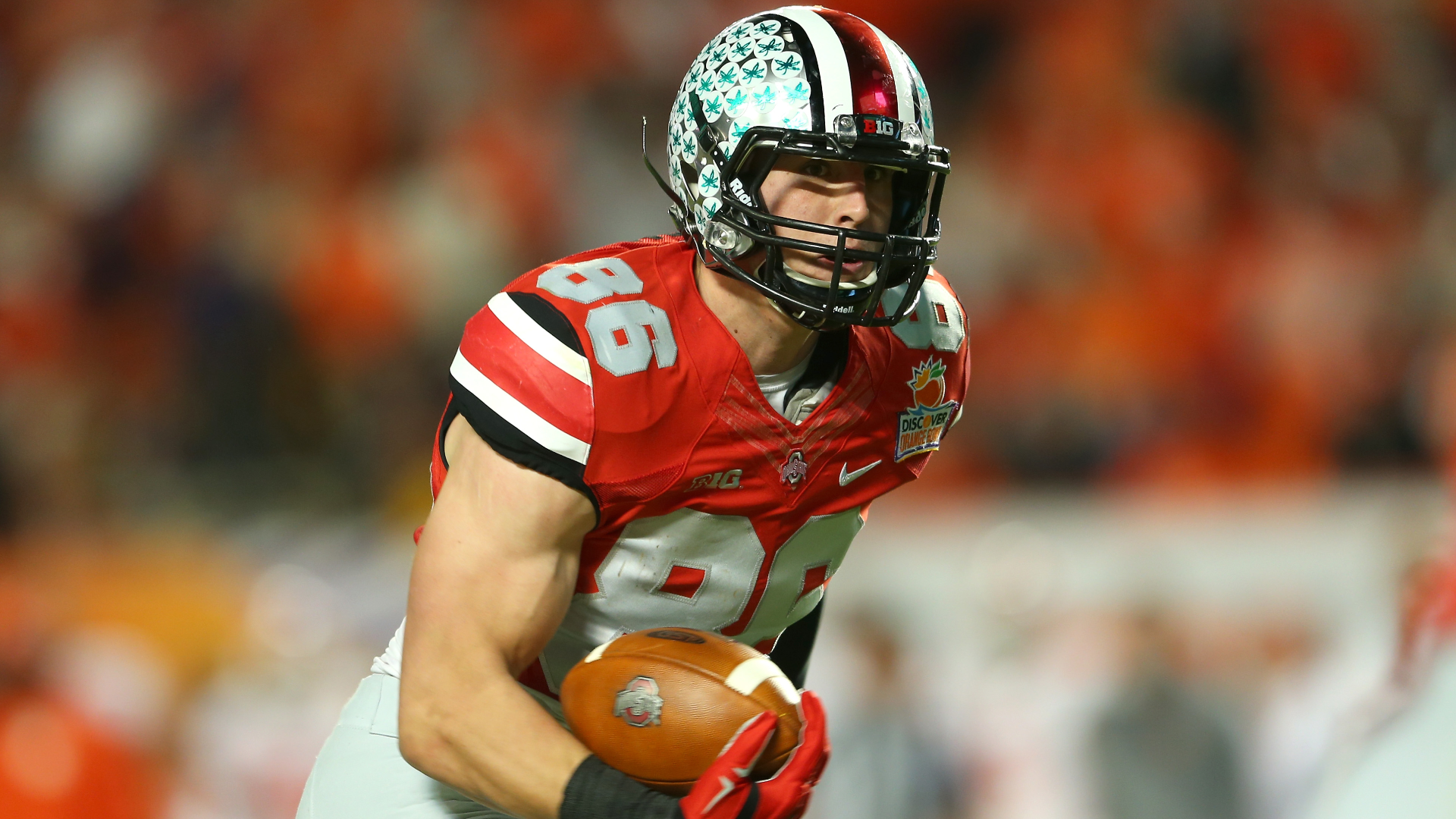 Offensive tackle: Taylor Decker
When it came to the recruiting trail, one of Meyer's first moves at Ohio State was to flip Taylor Decker from his commitment to Notre Dame. The victory proved to be a pivotal one for the Buckeyes, with Decker serving as a three-year starter, consensus All-American and 2015 Big Ten Offensive Lineman of the Year, who was eventually drafted by the Detroit Lions in the first round of the 2016 draft.
Offensive tackle: Jack Mewhort
Another player inherited rather than recruited by Meyer, Jack Mewhort didn't reach his full potential Meyer's arrival in 2012.
For the first two years of Meyer's Ohio State tenure, Mewhort anchored the Buckeyes' offensive line at left tackle, earning All-Big Ten honors in both seasons and an All-American selection in 2013. A second-round pick in 2014, Mewhort spent four seasons as a starter with the Indianapolis Colts before a knee injury brought his NFL career to an end.
Offensive guard: Pat Elflein
Ohio State's first major national award winner since Malcolm Jenkins won the Thorpe Award in 2008, Pat Elflein received the 2016 Rimington Trophy, which is awarded annually to the top center in college football.
Prior to taking over as the Buckeyes' starting center, Elflein spent two seasons as a starting offensive guard, helping pave the way for Elliott's historic Ohio State career. Selected in the third round of the 2016 NFL Draft, the 2016 Big Ten Offensive Lineman of the Year has spent the past two seasons as the starting center on the Minnesota Vikings, earning All-Rookie honors in 2017.
Offensive guard: Billy Price
After Elflein departed to the NFL, Billy Price made a similar transition, sliding from offensive guard to center for his senior season. And just like Elflein, Price made the move count, earning All-American honors for the second straight season while also giving the Buckeyes back-to-back Rimington Trophy winners and three straight Big Ten Offensive Lineman of the Year awards.
In April, the Cincinnati Bengals selected Price with the No. 21 overall pick of the 2018 NFL Draft.
Center: Corey Linsley
In the first three seasons of his college career, Corey Linsley played sparingly, largely serving as a reserve offensive guard. That changed upon Meyer's arrival at Ohio State in 2012, with the former 4-star prospect transitioning to center, where he helped anchor the Buckeyes' offensive line from 2012-13.
Selected by the Green Bay Packers in the fifth round of the 2014 draft, it didn't take long for Linsley to become the team's starting center. Earning All-Rookie honors in his debut campaign, Linsley has started all 67 games in which he's appeared in his professional career.
Defensive end: Joey Bosa
A 4-star prospect, Joey Bosa was one of the most prized prospects in the Buckeyes' highly touted 2013 class. Bosa, however, wouldn't just meet expectations but exceed them, earning consensus All-American honors in 2014 and 2015, in addition to being named a 2-time Big Ten Defensive Lineman of the Year and the Big Ten Defensive Player of the Year in 2014.
Despite his college career lasting just three seasons, Bosa left Ohio State third in career sacks with 26. Selected by the San Diego Chargers with the No. 3 pick of the 2016 NFL Draft, Bosa went on to earn Defensive Rookie of the Year honors after totaling 10.5 sacks in his debut campaign.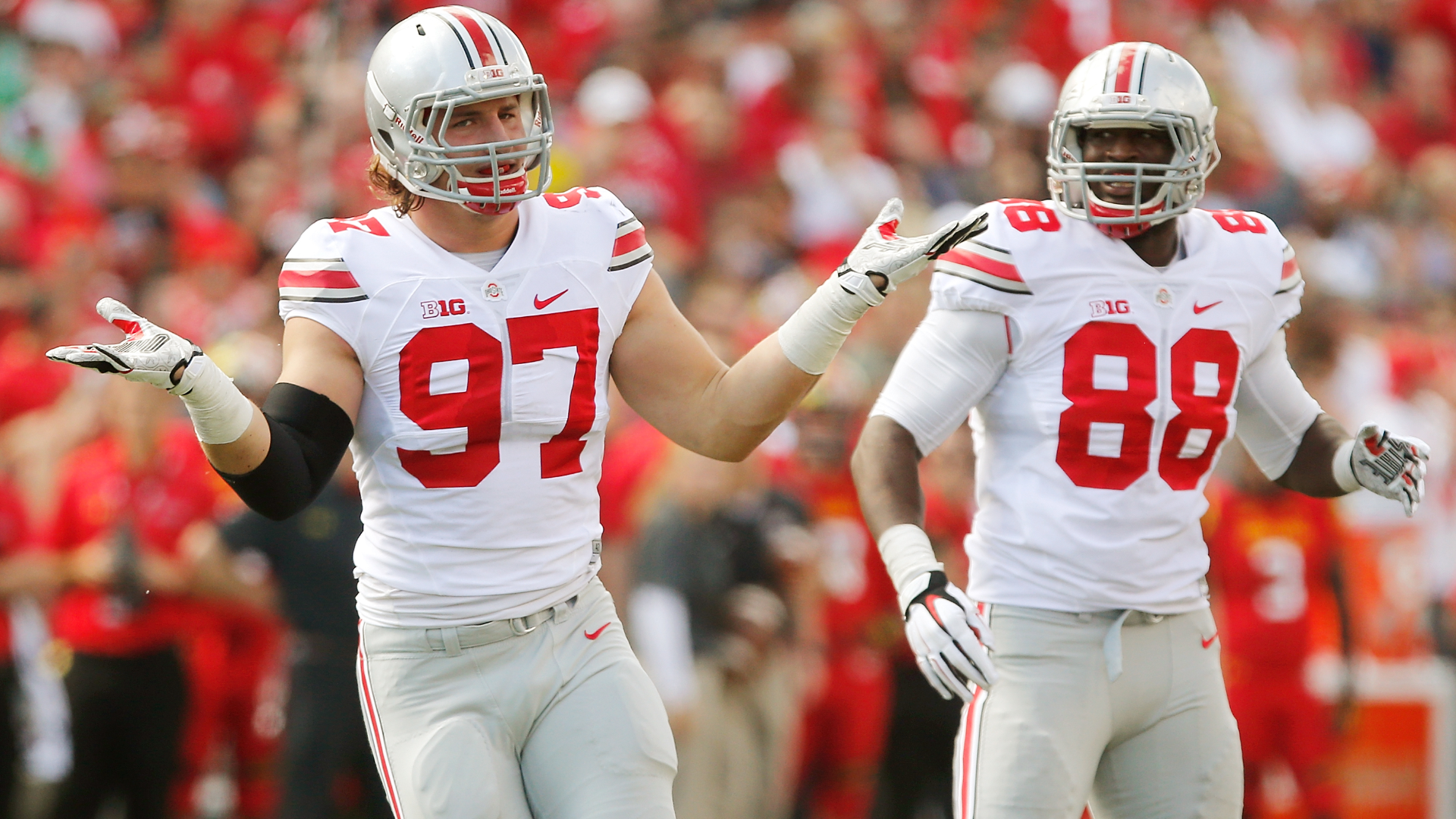 Defensive end: Nick Bosa
If Joey Bosa isn't the most talented defensive player to have ever played for Ohio State, it might be because it's his younger brother, Nick Bosa.
Although Nick played just a little more than two years for the Buckeyes, he certainly made his time in Columbus count. Despite not officially being listed as a starter, the former 5-star prospect was named the Big Ten Defensive Lineman of the Year as a sophomore in 2017 after tallying 8.5 sacks.
The younger Bosa appeared poised for an even bigger junior campaign, recording 4 sacks in Ohio State's first three games. Unfortunately for the Buckeyes, a core muscle injury brought his college career to an end, leading the potential top-five pick to declare for the NFL Draft.
Defensive tackle: Dre'Mont Jones
A highly touted defensive line prospect coming out of Cleveland's St. Ignatius, Dre'Mont Jones' college career got off to a shaky start thanks to a torn ACL suffered during his senior season of high school basketball.
But over the course of four seasons in Columbus, Jones more than made up for the late start, emerging as a freshman All-American after starting 12 games in 2016.
From there, Jones only got better, providing a consistent pass rush from the interiro of the Buckeyes' defensive line. In what will likely be his final season at Ohio State, Jones saved his best for last, tallying 8.5 sacks and 13 tackles for loss in 2018.
Defensive tackle: Adolphus Washington
It wasn't a reporter or even Meyer himself who broke the news that the former Florida head coach was coming to Columbus. Rather, it was 5-star defensive lineman Adolphus Washington, who revealed that Meyer was going to be the Buckeyes' head coach upon making his own commitment to Ohio State.
Over the course of his four seasons of player for Meyer, Washington established himself as one of the top interior defensive linemen in the country, recording 142 tackles, 25 of which came for a loss and 13.5 sacks. Selected by the Buffalo Bills in the fourth round of the 2016 draft and has since spent time with the Dallas Cowboys and Cincinnati Bengals.
Linebacker: Ryan Shazier
Inherited by Meyer as a sophomore in 2012, Ryan Shazier went from promising prospect to future first-round pick in his two seasons under Meyer. From 2012-13, the speedy linebacker tallied 172 tackles, 40.5 of which came for a loss, and 12 sacks, earning All-American honors in 2013.
Selected by the Pittsburgh Steelers with the No. 15 overall pick in the 2014 NFL Draft
Linebacker: Darron Lee
While Meyer was best known for luring highly touted prospects to Columbus, Darron Lee had to fight for his spot in Ohio State's 2013 class. Despite growing in the Buckeyes' backyard, Lee was essentially an afterthought as a recruit, who spent the bulk of his high school career playing quarterback.
But after barely playing as a freshman, the New Albany native emerged as one of the top defensive players in college football in 2014. Excelling at his new position of linebacker, Lee played a crucial role on Ohio State's national championship-winning offense, earning Defensive MVP honors in the Buckeyes' Sugar Bowl victory over Alabama.
After recording 146 tackles, 27 of which came for a loss and 11 sacks, Lee declared for the 2016 NFL Draft, where he was selected in the first round by the New York Jets.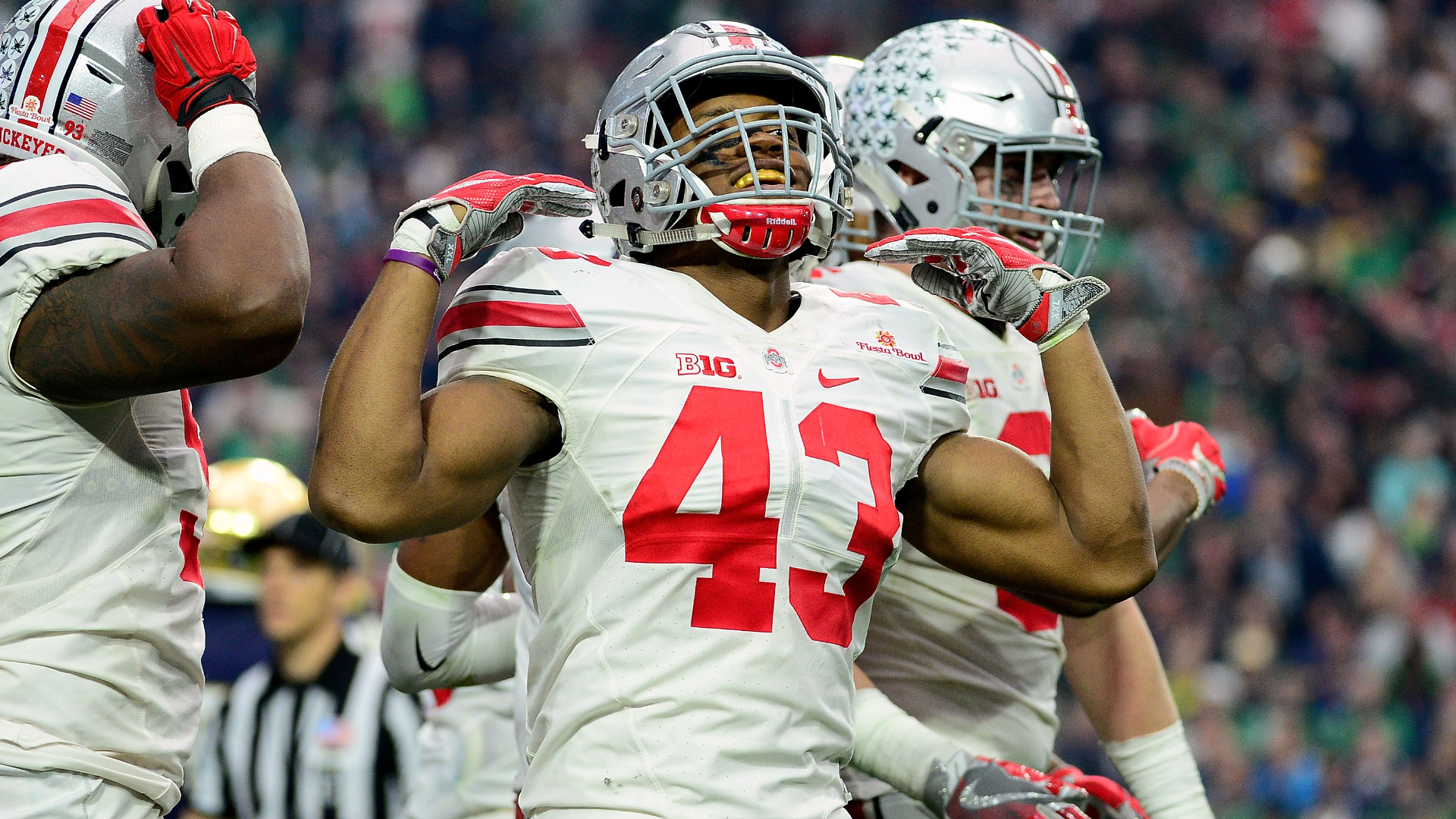 Linebacker: Raekwon McMillan
Unlike Lee, Raekwon McMillan arrived at Ohio State with no shortage of expectations, a 5-star prospect who won the high school version of the Butkus Award. And although he wasn't able to reproduce such hardware in Columbus, he did enjoy a productive college career, totaling 275 tackles, 18 of which came for a loss and 6 sacks in three seasons as the Buckeyes' starting middle linebacker.
An All-Big Ten selection in 2016 and two-time second-team All-American, McMillan was selected by the Miami Dolphins in the second round of the 2017 NFL Draft.
Cornerback: Marshon Lattimore
A highly touted prospect coming out of Cleveland Glenville High School, injuries limited Marshon Lattimore's playing time in his first two seasons in Columbus.
Upon finally earning a starting role in 2016, Lattimore showed what all the fuss was about, earning All-Big Ten honors after tallying 41 tackles, 9 pass defenses and 4 interceptions. The following spring, the New Orleans Saints used the No. 11 overall pick of the NFL Draft to select Lattimore, who went on to earn Defensive Rookie of the Year honors in his debut campaign.
Cornerback: Denzel Ward
Upon getting his first chance to crack the Buckeyes' starting lineup, Denzel Ward had some sizable shoes to fill; In 2016, Ohio State's defensive backfield featured not one but two starting cornerbacks who would go on to become future first-round picks.
Ward managed to keep the tradition alive -- and then some -- earning consensus All-American honors after recording 15 pass defenses and 2 interceptions in 2017. Factor in his impressive speed and it shouldn't come as a surprise that the Cleveland Browns brought the Macedonia native home with the No. 4 overall pick of the 2018 NFL Draft.
Safety: Malik Hooker
A high school basketball standout, it didn't take long for Malik Hooker to take to the gridiron. In his first game serving as Ohio State's starting safety, he recorded two interceptions, one of which he returned for a touchdown.
That proved to be the start of a remarkable redshirt sophomore campaign, in which Hooker ultimately recorded 7 interceptions en route to earning consensus All-American honors. After foregoing the final two seasons of eligibility available to him, he was then selected by the Indianapolis Colts with the No. 15 overall pick of the 2017 NFL Draft.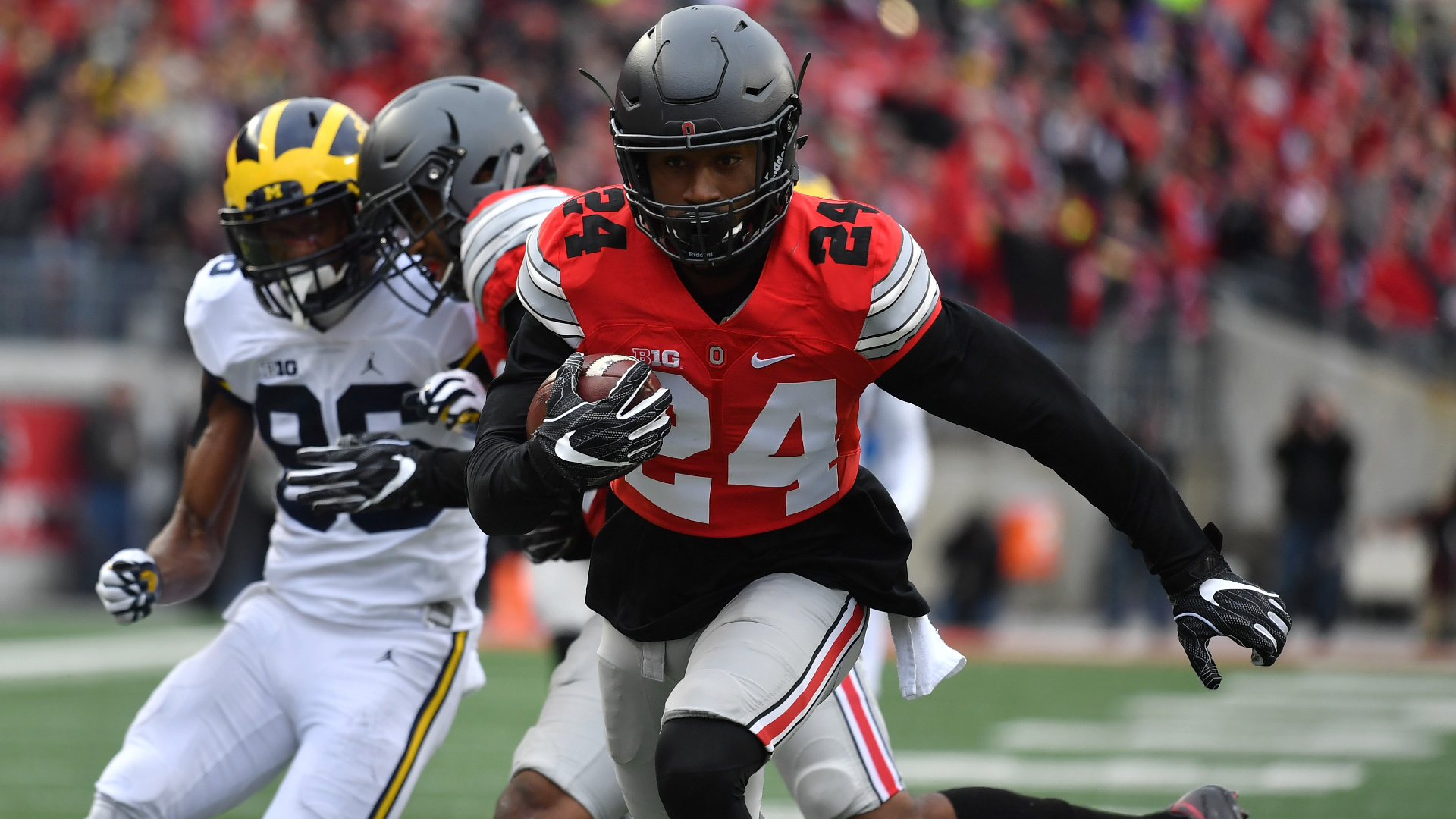 Safety: Vonn Bell
A 5-star prospect out of Tennessee, Vonn Bell wasn't the type of player Ohio State didn't typically land -- at least not until Meyer came to town. Despite many experts assuming the home state Volunteers or Alabama would have an advantage, the Buckeyes managed to sign Bell, who went on to proclaim that he was signing with OSU in hopes of winning a national title.
Bell's words would prove prophetic, with the Buckeyes winning the national title in his sophomore season. A year later, he earned All-American honors before being selected by the Saints in the second round of the NFL Draft, helping create the new blueprint for a Buckeyes player in the Meyer era at Ohio State.
Special teams
Punter: Cameron Johnston
Kicker: Sean Nuernberger
Second-team
QB - J.T. Barrett
RB - Carlos Hyde
WR - Parris Campbell
WR - Corey "Philly" Brown
WR - Jalin Marshall
TE - Nick Vannett
OT - Jamarco Jones
OG - Andrew Norwell
C - Jacoby Boren
OG - Michael Jordan
OT - Reid Fragel
DE - Sam Hubbard
DE - Tyquan Lewis
DT - Johnathan Hankins
DT - John Simon
LB - Jerome Baker
LB - Chris Worley
LB - Joshua Perry
CB - Bradley Roby
CB - Gareon Conley
S - Tyvis Powell
S - Christian Bryant