BEREA, Ohio — This numbers Day 11 of training camp, and about the best news of the day — and I mean football and every else that is swirling around the Browns right now — was the temperature.
It was a lot more doable today, a lot cooler than it was last week and certainly over the weekend, when that heat really hit the team and anybody else that was out here.
Now let's deal with what went on on this Tuesday. The Browns (and everybody else) continue to wait on the NFL decision by Peter C. Harvey regarding the appeal that the league filed of the ruling that came down last week on the six-game suspension of Deshaun Watson. That really has the team kind of drained, because when you really boil it down, only the players and Kevin Stefanski still answer questions or beat around the bush when things come their way.
And I understand that about the Watson situation; it's not their situation personally. Watson has not spoken, and I sort of get that, but nobody in the hierarchy of the team — ownership, front office — has spoken on it, either. They will not speak on it until there's some finality to it.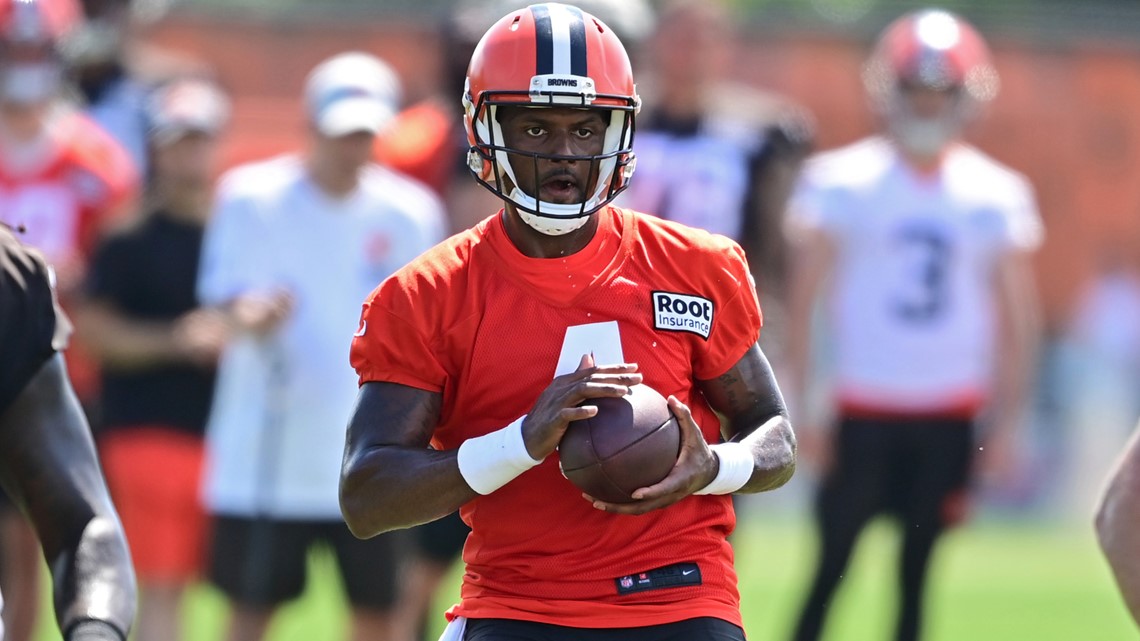 So while the NFL owners were meeting in the Twin Cities and ratifying the new sale of the Denver Broncos, we thought we'd maybe get the decision coming down. So far, no word yet, and the Browns are heading into their first preseason game Friday night in Jacksonville against the Jaguars with a great unknown.
Everybody wants to know who's going to play on Friday night, and really who's going to play at quarterback on Friday night. Now, in their heart of hearts, the Browns would love to have Deshaun Watson get in and play some in that game, and if he's eligible, I feel that will be the case.
How much? I don't known, but if he plays, you'll also probably see the No. 1 offensive line play, too. They would be important to keep Watson upright and healthy.
But if the ruling on the suspension comes down, and if it's an indefinite suspension before that game, he will not be eligible to play. He will not be eligible to be with the Browns any longer for any time during training camp. He will basically be out of the league at that time, and can only come back in on reinstatement.
So that would be a disappointment. Now, why do they want to have him play? Well, because he hasn't played any actual football since late September of the 2020 season. Remember, he didn't play a snap all of last year in Houston.
They would like to get him in the game and get him some game action, and he would love that, too. But obviously, they're also going to have to start the process of getting Jacoby Brissett up and running for the start of the season.
After that, who knows? Josh Dobbs, Josh Rosen, it really depends on how many times you get the football in the game.
Now, there was a bad injury at training camp on this day, and that was to wide receiver and kick returner Jakeem Grant. He went out for a pass thrown by Watson during a drill while being covered by defensive back A.J. Green, he went down, and he was in a great deal of pain, really frustrated and pounding the turf with his fist.
Usually, the player tells you the extent of the injury before a trainer or a doctor does. They know, and it looked as though Grant had a substantial injury.

What does that do to the Browns overall? Well, it wipes out their return game. That was the primary reason they signed him, because their return game has been really lackluster the last couple of years.
If he is out, then the Browns can seek another returner, or they'll just go with the guys they went with last year — Demetric Felton, Anthony Schwartz, D'Ernest Johnson, Donovan Peoples-Jones. It completely changes the effectiveness of the return game, because at that point, they are just hoping to catch the punt, catch the kickoff, don't turn it over, and get the ball over to the offense.
So that Grant situation really is a bad one for special teams. It hurts them tremendously, and it also affects them in the passing game, because he is really crafty, very smart, very quick as a slot receiver. He can get open, has good hands, and is just a good football player, so overall, you would be losing a guy that they were really counting on in a couple of different ways.
The team travels to Jacksonville tomorrow. They'll have a "team day" on Thursday, and then the game is on Friday night. Game 2 for the Jaguars, game 1 for the Browns.