CLEVELAND — After a 13-month hiatus from mixed martial arts competition, former UFC heavyweight champion Stipe Miocic will get his long-awaited rematch with Daniel Cormier for the title in the main event of UFC 241 at the Honda Center in Anaheim, California tonight.
And while Miocic enters the rematch with Cormier as the betting underdog, which he was several times despite being the titleholder, here are five reasons why the Cleveland native will win back the heavyweight championship.
Motivation to settle a score
The August 17 bout with Cormier will be a chance for Miocic to settle some bad blood between the former and current champions.
In a Twitter rant in February, Cormier called out Miocic for remaining idle while he took a bout against Derrick Lewis to main-event the UFC's annual early-November trip to Madison Square Garden in New York City.
Earlier that day, Cormier tweeted: "I don't owe anyone s&*$!"
Cormier's comments came just over a month after he left open the possibility of giving Miocic a rematch should a potential super-fight with former heavyweight king Brock Lesnar not materialize. Currently, Lesnar is contracted to World Wrestling Entertainment, Inc. and reportedly, the former champion told UFC officials recently that he would remain retired.
"I like being called, 'Champ,' and it just sucks not having that belt, but like I said, we're from Cleveland," Miocic said. "We always have adversity. I'd like to get through it and get back on top."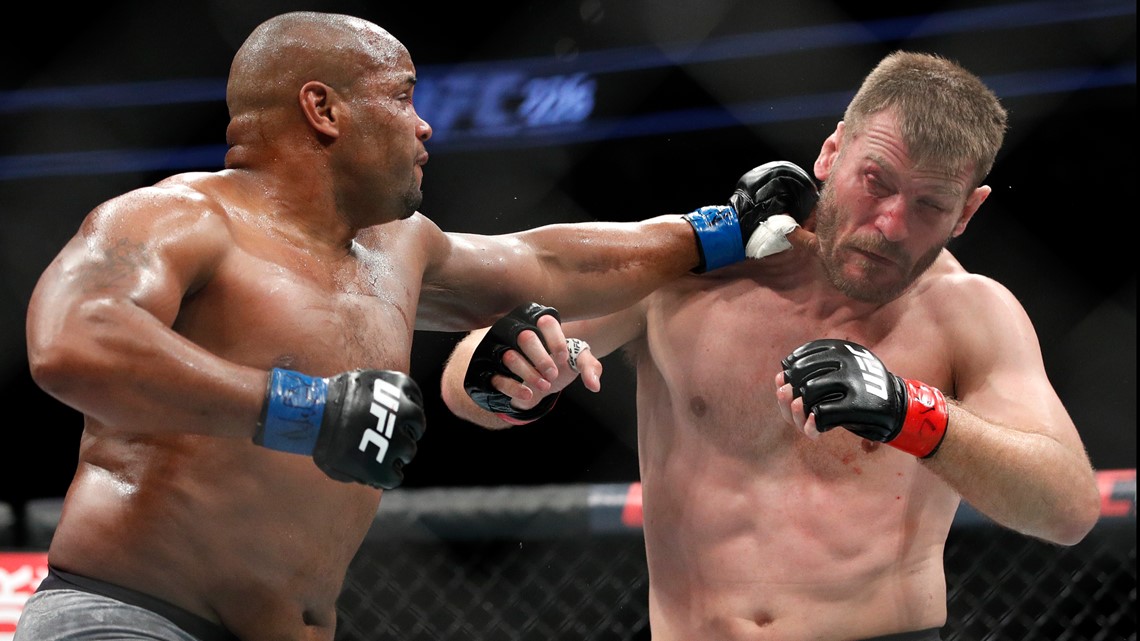 Prove something to daughter
Miocic has plenty of motivation heading into his rematch with Cormier, but no more so than showing his infant daughter, Meelah Claire, how to face and work through obstacles in the path toward a goal.
"Overcome adversity, that's all it is," Miocic said. "Life sucks. Life is the hardest thing, but I always look at it like, 'There's always someone having a worse day than you.'
"No matter how hard you get knocked down, it's like the 'Rocky' movie. 'No matter how hard life knocks you down, you've got to get back up and keep moving forward' because that's life, and that's what I want to show her. No matter how hard it is, it's going to be okay."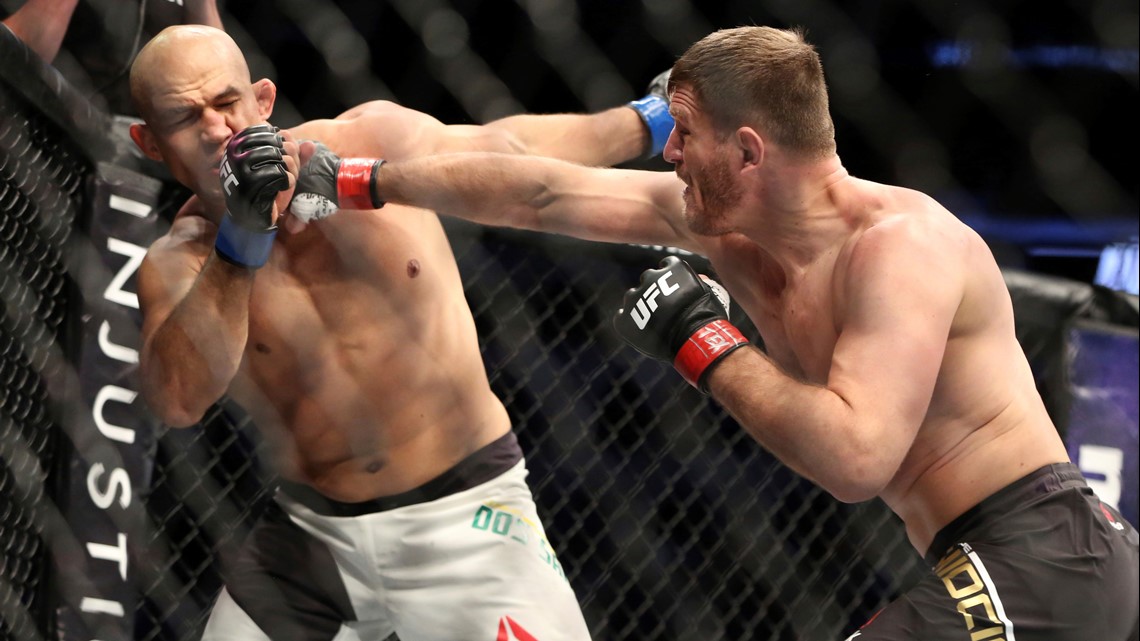 Despite taking a thumb to the left eye on an attempted shove from the challenger early in the bout, Miocic felt he was winning for much of the first round against Cormier in his fourth defense of the UFC heavyweight championship.
However, out of a clinch, Cormier faked an uppercut, came over the top with a right-handed strike and floored the defending champion. With Miocic on his back, Cormier pounced and landed multiple strikes before the referee called a stop to the contest.
"I'm a better fighter than him," Miocic said of Cormier. "In every aspect of the game, I was a better fighter. I was faster, stronger, more conditioned. It happens. It's the sport. We wear small gloves, and anything can happen."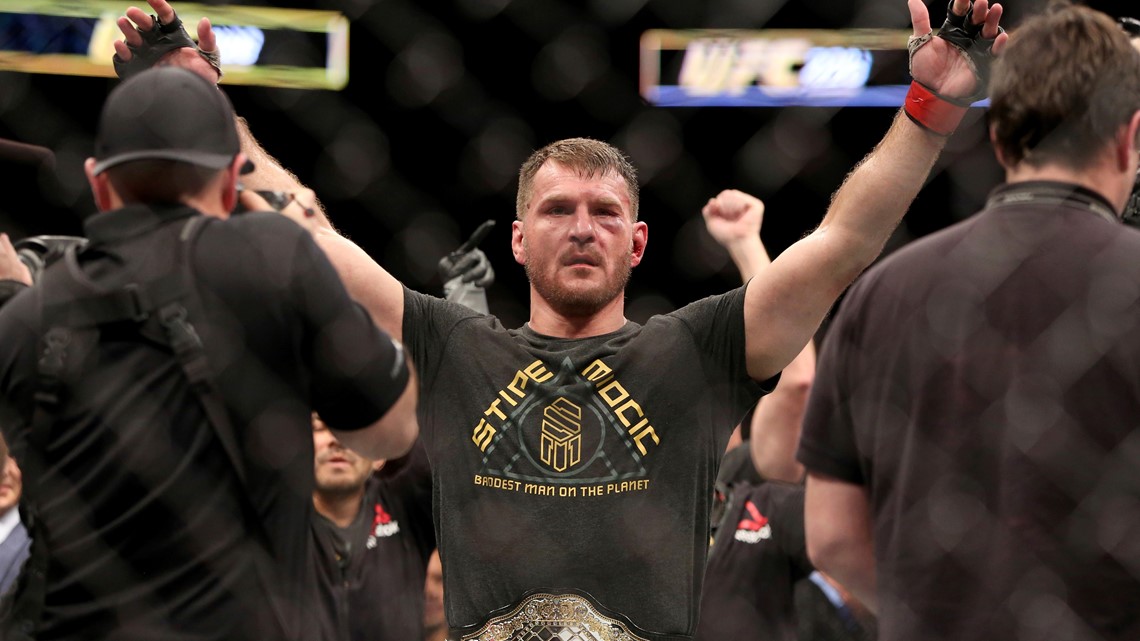 Miocic knows a thing or two about avenging a loss.
Back in 2014, Miocic was an up-and-coming fighter in the UFC heavyweight division and was given a step up in competition against former champion Junior dos Santos, but after a five-round slugfest, the Cleveland native lost via unanimous decision.
Fast-forward more than two years later, and Miocic earned a measure of payback against dos Santos when he avenged one of only two losses on his professional record at the time when he successfully defended the heavyweight championship with a knockout at the 2:24 mark of the first round in the main event of UFC 211 at the American Airlines Center in Dallas, Texas on May 13, 2017.
Miocic finished off the victory when he backed up dos Santos against the cage and floored him with a right hand to the head. When dos Santos fell, Miocic pounced at the opportunity to finish the fight and fired off more than a dozen left-handed punches through the guard, which forced referee Herb Dean to jump in and call a stop to the bout.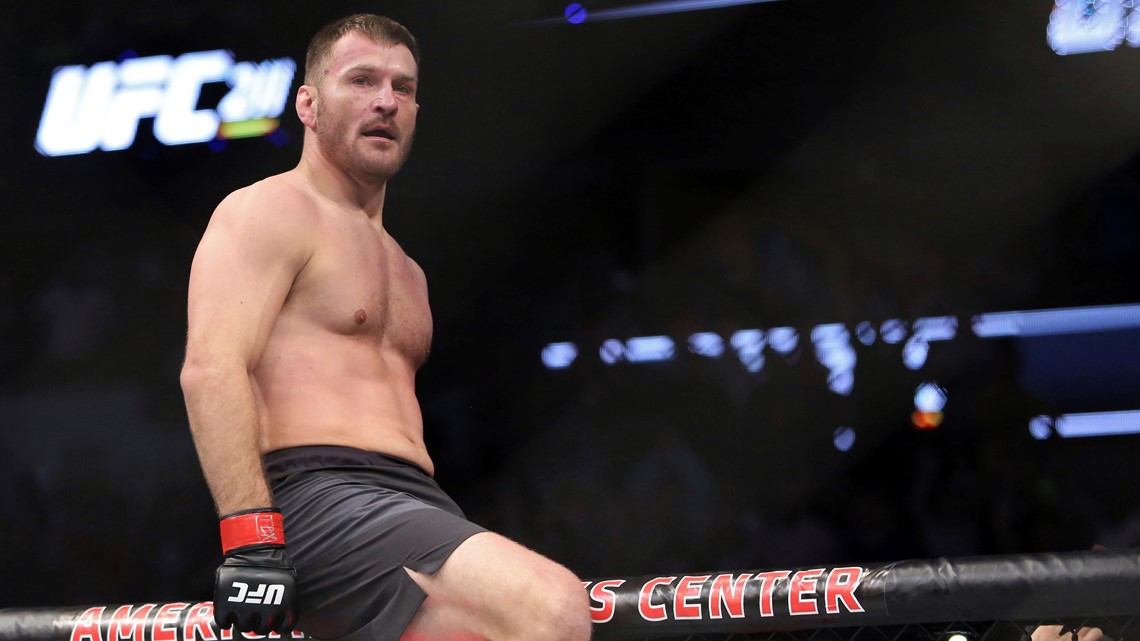 Good place mentally, physically
Just two weeks after losing to Cormier via knockout late in the first round of their main-event fight at UFC 226 in Las Vegas last July, Miocic became a father for the first time and he enjoyed the time spent with his daughter.
And now, it is time to get back to business and match up against Cormier, once again with the UFC heavyweight championship hanging in the balance.
"It's been great," Miocic said. "Taking a whole year, getting to do my thing, getting to enjoy my daughter, it's working out. I'm 36, but I'm still getting better. I'm faster, stronger and more mentally prepared, just a lot of good things out of this.
"It's been great to just let my body rest. When I was the champ, man, I was getting pulled in every direction. I was doing this and that. I was literally exhausted, but now, I'm just sitting back a little bit. I don't have a target on my back now. I can go and get someone and get my belt back."