Copley High School running back Weston Bridges tallied 1,624 yards and 29 touchdowns last fall en route to earning a slew of postseason accolades, including recognition as the Suburban League American Division Player of the Year and as a first-team all-state selection.
None of those highlight-reel plays are what Bridges remembers most about the 2015 season, though. Instead, it's his fumble in Copley's 28-21 Week 8 loss at Aurora – the team's lone blemish of the regular season – that remains fresh in his memory and still stings.
"I will always remember that game," Bridges said.
That crucial error and a hamstring injury suffered during the gridiron season that kept the multisport athlete from competing in track last season gave Bridges a singular focus this summer.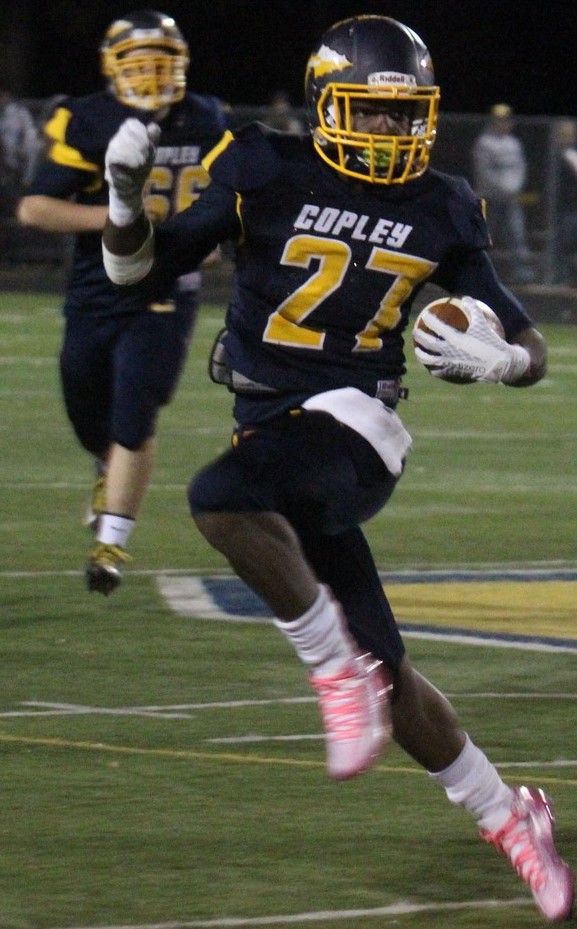 "What motivates me is to never be satisfied," Bridges said, echoing a sentiment he's continually reminded of by his dad. "They say if you really want something, then go get it."
The 5-foot-11 back has added muscle this summer and is up to 204 pounds. He's also devoted himself to getting faster and connecting with his teammates.
"I want to get better, that's all," Bridges said. "I want to get better and for the team to get better. I want to get tougher and more competitive."
While pushing himself, the rising senior has also encouraged teammates to remain focused on putting in the offseason work necessary to achieve their in-season goals.
One of the state's top tailbacks, Bridges verbally committed to Michigan State in April. He was originally drawn to the Big Ten program from watching Le'Veon Bell excel in the Spartans' backfield. The current Pittsburgh Steeler is still Bridges' favorite player, but the Michigan State coaching staff is the reason he's eager to get to East Lansing.
"It's one of the top programs in the nation, but they're very humble," Bridges said of the MSU coaches. "They care about you as a person. (Head coach) Mark Dantonio wants you to get your education and degree."
With his college decision made, Bridges has his sights set on helping Copley make its second consecutive playoff appearance and avenging last year's first-round loss.
Achieving the team's goals are rightfully Bridges' top priority, but he also has a lofty personal goal in which he'd like to cap his three-year varsity football career – win the Associated Press' 2016 Mr. Football Award.
"It'd be a true blessing," Bridges said of the possibility of winning the state's top prep football award. "I'd probably be the happiest dude alive."
For more Northeast Ohio high school sports news, scores, photos and videos, visit WKYC.com/hss.