MEDINA, Ohio — The final tally is in, and we're excited for this one.
Following more than two days of voting, the matchup between the Euclid Panthers and the Medina Battling Bees has been selected as WKYC.com's next High School Football Game of the Week. The showdown took home 53% of the more than 3,500 ballots cast.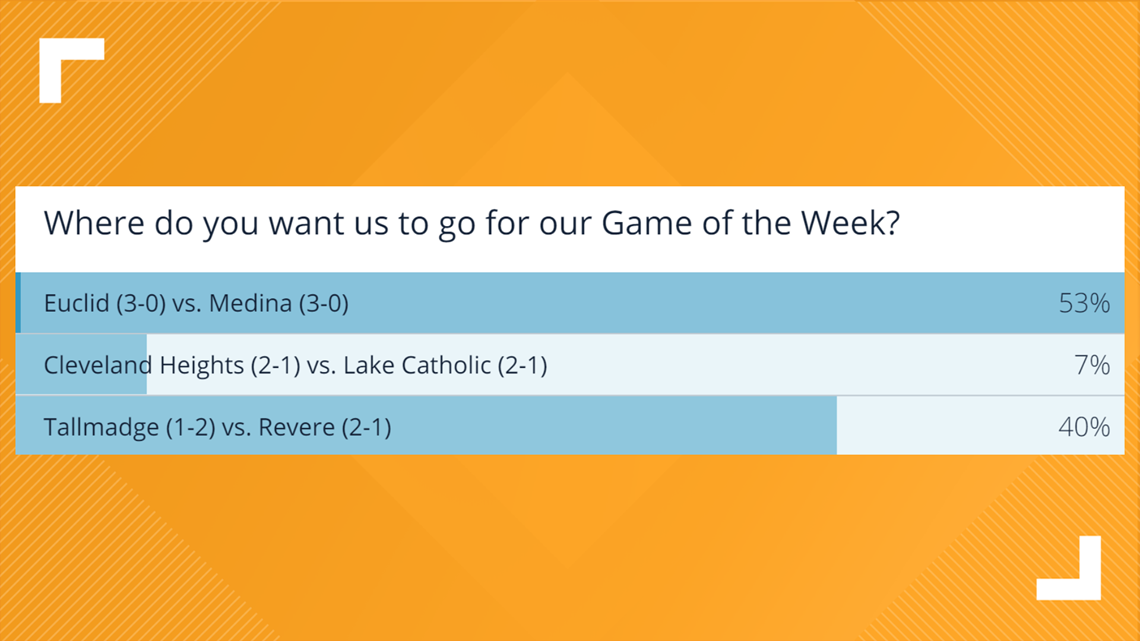 It's the league opener for two unbeaten Greater Cleveland Conference rivals. Euclid has emerged as one of Cuyahoga County's top programs in recent years, and is coming off a huge 49-48 road win over Canton McKinley. They are led by quarterback Dion Valentine.
Medina, meanwhile, narrowly missed the playoffs last year and is now 3-0 after snapping Wadsworth's 23-game regular season winning streak. Luke Hensley had two long touchdowns in that game.
Dave "Dino" DeNatale and a still-to-be-determined guest will broadcast the game live on WKYC.com, the WKYC app, and the WKYC Facebook and YouTube pages Friday starting at roughly 6:50 p.m. Video highlights can then be seen that night online and on Channel 3 News at 11.
You can also watch Dino and Tyler Carey preview the game below:
In addition, here's WKYC's latest High School Football Top 5:
Mentor (3-0)
St. Ignatius (2-1)
Massillon Washington (3-0)
Archbishop Hoban (2-1)
St. Edward (2-1)