AURORA, Ohio — We're in for a fun one in Portage County, as the Aurora Greenmen will host the Revere Minutemen in the latest edition of WKYC.com's High School Football Game of the Week!
The Suburban League matchup took home roughly 43% of the vote in our latest poll. It beat out a marque game featuring Mentor and Euclid, as well as an all-Summit County showdown between Hudson and Stow-Munroe Falls.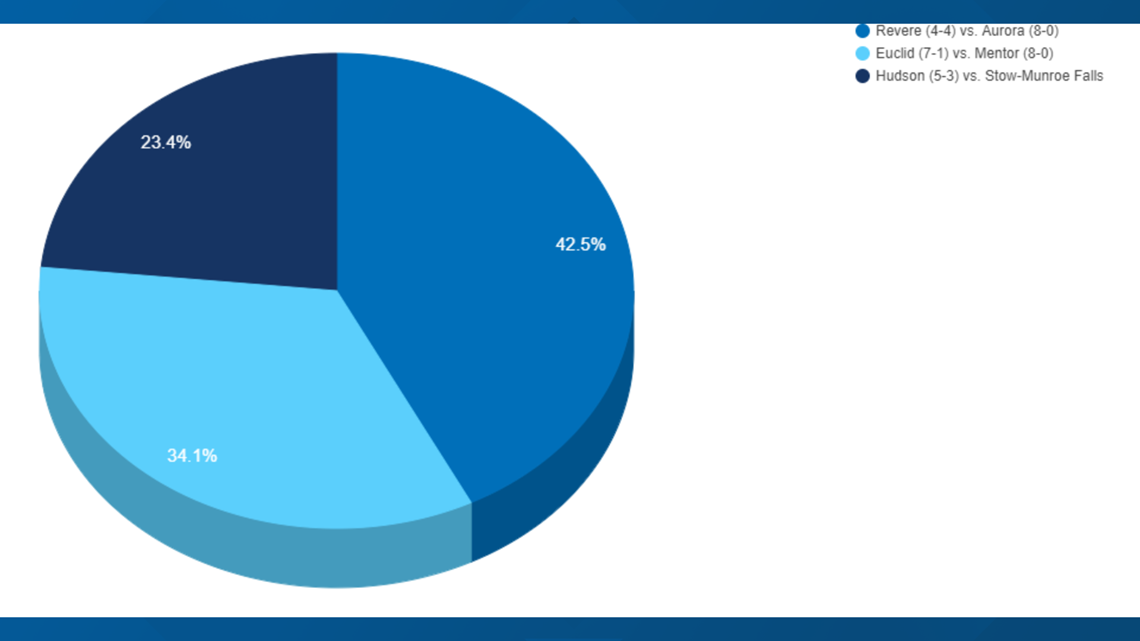 Sitting at 4-4 (1-3 in the Suburban's American division), the Minutemen are just percentage points out of a Division III playoff spot thanks to a win over Buckeye in Week 1. Their last two losses have come by a combined four points, and they are led by offensive tackle Ben Christman. The four-star junior may be the most talented player in Northeast Ohio, and is already committed to play for Ryan Day at Ohio State in 2021.
After missing the playoffs last year for the first time since 2004, the Greenmen have found their grove again with and 8-0 start and appear to only be getting better. It will be tough to challenge Christman on the line, but AJ Barner may be the one to do it; the senior defensive end is himself committed to join Frank Solich at Ohio next fall.
Dave "Dino" DeNatale and Dennis Manoloff will be in the call Friday night on WKYC.com, the 3News app, and the 3News Facebook and YouTube pages. In addition, 3News will feature video highlights on that night's edition of What's Next at 11 p.m. as well as online.
We hope you can listen in with us! In the meantime, watch as Dino and Tyler Carey preview the action below: