CINCINNATI — Well, Joe Burrow has finally beaten the Browns after he had gone 0-4 against them, or should I say — at least on this day — that the Browns beat the Browns, and there's evidence of that.
The Browns were penalized nine times on the afternoon for 98 yards at critical, critical points in the game, and if you give Joe Burrow more and more opportunities, he's going to cash in. He finally did, and got rolling — 23-10 the Bengals end up winning the game.
The Browns? They really hurt themselves all game long, but on their first possession they drive down and get down deep in Bengals territory, and it's third-down-and-1. They give the ball to Kareem Hunt, he does not get the first down.
So, it's fourth-down-and-1. They bring in "Mr. Quarterback Sneak" Jacoby Brissett, and guess what? He didn't sneak. He threw a pass into the end zone intended for Donovan Peoples-Jones incomplete, and the Browns come up empty.
Do you ever think that the Browns sometimes get a little bit too cute for their own good? I do, and I thought they did here. In such a big game, on the road, I think you get points, or you just go in a straight line. Get the first down, get the one yard, but the Browns instead went for the trick play — the big play — and it blew up in their face.
Back to the penalties — there was a wicked penalty on Tony Fields on an attempted blocked punt of Drue Chrisman. Why do I say it was wicked? Because Chrisman, though he had not been punting well, was deep in his own territory. Donovan Peoples-Jones caught the punt at the 40-yard line, and Tony Fields gets called for roughing the punter.
Why would you go for a blocked punt that deep in Cincinnati territory? Just catch the ball and get possession of it. Instead, Fields pretty much cut Chrisman's body in half. There was no doubt about it.
Isaiah Thomas came up with a huge penalty for hands to the face, wiping out a sack of Joe Burrow and keeping that touchdown drive that made it 7-0 going. On that drive alone, the Browns' penalty yardage added up to 58 yards.
Again, a big game? You can't make mistakes like that.
To the Browns' offense: You know what? The Browns' offensive line — we keep saying it's great; it is not great right now. It is injured, they're having problems at center. Hjalte Froholdt is getting the job done, but it's a long way from where the Browns were with Ethan Pocic or perhaps Nick Harris if he hadn't gotten hurt on the first play of the preseason.
Suddenly, Nick Chubb and Kareem Hunt are running into a lot of defenders. The Browns are not getting a push up front, and the offensive line is struggling to open up that Browns running game. Thus, you're in second-down-and-long and third-down-and-long.
Deshaun Watson was better than he was last week in Houston, but there's a long, long way to go, and I think it is vital for Watson to play better and look better and to get the Browns' offense into the end zone at home over the next two weeks for all of us to feel better about how he's going to end the season and go into the offseason and make us all sleep better knowing that we really have the Deshaun Watson of old, the guy that was so great back in Houston but right now is really struggling.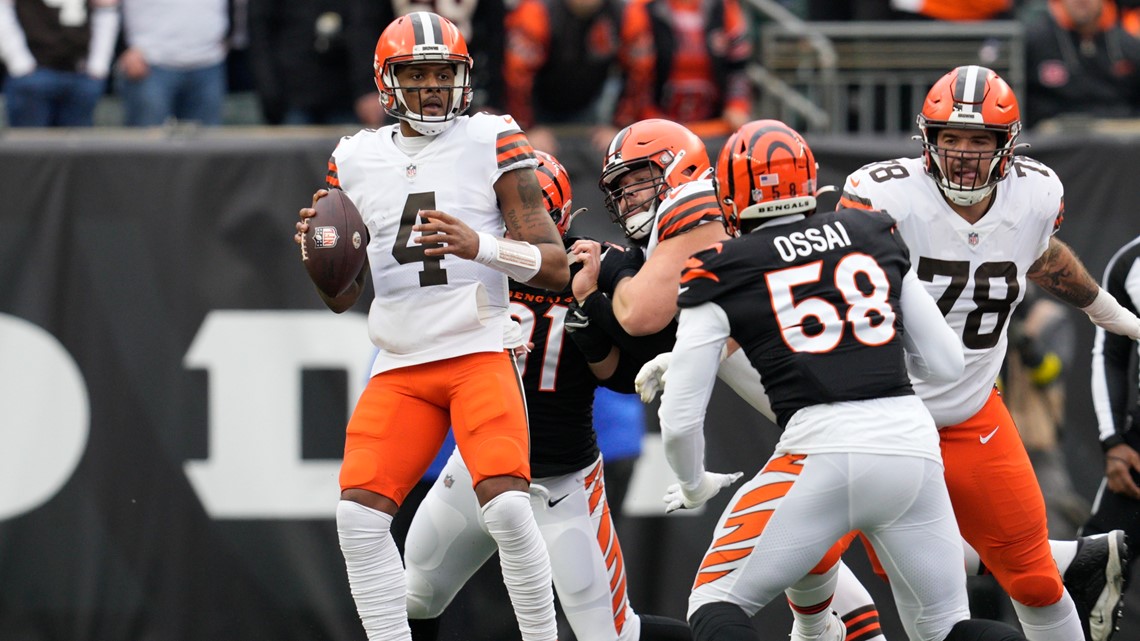 This is a tricky equation right now for the Browns: You asked this team to play 11 games without Deshaun Watson, and they did. And then he arrives on the scene and now you're asking them to kind of pull him along, and he's playing at a preseason level in very big ballgames. That's tough to do, and it's not going that well right now.
So, the Browns are now in that very unenviable category: They're just playing out the string of games and five wins and eight losses, and they come home to take on Baltimore next Saturday at FirstEnergy Stadium.
But on this day, it's Cincinnati. The Browns lose to Joe Burrow, but really can look at themselves and say, "Man, did we leave a lot of points out on the field, and did we make big-time mistakes, and if we're going to be a great team — a playoff team — you just can't do that."
Listen to Jimmy's calls from today's game in the player below: