JACKSONVILLE, Fla. — Hello from Jacksonville, where the Browns won over the Jaguars 24-13 thanks to their young players, who came out and put on a sterling performance for their NFL debut.
But the game started off real tough. The Browns lost their young starting center Nick Harris with what looks like a bad right knee injury, and boy, Deshaun Watson looked as though he hadn't played in a couple of years.
It was a ragged start for him, missing a throw early before being the victim of a dropped pass by Anthony Schwartz. He then bumped into an offensive lineman, D'Ernest Johnson later fumbled the ball, and overall, it was a mess. They could get no rhythm going with the No. 1 offense.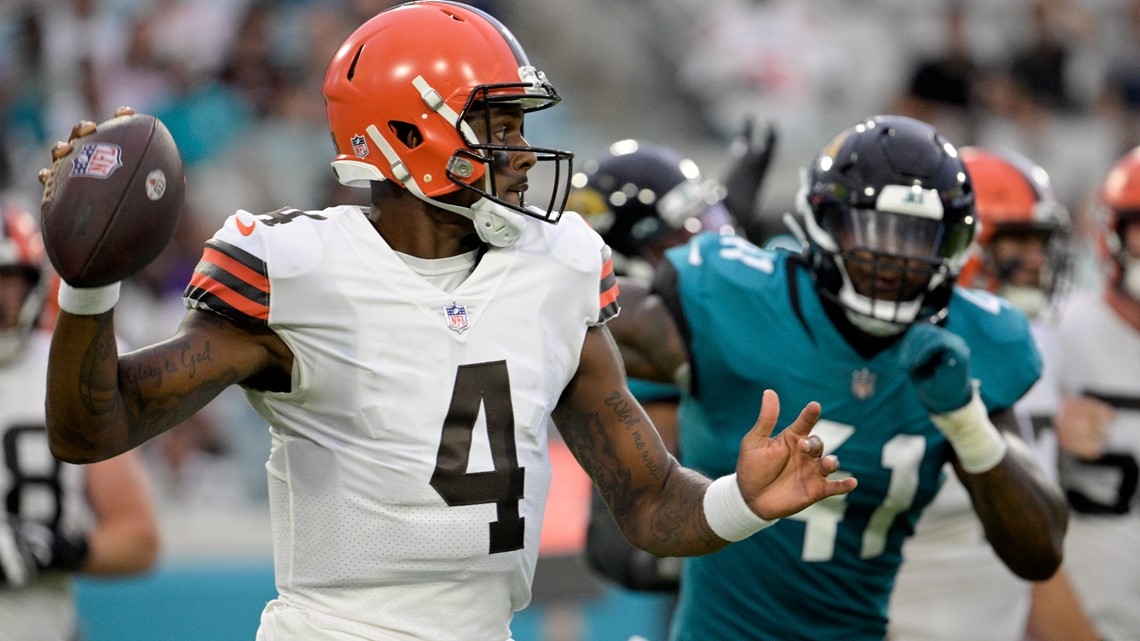 With everything that's going on in Watson's life right now, you can understand that there's a lot of rust to kick off his game. Now, you wonder when he will play again. Will he be able to play next week against the Eagles, or are the Browns running out of time to get probable starting quarterback Jacoby Brissett ready to go by the time Sept. 11 and the opening game in Carolina rolls around?
But those young players were sensational, and it starts with their young running back Jerome Ford — a rushing touchdown, a receiving touchdown.
And how 'bout their top draft choice (in the third round, remember) Martin "M.J." Emerson? He stole the ball and took it 75 yards for a touchdown, and the young players just kept making play after play after play, topped off by a very professional performance in his first professional game from their new kicker Cade York.
Now, a big week coming up for the Browns, as they'll practice against Philadelphia on Thursday and Friday before playing them on Sunday afternoon at FirstEnergy Stadium in the home opener, with kickoff at 1 o'clock. That's when we should see Jacoby Brissett start to play, but I'll tell you what, Josh Dobbs did a phenomenal job running the offense, and it really ignited a good performance by the Browns from the second quarter on.
Passing grades? You bet. Rough grades for Deshaun Watson? Understandable, and a bad injury to Nick Harris. But all in all, a 24-13 win.