HOUSTON — The Washington Nationals entered the 2019 World Series against the Houston Astros as the biggest underdog in more than a decade.
It took all of one game for them to rewrite the script.
In what promised to be one of baseball's premier pitching matchups, it was the Nationals who emerged victoriously, tagging Astros ace Gerrit Cole for five runs. Although Houston ultimately cut Washington's advantage to 5-4 in the bottom of the eighth, closer Sean Doolittle managed to record a 4-out save with the Nationals own ace, Max Scherzer, picking up the win.
After Houston took a 2-0 lead in the first inning, Ryan Zimmerman cut the Astros' lead in half with a home run, with Juan Soto tying the game in the top of the fourth with his own solo shot. An inning later, the 20-year-old left fielder would give the Nationals a 5-2 lead with a 3-run double, which proved to be just enough in Washington's first World Series victory in franchise history.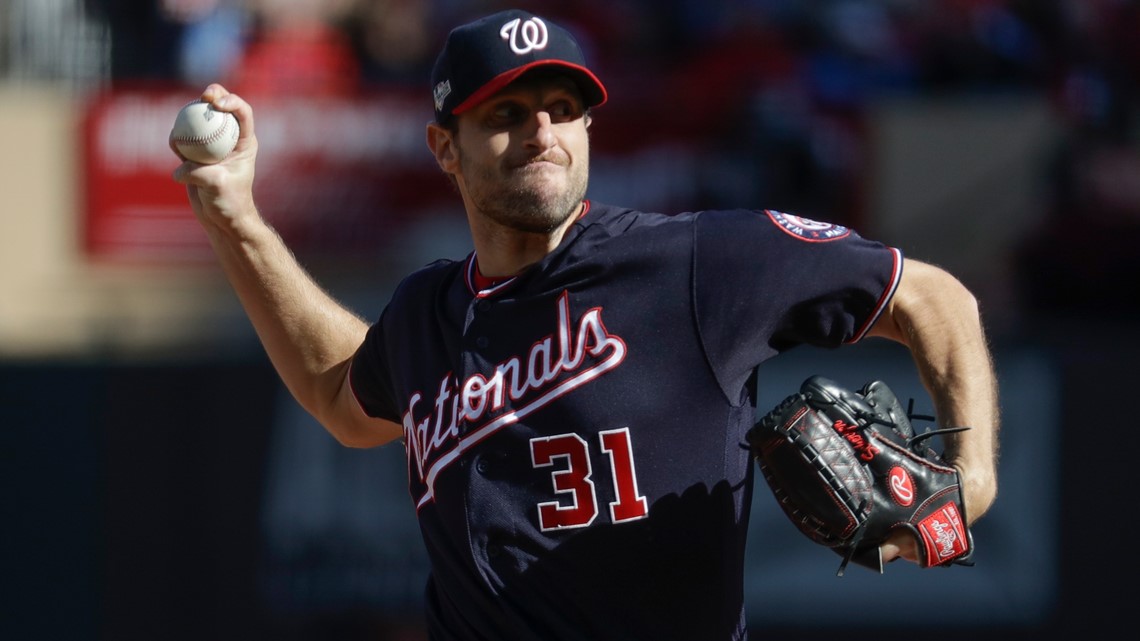 End of game: Nationals 5, Astros 4
Three up, three down for Doolittle, who strikes out Alex Bregman and forces Yuli Gurriel and Carlos Correa into fly outs to give the Nationals a 1-0 series lead.
Middle of ninth: Nationals 5, Astros 4
Houston brings in reliever Joe Smith, who proceeds to tally a 1-2-3 inning as the Astros head to the bottom of the ninth down one run.
End of eighth: Nationals 5, Astros 4
A George Springer double brings in Kyle Tucker and puts the go-ahead run at the plate. Dave Martinez turns to Sean Doolittle for what could be a 4-out save, which he begins by forcing Michael Brantley into a fly out to left field.
Middle of eighth: Nationals 5, Astros 3
Will Harris into the game for Houston and allows a Juan Soto single in between an Anthony Rendon pop out and Howie Kendrick line out. Harris then strikes out Asdrubal Cabrera to escape the inning unscathed.
Gerrit Cole's final line: 7 innings pitched, 8 hits, 5 runs, 6 strikeouts, 1 walk.
End of seventh: Nationals 5, Astros 3
Tanner Rainey into the game for Washington and he gives up a solo home run to George Springer to start the inning.
After striking out Jose Altuve, the 26-year-old walks Michael Brantley and Alex Bregman before being pulled for Daniel Hudson.
Hudson proceeds to force a Yuli Gurriel pop out but a Carlos Correa single loads the bases. Hudson, however, strikes out Yordan Alvarez to push the game to the eighth inning.
Middle of seventh: Nationals 5, Astros 2
Three up, three down for Gerrit Cole, who strikes out Victor Robles and Trea Turner before forcing an Adam Eaton fly out to end the inning.
End of sixth: Nationals 5, Astros 2
Patrick Corbin takes over for Scherzer and finds similar success with Yordan Alvarez reaching base on a 1-out single before a Martin Maldonado strike out and Aldemys Diaz ground out ends the inning.
Scherzer's final line on the night: 5 innings, 5 hits, 2 earned runs, 3 walks and 7 strikeouts.
Middle of sixth: Nationals 5, Astros 2
Asdrubal Cabrera hits a lead off single, but Ryan Zimmerman grounds into a double play and Cole strikes out Suzuki to end a relatively easy sixth inning.
End of fifth: Nationals 5, Astros 2
Three up, three down, as Max Scherzer retires Michael Brantley, Alex Bregman and Yuli Gurriel in order.
Middle of fifth: Nationals 5, Astros 2
The Nationals take their first lead of the night when an Adam Eaton 1-out single brings in Kurt Suzuki, who walked before advancing to third after a Victor Robles single and tag up.
Juan Soto then adds to the Nationals' lead with a 2-out double off the left field wall, bringing in three runs.
End of fourth: Astros 2, Nationals 2
Scherzer finds himself in another jam, this time with runners on first and second with two outs after a Yordan Alvarez single and George Springer walk. But the 3-time Cy Young Award winner forces Jose Altuve into a ground out to first to end the inning.
Middle of fourth: Astros 2, Nationals 2
A Juan Soto solo home run ties things up at 2 all heading into the bottom of the fourth.
End of third: Astros 2, Nationals 1
Nationals find themselves in a jam after Michael Brantley reaches on a single and Victor Robles misjudges a fly ball to put runners at second and third with two outs. Max Scherzer, however, escapes the inning without allowing a run, striking out Carlos Correa for his sixth punch out of the night.
Middle of third: Astros 2, Nationals 1
Adam Eaton hits a 2-out single on a line drive to left, but Gerrit Cole forces an Anthony Rendon fly out to deep center to end the top of the third.
End of second: Astros 2, Nationals 1
Yordan Alvarez walks but Max Scherzer flies out Martin Maldonado and pops out Josh Reddick before striking out George Springer to escape the second unscathed.
Middle of second: Astros 2, Nationals 1
Ryan Zimmerman goes deep in his first career World Series at-bat to cut the Astros' lead in half.
End of first: Astros 2, Nationals 0
Max Scherzer walks George Springer and gives up a single to Jose Altuve, with both players scoring on a two-out Yuli Gurriel double to give an early Houston a 2-0 lead.
Middle of first: Astros 0, Nationals 0
Trea Turner reaches on a leadoff single and advances to second on a stolen base, but Adam Eaton pops out on a bunt attempt and Gerrit Cole strikes out Anthony Rendon and Juan Soto to take us to the bottom of the first.