Cleveland Guardians home opener guide: How to watch, what's new at Progressive Field, parking restrictions and more
The 2022 Cleveland Guardians home opener will air on WKYC with extended coverage starting at 3 p.m.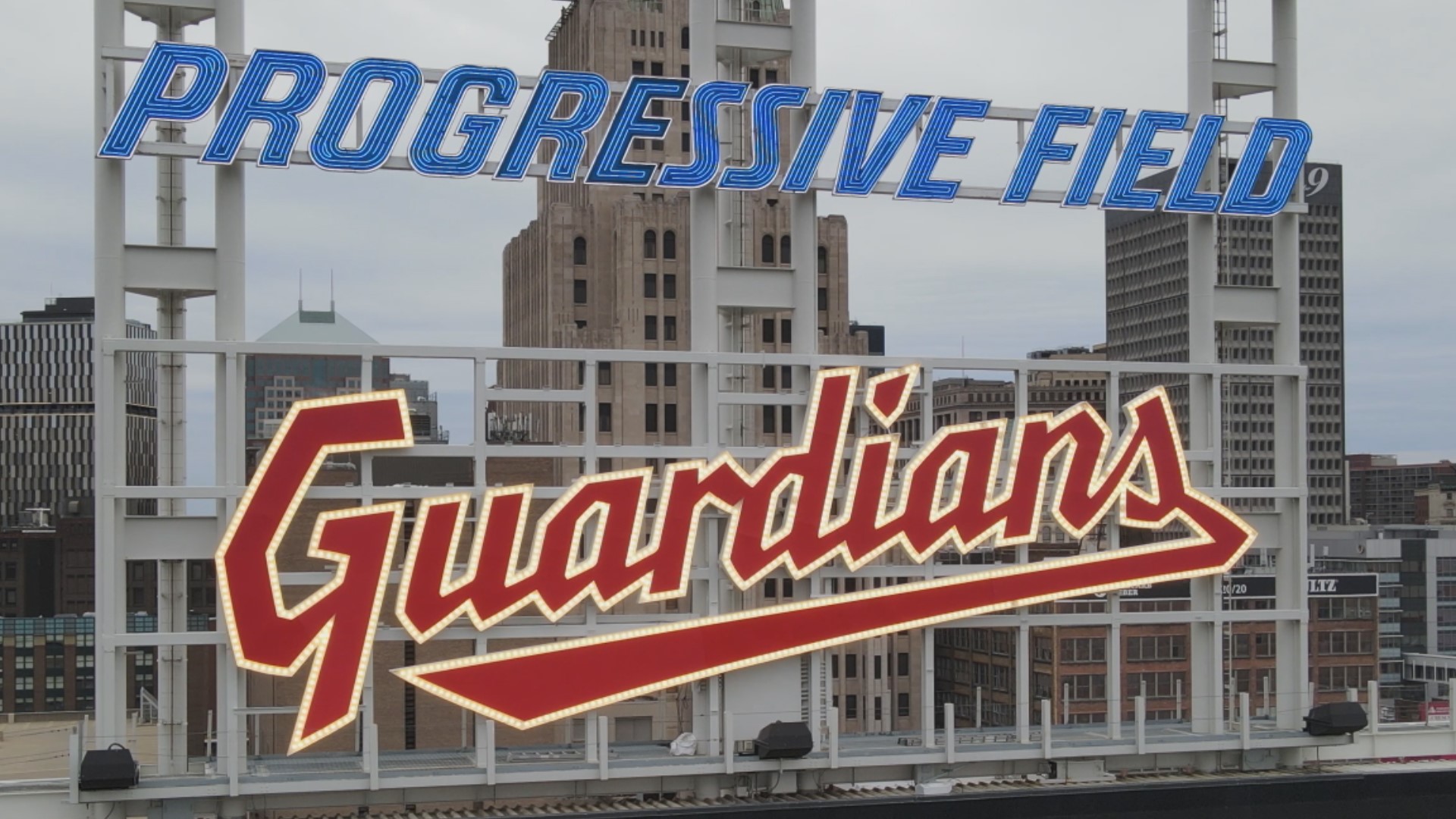 After a delayed start to the 2022 baseball season, the Guardians home opener finally arrives at Progressive Field on Friday, April 15, at 7:10 p.m. against the San Francisco Giants. You can watch the historic game on WKYC with our extended coverage starting at 3 p.m. as the team plays its first home game using their new name.
Are you ready, Guardians fans? Here's a guide to everything you need to know about the first home game from watching extended coverage on WKYC to finding parking spots, transportation, merch, changes coming to Progressive Field and more.
Play ball!
:
Here. We. Go.
How can I watch?
The game will air on WKYC with coverage throughout the day as follows:
4:30-7 a.m. Watch our extensive sneak peek at the game with coverage from inside Progressive Field on GO! with the 3News morning team
3-5 p.m. Guardians On Deck special
5-6 p.m. Our What's New broadcast continues to capture all the excitement before the big game
6-7 p.m. Guardians Special
7 p.m. Play ball! Watch the game live on WKYC.
11-11:30 p.m. All the home opener highlights you need to see on What's Next
Want more? Our team will capture the sights and sounds of the home opener across all platforms, so be sure to follow us on Facebook, Twitter, Instagram and YouTube. Use #3Guardians to join the conversation.
What time is first pitch?
Who's pitching?
Cleveland Guardians: Zach Plesac
San Francisco Giants: Carlos Rodon
What's their record so far?
The Guardians are currently 4-2 this season.
Opening Day Moments
:
Inside the ballpark
Here's everything you need to know if you're going to the Cleveland Guardians home opener in person at Progressive Field..
What time do the gates open?
Are tickets still available?
The team announced tickets were sold out as of 2 p.m. Monday, April 11. That marks the 29th consecutive home opener full house at Progressive Field since the ballpark first opened in 1994.
Updated bag policy
"Due to fan feedback, Progressive Field is returning to the bag policy it implemented during the 2019 season," the team announced on April 13.
Jackie Robinson Day
This 29th home opener at Progressive Field will be highlighted by the celebration of the 75th anniversary of Larry Doby breaking the color barrier in the American League in honor of Jackie Robinson Day. Doby's son will catch the ceremonial first pitch.
Tom Hanks comes to Cleveland
"I've had Guardians fever since 1977 when I caught my first game in Section 19 of Cleveland's Lakefront Municipal Stadium," Hanks said. "I'm honored to return to Cleveland and Progressive Field for the first home game of the Cleveland Guardians era."
Hanks, who started his acting career with the Great Lakes Theater Festival in Cleveland, also voiced the team's name change announcement video back on July 23, 2021.
Honoring America
The National Anthem and God Bless America will be performed by Cleveland native Brianne Bryant -- who is also known as Lady Bri. Her band Welshly Arms provided vocals for the new Cleveland Guardians team song -- We Are Cleveland -- which you can hear below:
Members of all six military branches -- Air Force, Army, Coast Guard, Marines, Navy and Space Force -- will all be on hand to create a joint color presentation, and a flyover will be performed by the 112th fighter squadron of the 180th fighter wing with a 4-ship of F-16s.
Guardians Block Party
The celebration starts early with the Guardians Block Party in Gateway Plaza, which is open to the public. The party features DJ Kyro, the City Breaks dancing group, the Cleveland Strikers, Slider and the Dogs and more.
Any freebies for fans at the park?
Yes! The home opener features a free magnet schedule and car magnet for all fans in attendance. CLICK HERE to see this year's full promotional schedule.
Game day weather
:
What's the home opener forecast?
Temperatures are expected to be in the mid 50s by the time first pitch arrives. There are some slight rain chances, too, but we're watching closely. Be sure to download the free WKYC app for the latest weather updates (Android, Apple).
Good eats
:
New food at Progressive Field
Fans coming to Progressive Field this season can expect a new lineup of food options, which includes these eight menu additions:
Southwest Burger at Build a Burger (Left Field)
A 1/3 pound CAB all-beef patty topped with guacamole, fresh pico de gallo, "FUNacho" cheese sauce and chipotle crema on a freshly baked brioche bun
Chicken and Waffle (Left Field Bleachers)
A buttery Belgian waffle with a signature tender, fries and spicy maple syrup
Plant-Based Nachos at Tostitos Nachos Stands (Throughout Lower Level)
Tostitos chips topped with plant-based protein, "FUNacho" cheese sauce, sour cream, jalapenos and salsa
Mac & Cheese Bowl at Melt, Bar & Grilled (Right Field)
Signature macaroni and cheese with optional Montgomery Inn pulled pork and bacon
Pork Mac & Cheese Cone at Throwin' Smoke BBQ (Third Base)
Large waffle cone stuffed with creamy mac and cheese and Montgomery Inn pulled pork, topped with coleslaw and a drizzle of barbecue sauce
Wisconsin Brat Burger at Brew Kettle (Third Base)
Seasoned pork burger smoked to perfection, served on a pretzel bun with Swiss cheese and a spicy Kraut relish on the side
Southside Slope Sandwich at Fat Heads (Third Base)
Chargrilled kielbasa topped with sauteed pierogi and onions, American cheese and horseradish sauce
Footlong Chili Dog at Cleveland Dogs 'n Shakes (Right Field)
A jumbo juicy hot dog topped with spicy beef chili and chopped onions
PHOTOS: New food, gear at Progressive Field in 2022
Jägermeister Cold Brew Slushies
The team has also announced a new partnership with Jägermeister, which means their Cold Brew Slushies will be available this season at Harvest & Grounds, Grab 'n Go in Section 121, the Discount Drug Mart Club and the Lexus Home Plate Club.
Mobile ordering expanded
Don't want to leave your seat to order food? Progressive Field has expanded its mobile ordering options from six to 10 locations. Fans can access the mobile order options using the Guardians page of the Ballpark App.
Mobile order locations for 2022
Hometown Sausages (Sec. 171) – Hybrid
Kosher Dogs (Sec. 164) – Mobile only
Great Lakes Bar (Sec. 164) – Hybrid
Gluten Free Stand (Sec. 153) – Hybrid
Ballpark Classics (Sec. 149) – Hybrid
Charred Dog (Sec. 121) – Hybrid
Harvest & Grounds (Sec. 139) – Hybrid
Miller Bar (Sec. 138) – Hybrid
Sausages & Dogs (Sec. 119) Mobile only
Ballpark Classics (Sec. 556) – Hybrid
Coming downtown?
:
Parking tips and more
You can definitely expect some increased traffic and higher parking prices throughout the city due to the home opener. The Cleveland Cavaliers are also playing at 7:30 p.m. at Rocket Mortgage FieldHouse as they compete for a spot in the 2022 NBA playoffs.
Here's what you need to know before coming downtown...
Parking restrictions
East 4th Street from Prospect Avenue to Huron Road, both sides
Bolivar Avenue from E. 7 to E. 14th Street, both sides
West Huron Road from Ontario Street to West Superior Avenue
East 9th Street from Carnegie Avenue to Superior Avenue, both sides
Prospect Avenue from East 14th Street to Ontario Street, both sides
Huron Road between Ontario Street and Prospect Avenue, both sides
Carnegie Avenue from East 14th Street to East 9th Street, both sides
The Warehouse District Parking Ban will be in effect from 10 p.m. – 4 a.m.
City officials warn that vehicles parked illegally will be towed.
Finding a parking spot
Looking for a parking spot? You can use SpotHero, which lists available parking near you with prices listed. Advanced parking booking options on the site show prices as high as $50.
RTA transportation to Progressive Field
Use the RTA's parking location finder and park for free at a Rapid Station.
Have $5 cash ready to buy a round-trip ticket for the home opener. Tickets are available at the Brookpark, Puritas, Triskett, West 117th Street and Tower City stations.
Ride the rapid to the Tower City station and then travel by foot along the Walkway to Rocket Mortgage FieldHouse. The Walkway opens four hours prior to the home opener.
Bring a mask because they are still required when riding RTA.
More choices
Guardians gear
:
Team merch
Do you have a Guardians jersey yet? What about a hat or jacket? The online team shop has lots of options to help get you ready to show off your Cleveland baseball pride.
You can also buy your Guardians gear in person at the Progressive Field Team Store, which is open to the public, at 2401 Ontario Street. The store's hours are from 10 a.m. until 5 p.m. Monday through Saturday for most of April. You can see the store's full hours HERE.
Section 102: New Era Store in center field
Section 107: Walk-in store behind right field
Section 138: Walk-in store behind first base
Section 155: New Era Kiosk behind home plate
Section 160: Game-Used Kiosk behind third base
Section 177: Walk-up location facing Left Field Gate
Section 180: New Era stand under the Bleachers
Section 317: Kids Shop; located in elevator lobby
Section 346: Club Shop; located in the Club Lounge
Section 537: Walk-up location behind section 537 (dates open varies)
Section 555: Walk-up location behind section 555
New name. Same city.
:
How the new name came to be
The Cleveland Guardians were born.
"We are excited to usher in the next era of the deep history of baseball in Cleveland," team owner and chairman Paul Dolan said that day. "Cleveland has and always will be the most important part of our identity. Therefore, we wanted a name that strongly represents the pride, resiliency and loyalty of Clevelanders. 'Guardians' reflects those attributes that define us while drawing on the iconic Guardians of Traffic just outside the ballpark on the Hope Memorial Bridge. It brings to life the pride Clevelanders take in our city and the way we fight together for all who choose to be part of the Cleveland baseball family. While 'Indians' will always be a part of our history, our new name will help unify our fans and city as we are all Cleveland Guardians."
We are a city on the rise. Forging into the future from our ironed-out past. We are a city of fire and water, of trees and towers built through generations of blue collars and the brightest scholars – and all of those who have worked harder. We hold tight to our roots and set our sights on tomorrow, but this is our team that has stood with our city for more than a century from Old Municipal to the corner of Carnegie. A team that has seen its own progress and prosperity. Its history flows like the river through the heart of this city, the history that has given us miraculous moments. Moments that span years, and others 22 games. Moments that broke barriers and moments that broke hearts, moments that prove that this is more than a game. We remember those moments as we move forward with change. You see, there's always been Cleveland – that's the best part of our name. Now it's time to unite as one family, one community, to build the next era for this team in this city. To keep watch and guard what makes this game the greatest. To come together and welcome all who want to join us. We are loyal and proud and resilient. We protect what we've earned and always defend it. Together we stand with all who understand what it means to be born and built from the land – because this is the city we love and the game we believe in. And together, we are all Cleveland Guardians.
What about Slider?
End of an era. Start of another.
:
Team name transition timeline
Nov. 23, 2021: New Cleveland Guardians gear is made available to other retailers.
April 13, 2022: Team officials say all script Indians signage that is not related to historical archives has been removed from the ballpark. Block C signage is slowly being replaced, but will still appear in some areas within Progressive Field during the 2022 season.
April 15, 2022: A new era of Cleveland baseball begins. The Cleveland Guardians take their home field for the first time with their new team name.
Future of baseball in Cleveland
:
Changes coming to Progressive Field
1st quarter 2022: Select architect, construction management firms, finalize sequence of proposed projects
2nd quarter 2022: Begin design and construction documents
3rd quarter 2022: Continue design and construction documentation
4th quarter 2022: Targeted start of construction
"Those enhancements include transforming the left field experience inclusive of the Terrace Club, re-imagining the upper deck concourse and creating a larger Dugout level social space, among others," the team announced last August.