CLEVELAND — Tuesday at 6 p.m. was the deadline for teams across Major League Baseball to realistically set their 40-man roster. Any player left unprotected after that could potentially be selected by another club in next month's Rule 5 draft.
The Guardians front office was well aware of this, and made several corresponding moves to tailor the roster to their liking. However, one of those moves is sure to raise a few eyebrows.
The club confirmed they have traded outfielder Nolan Jones to the Colorado Rockies in exchange for Juan Brito, a middle infielder who is currently in Single-A. Jones was, at one time, Cleveland's top minor league prospect and made his big-league debut in 2022, and some had felt he was part of the organization's immediate future.
A second-round pick out of high school in 2016, Jones shot through the minors before MLB eventually listed him as the No. 1 prospect in Cleveland's farm system three years later. He was a natural third baseman and a call-up to the majors seemed imminent, especially with José Ramírez's status up in the air due to both on-field struggles and contract talks.
Then Jones endured a series of blows, the first in 2020 when the minor-league season was canceled by the COVID-19 pandemic. A disappointing 2021 campaign at Triple-A Columbus followed, when he hit just .238 with 13 home runs in 99 games. His stock took a tumble out of the league's overall top 100 rankings, and he subsequently underwent surgery on his left ankle.
By that time, Ramírez had re-gained his form as a perennial MVP candidate, and the Guards rewarded his efforts by giving him a new seven-year contract through 2028. With third base now locked up for the foreseeable future, Jones was shifted almost exclusively to the outfield, and performed well enough after his injury that he was brought to Cleveland this past July. In 28 major-league games, the 24-year-old batted .244 with two home runs and 13 RBIs while also tallying an impressive five total zone runs in right field.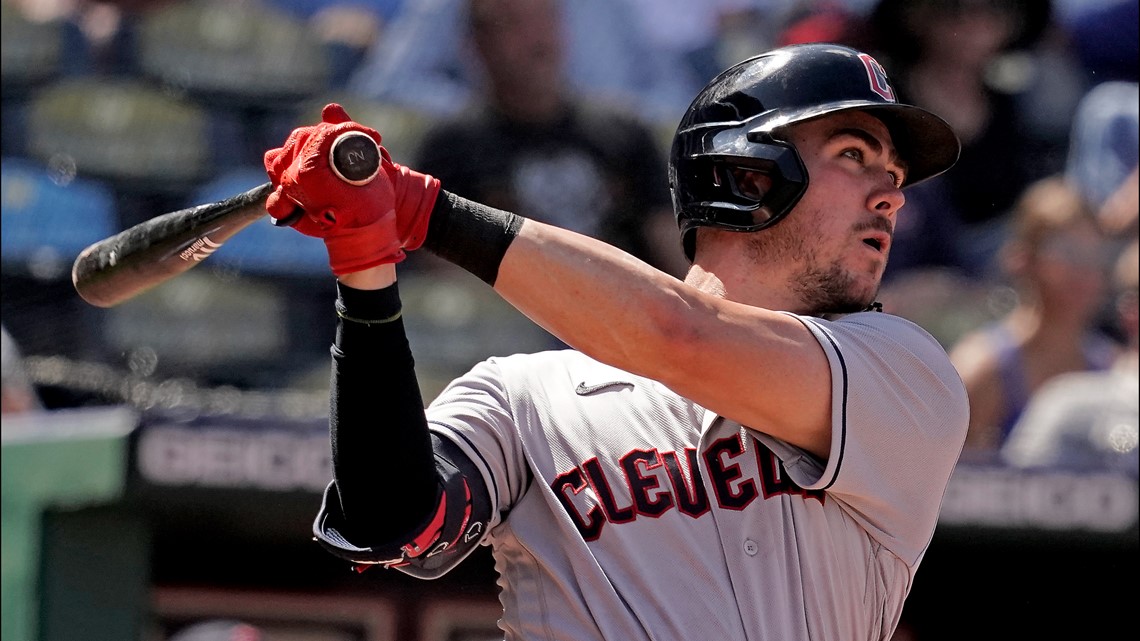 Jones was sent back to the Clippers in August and finished his minor-league season with a .276 average (.250 after being demoted). He was not brought back to the Guardians when the rosters expanded in September, with fellow rookies Oscar Gonzalez and Will Brennan instead getting the bulk of reps in right as the team made a run to Game 5 of the ALDS. Steven Kwan also firmly established himself as the club's left fielder, winning the AL Gold Glove at the position while also finishing third in the Rookie of the Year voting.
As of Tuesday, Jones had been listed as Cleveland's seventh-best prospect. In his place steps Brito, who was Colorado's No. 30 prospect and hit .286 with 11 home runs and 91 runs scored for Class A Fresno, along with an on-base percentage of .407 and a range factor of .459 at second base. However, he also joins a glut of middle infielders in the Guards' system, including current second baseman Andrés Giménez (another Gold Glover) and shortstop Amed Rosario as well as former top 100 prospects Gabriel Árias, Brayan Rocchio, and Tyler Freeman.
Besides Jones, the Guardians also swapped minor-league pitchers with the Arizona Diamondbacks, dealing reliever Carlos Vargas for starter Ross Carver. Lefties Kirk McCarty and Anthony Gose were also designated for assignment. McCarty went 4-3 with a 4.54 ERA to earn a spot on the wild-card series roster, while Gose went 3-0 with a 4.71 ERA before eventually undergoing Tommy John surgery, which will likely cost him all of 2023.
With the aforementioned four players now gone, Brito was been added to the 40-man roster, along with:
INF Angel Martínez
LHP Joey Cantillo
LHP Tim Herrin