CLEVELAND — Beyond the Dugout is back again virtually on Zoom. For years, 3News morning anchor Dave Chudowsky has been interviewing Indians players, coaches and staff during Spring Training in Goodyear, Arizona. The segments air weekly on GO! in the morning on Channel 3 and here on WKYC.com.
Due to the pandemic, Chudowsky did not travel to Arizona this year -- but that is not stopping him from asking the tough questions you want answered... Well, not really! The questions are fun and help fans get to know their favorite players better.
For just the second time this season, we have a veteran on Beyond the Dugout, as Dave put Triston McKenzie on the hot seat once again. In just his second year in the major leagues, McKenzie began the campaign in the Tribe's starting rotation. The right-handed pitcher is 1-3 with a 6.38 ERA in 10 starts this season after making six impressive appearances in 2020, compiling where he posted a record of 2-1 and a 3.24 ERA.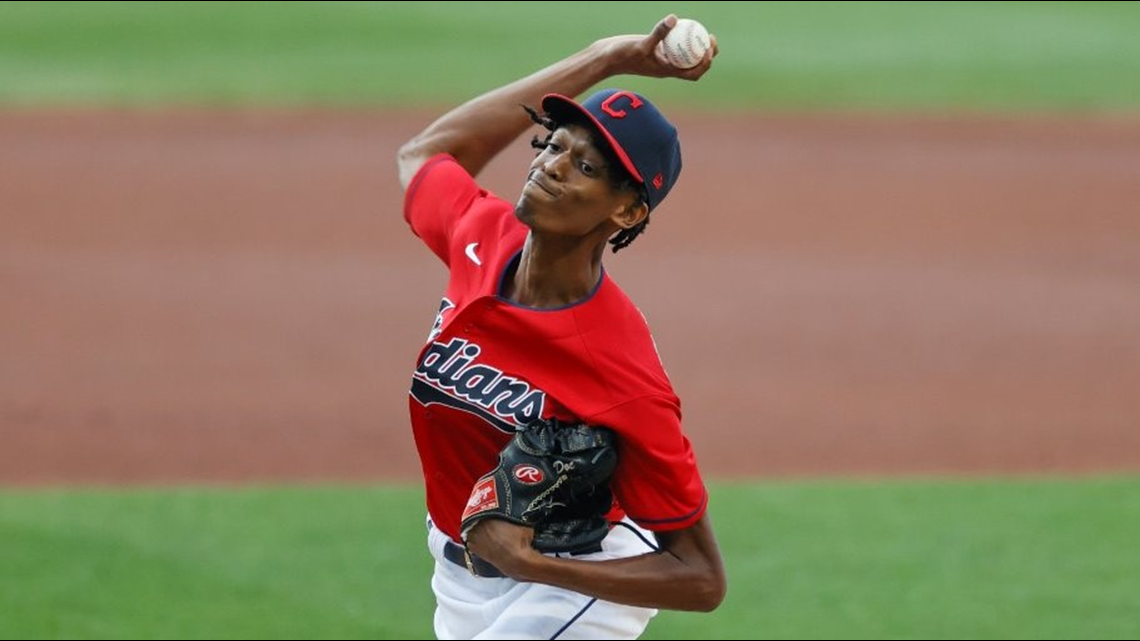 The highlight of 2021 so far for McKenzie came on May 31, when the 23-year-old set a new club record by striking out eight consecutive batters during the course of his start. Sadly, Cleveland went on to lose to the Chicago White Sox 8-6 at Progressive Field.
The lowlight of his season has been McKenzie's inability to stay consistent on the mound with the Tribe, and he's currently pitching in Triple-A. Still, the club has high expectations for McKenzie after drafting him in the first round back in 2015.
As far as Beyond the Dugout goes, Chudowsky also had high expectations for McKenzie, and figured he would not be nervous because he aced this segment last year.
"I tried my best last year," McKenzie said. "I feel like I do better with the off-the-field questions than the on-the-field questions."
Chudowsky asked him if he preferred the traditional locker room interview or the way they have been conducted during the pandemic with Zoom.
"Honestly, Zoom interviews are very nice," the young pitcher admitted. "I feel like I can see, especially when it's a group setting, I can see all the reporters faces. It's very, very easy from that aspect."
McKenzie also told Chudowsky the take-out meal he has on repeat and the person he connected with most during the pandemic. You will have to watch the attached video to find that out along with his Monday motivation and his new favorite emoji (it's changed from last year)!