CLEVELAND — The Cleveland Indians' pitching depth has been tested and the Cactus League spring training games have not even gotten underway yet.
Over the first week-plus of spring training, Indians starting pitchers Carlos Carrasco and Mike Clevinger have been hampered by lower body injuries. Carrasco is "day to day" with a hip strain, while Clevinger is working his way back from surgery to repair a torn meniscus in his left (plant) leg.
Carrasco was seen in the Indians' clubhouse Thursday using a crutch to get around, but after a second review of an MRI, Cleveland's front-of-the-rotation starter seemingly escaped serious injury and will begin his road back to the diamond sooner rather than later.
"Much improved. Much improved," Indians manager Terry Francona said Friday. "I think we felt like we got about the best news you could get with the result. He's moving around. He was even going to get on the bike. He'll graduate to weighted balls and stuff like that really soon."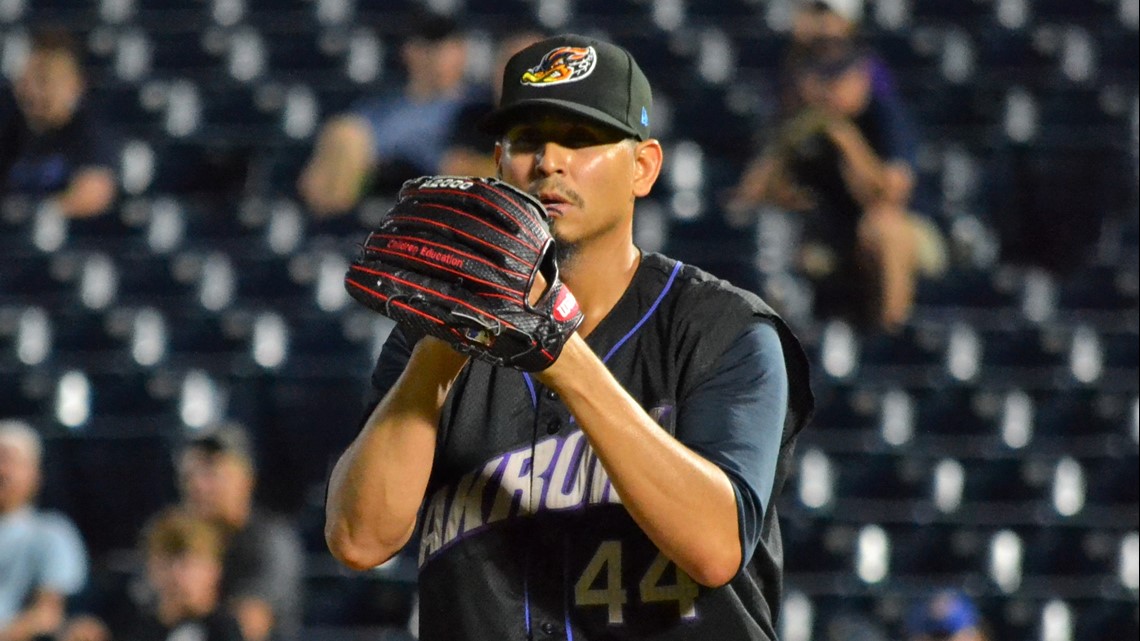 While doing squats during a workout at the team's spring training facility in Goodyear, Arizona Wednesday, Carrasco experienced discomfort in his upper right leg, which was the latest health issue for him.
Carrasco battled something far more imposing than a middle-of-the-order power hitter during the 2019 season and did so with the calm he consistently displayed in his career, no matter the challenges that have come his way.
Carrasco fought through a battle with chronic myeloid leukemia in the middle of the 2019 regular season, but always one to display grace under pressure, he went through treatments, worked through minor-league rehabilitation appearances with the Akron RubberDucks and Columbus Clippers and returned to the Indians' bullpen on September 1.
Before going on the injured list last year, Carrasco had a 4-6 record with a 4.98 earned run average over 12 starts. In 65.0 innings of work, Carrasco allowed 74 hits, 37 runs, 36 of which were earned, 14 home runs and 11 walks against 79 strikeouts.
Following his return to the team, Carrasco went 2-1 over 15.0 innings of work in 11 appearances out of the Indians' bullpen. Additionally, Carrasco struck out 17 batters in those 15 innings.
During his 10-year tenure with the Indians, Carrasco has an 85-69 record with a 3.82 ERA over 230 games, including 183 starts. Over 1,174.1 innings of work, Carrasco registered 1,223 strikeouts against 1,110 hits and 498 earned runs allowed.
"After seeing him leave on a crutch, I think we got the best news that we could've hoped for," Francona said. "How much time he misses is basically up to how quickly that heals or how much he can do while he's down."
Over his four years with the Indians, Clevinger registered a 41-21 record (.661 winning percentage) with a 3.20 earned run average over 97 games, including 84 starts. In 500.2 innings of work, Clevinger has registered 563 strikeouts against 193 walks allowed.
Clevinger won at least 12 games in each of the last three seasons, including matching a single-season career high with 13 in 2019 despite missing the better part of two months with a back strain.
Clevinger will enter the arbitration years on his contract this offseason and is under team control for another two years before hitting the free-agent market.
"I don't know that they've let him start doing that stuff," Francona said of Clevinger. "He's really moving around better. I think they wanted to give him between three and five days to let things settle a little bit. We want to be aggressive, but also, he had surgery and we want to make sure he's okay."