CLEVELAND — In less than one month, the Cleveland Indians will begin their on-field preparations for the 2020 season when the pitchers and catchers report to the team's spring training home at Goodyear Ballpark in Goodyear, Arizona.
The Indians announced Wednesday that they will have robust coverage of the spring training games between the team's broadcast partners: SportsTime Ohio, WTAM/1100 AM, WMMS/1007. FM and ALT 99.1 FM.
Ten of the Indians' spring training games will be televised on SportsTime Ohio, while another 15 will be carried on the Indians Radio Network. Nine of those games will be on WTAM, while two will air on WMMS and four more will be carried on ALT 99.1.
Here is a complete look at the Indians' spring training broadcast schedule: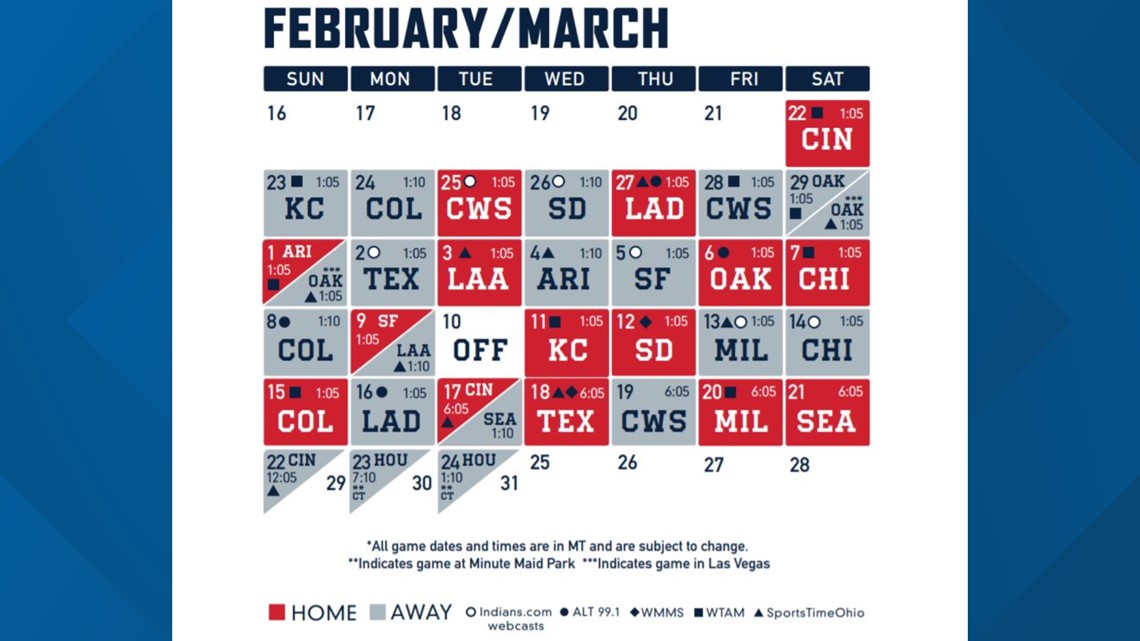 Pitchers and catchers report to Goodyear, Arizona on Tuesday, February 11, while the full squad is set to start their preparations on Saturday, February 15. The Indians open the 2020 spring training schedule against the Cincinnati Reds at Goodyear Ballpark on Saturday, February 22.
This spring, the Indians will play 15 games as the home team, plus another 18 on the road. Along with eight weekend home games, the Indians will have four split-squad games (Feb. 29, March 1, March 9 and March 17).
The Indians will wrap up spring training with two exhibition games against the defending American League Champion Astros in Houston on March 23-24 before reporting to Progressive Field in Cleveland for the start of the 2020 regular season against the Detroit Tigers on March 26.
Tickets for the spring training games are on sale online only at Indians.com/Spring.