GOODYEAR, Ariz — The Indians are still figuring out who will make their final 26-man roster, but one of the biggest decisions has already been made.
The Tribe announced Friday that Shane Bieber will be the Opening Day starting pitcher when the team begins the 2020 season on March 26 against the Detroit Tigers. The move represents another step in what has been a meteoric rise for the 24-year-old, who less than two years ago was still pitching in the minor leagues.
Bieber was called up from Triple-A in May of 2018, and after a solid rookie campaign that saw him help the Indians win the American League Central division title was eventually named the fifth starter for the following year. Injuries soon decimated the Cleveland rotation, but the Southern California native more than picked up the slack, going 15-8 with a 3.28 ERA and 4.9 bWAR while striking out 259 in 214.1 innings. He also led the majors with three complete games and two shutouts, and ended up finishing fourth in the AL Cy Young Award voting.
However, the highlight for Bieber came during the 2019 MLB All-Star Game at Progressive Field in Cleveland. The up-and-coming right-hander was named to the AL squad as a late injury replacement, and entered the contest in the top of the fifth inning. He proceeded to strike out all three batters he faced as the hometown fans chanted his name, and after the AL won was named the game's Most Valuable Player.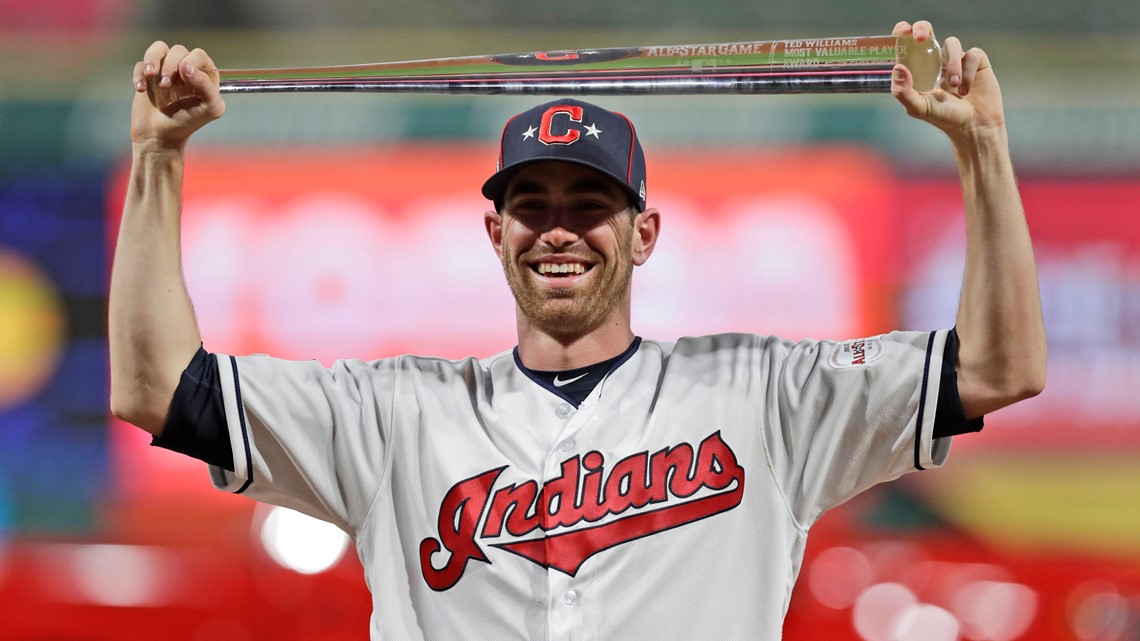 Given Bieber's success on the mound last year, his status as the No. 1 starter isn't all that surprising, but was made all the more necessary by things both in and out of the Indians' control: Two-time Cy Young winner Corey Kluber had been the Opening Day starter every year since 2015, but was traded to the Texas Rangers in December. In addition, Mike Clevinger is recovering well after knee surgery but will likely miss the start of the season, while Carlos Carsasco is back pitching after dealing with cancer last season but also dealt with some separate injuries this spring and is still being eased back in by manager Terry Francona and the coaching staff.
Bieber is the youngest pitcher to start on Opening Day for the Tribe since 2004, when 23-year-old CC Sabathia made his second straight No. 1 start. The last Opening Day starter not named Corey Kluber was former All-Star Justin Masterson, who toed the rubber in 2014.