CLEVELAND — Omar Vizquel is one of the most beloved players in Indians history, having helped the club to two American League pennants while winning eight Gold Gloves and making three All-Star appearances in 11 seasons in Cleveland. The former defensive wizard at shortstop has been considered by many to be a prime candidate for the National Baseball Hall of Fame.
However, allegations recently brought by Vizquel's estranged wife paint a vastly different picture of the Tribe legend.
In a newly released interview with The Athletic, Blanca Vizquel detailed several incidents of domestic and emotional abuse by her husband against her. These occurrences allegedly took place over a period of a decade and ended only just this year, when Blanca left Omar and headed to a women's shelter before filing for divorce.
"It's devastating because the person you love is supposed to protect you, and when (he's) the one who's hurting you...it's like slow motion and you're scared and then the police are there, and you know you can't take it back," Blanca told the publication.
At least one confrontation in 2016 resulted in Omar being arrested, when Blanca says she and her husband got into an argument that led to him pushing her down. As she fell, she hit her shin on the corner of their bed and broke several nails trying to catch herself.
Blanca claims she then barricaded herself in another room and called a neighbor who later called the police, and Omar was eventually led from the pair's Sammamish, Washington, home in handcuffs and charged with fourth-degree domestic assault. Blanca's injuries were photographed, but the charges were later dropped after she signed a letter expressing a desire to work things out with her husband. She now tells The Athletic she was pressured to sign that note.
"People are scared and I was, too," Blanca said, claiming Omar had threatened her with "financial ruin" if he left her. "I was scared for these moments for a long time. And I stayed because of that."
At the time, Omar was a first base coach for the Detroit Tigers, and Major League Baseball opened an investigation into the incident, but but merely instructed Vizquel to "cease and desist from any hostile or threatening contact" as part of a "treatment plan." The neighbor who called police alleges he did not speak with league investigators because he feared for Blanca's safety.
"[Omar] told me everything's good between him and Blanca, that nothing bad happened and it was an argument like all couples have," the neighbor said of a phone call he had with Omar Vizquel. "He told me Blanca was mentally ill, paranoid, afraid of everything and that she makes everything up in her head. He told me, 'That's what you should tell MLB if they call back.'"
Omar and Blanca Vizquel were married in 2014 following a six-year courtship, and to most observers the two seemed to be very happy together. But those close to Blanca say she "lived in fear" of her husband, and that the issues began long before they tied the knot.
One of the biggest warning signs apparently came in 2011, when Omar and Blanca were visiting her sister Nelly Metler's family in Alabama for the holidays. Metler tells The Athletic she awoke one night to the sound of her sister screaming and later found Omar on top of Blanca and strangling her. Metler added Omar's elbow was on top of Blanca's throat, and that her sister was screaming to be let go.
"He's not the person that you see," Metler said of Omar, also claiming he constantly belittled Blanca even early in their relationship.
Blanca says Omar attacker her after she saw a photo of him looking "intimate" with another woman. Police were called, but no charges were filed after both parties signed a statement saying they "lost control of ourselves which resulted in physical contact between us." The Tigers would not comment to The Athletic on if they knew of the allegations before they hired Omar to be a coach two years later, nor did they detail any possible knowledge of the 2016 incident.
It wasn't until August of this year that Blanca finally left, walking out of the couple's Arizona home as Omar slept. She later drove 10 hours to a shelter in Texas and began divorce proceedings less that a week later, with Omar apparently freezing her credit cards.
Blanca told The Athletic threats have since been made against her by fans after she spoke about some of the allegations in an Instagram Live video in October. She claimed people accused her of trying to "destroy [Omar] and his career."
"What he did was his choice and it wasn't mine," she said. "If that's going to destroy him, I'm sorry; that's not my intention."
When reached by The Athletic, Omar denied the allegations against him, saying, "This is a divorce and I know she's really pissed off." In a separate interview with "Una Nueva Dia" on Telemundo, Vizquel said, "I never hit her. I never hit Blanca…. She made the decision to leave me. She made that decision on her own and not because of any domestic violence."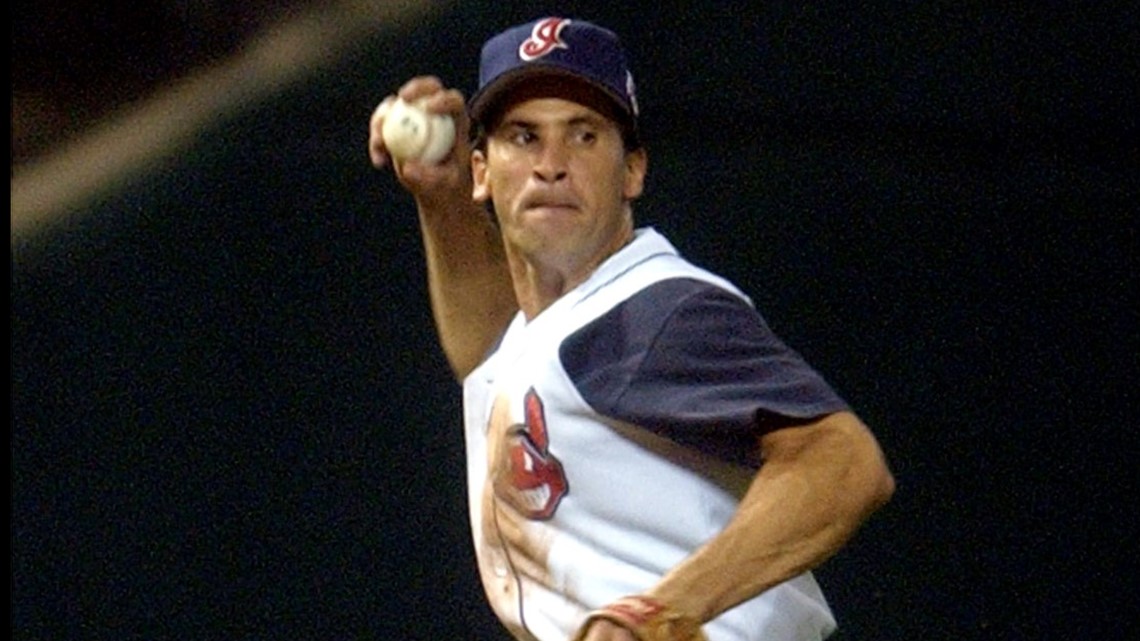 On Wednesday evening, Vizquel released the following statement:
Omar's ex-wife Nicole, who is the mother of his two children and was married to him during his time with the Indians, defended him when reached by The Athletic. She said Vizquel was "never violent" towards her or their kids during or after their marriage.
MLB has since opened another investigation into Omar's behavior, even though he is no longer employed by any organization. Vizquel was fired as manager of the Chicago White Sox's Double-A affiliate Birmingham Barons last year following an unspecified incident with a clubhouse worker, although Vizquel downplayed those allegations as well, saying "nothing happened."
From a baseball standpoint, the allegations against Vizquel could complicate his case for the Hall of Fame. He is currently in his fourth year on the ballot, and had been considered to be a prime candidate to make it this year after seeing his name on more than 50% of all ballots in 2019 (75% is needed for election). The deadline for sportswriters to cast their votes is Dec. 31.