CLEVELAND — Not since Gaylord Perry had the Indians seen a pitcher like Corey Kluber.
For a five-year stretch between 2014 and 2018, there may have been no better pitcher in all of baseball.
When selecting the best Tribe player of the past decade, there are actually several worthy choices. Multi-time All-Stars like Francisco Lindor, Michael Brantley, and Jason Kipnis enter the conversation.
However, it is hard for any of them to match the impact Kluber had on the team (especially the pitching staff), as well as the city.
Kluber arrived in the Indians organization at the very beginning of the decade, coming from the San Diego Padres in a 2010 three-team deadline deal that sent another former All-Star in Jake Westbrook to the St. Louis Cardinals. At the time, the unheralded former fourth-round draft pick had been mostly mediocre in the minor leagues, and in limited big league action in Cleveland from 2011-12 he went just 2-5 with a 5.35 ERA.
However, at the age of 27, Kluber began to figure things out in 2013: The right-hander was called up again in late April and went a solid 11-5 with a 3.85 ERA over 26 appearances (24 starts). He helped the Tribe earn a berth in the American League Wild Card Game and earned a permanent spot in the rotation, but even then was still overshadowed by more-established starters like Justin Masterson and Ubaldo Jimenez. While he looked like a serviceable pitcher, no one could've imagined him as a staff ace.
After a poor start to his first full season in 2014, Kluber found his form on Apr. 24 when he beat the Kansas City Royals with his first career complete game. 10 days later, he struck out 13 (including a franchise record seven straight) against the Chicago White Sox. With Jimenez gone and Masterson struggling and soon to be traded, Kluber was now the unquestioned leader of the rotation thanks to a repertoire of impeccable control and nasty breaking pitches like his signature sinker.
Kluber would go on to lead the American League with 18 wins and 2.35 fielding independent pitching along with a 2.44 ERA and 269 strikeouts in 235 2/3 innings pitched. He won his last five starts, and after the season stunned the baseball world by becoming just the fourth Indians pitcher to win the AL Cy Young Award.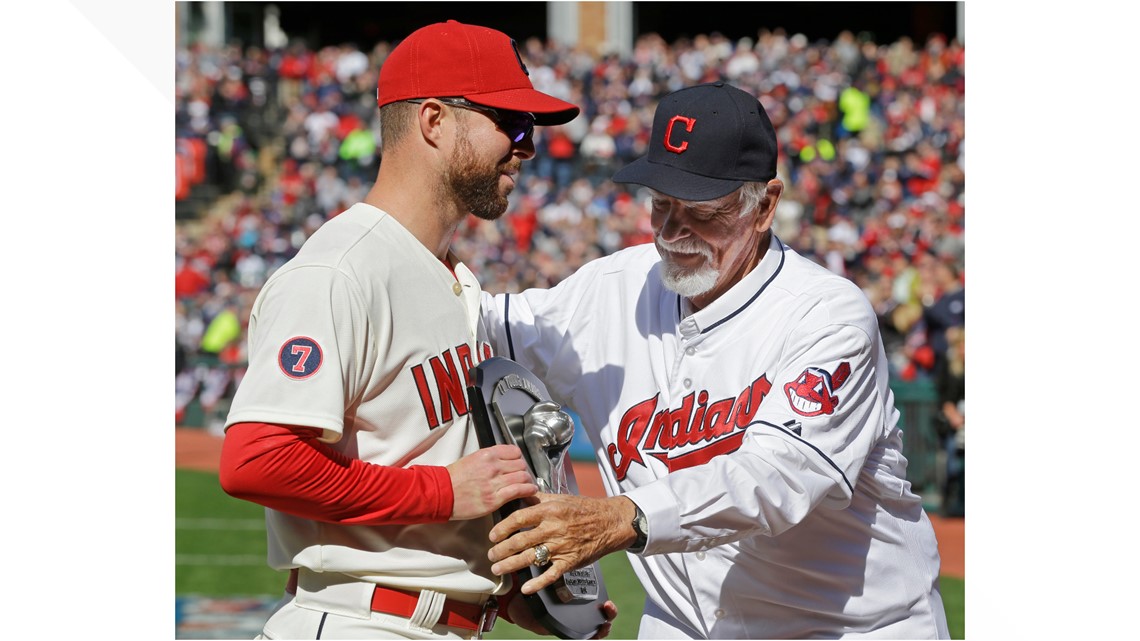 Cleveland instantly fell in love with its new ace, as even during the glorious runs of the 1990s the Tribe had never had a pitcher that looked as good and as poised as Kluber did on the mound. And of course, there was also his meme-like "stone-faced" persona.
The team responded by locking Kluber up to a new five-year, $38.5 million contract, and two option years were added to potentially keep him with the team through 2021. He was solid in 2015, but thanks in-part to a lack of run support he would lead the AL with 16 losses despite a 3.49 ERA and four complete games. The Indians, who had been picked by Sports Illustrated to win the World Series, floundered at 81-80, and the team was suddenly at a crossroads.
Kluber did have a shining moment, though, when he struck out 18 St. Louis Cardinals during a May 13 win. This tied Bob Feller's club record for a nine-inning game.
Through May of 2016, Kluber and the Tribe both got off to mediocre starts, and some were questioning if the 30-year-old was merely a flash in the pan. However, it wouldn't take long for him to put those fears to rest: In his last 21 starts, Kluber went an incredible 14-3 with a 2.61 ERA, and overall led the league with a 144 ERA+ and a 3.26 FIP. He finished third in the AL Cy Young voting and made his first of three straight All-Star teams, and the Indians won the Central division for the first time in nine years.
But there was trouble: Cleveland's once-strong rotation had been decimated by injuries to Danny Salazar and Carlos Carrasco. Some declared the team dead on arrival in the playoffs, especially with squads like the Boston Red Sox waiting in the wings. Yet unbeknownst to those doubters, the legend of Corey Kluber was only just getting started.
Seemingly pitching on sheer guts and will, Kluber make six postseason starts, including three on just three days rest. The ace went 4-1 with an astonishing 1.83 ERA as the Indians roared to their first World Series since 1997. Kluber would win two of those games against the Cubs in the Fall Classic, but finally ran out of steam in Game 7 as Chicago broke its own curse. Despite the bitter defeat, most saw it as a miracle that the Tribe was even in a position to win it all, and Kluber was hailed as a hero.
Kluber's best individual season came in 2017. Despite missing roughly a month early on, he would go on to lead the Majors in the following categories:
Wins: 18
ERA: 2.25
Complete games: 5
Shutouts: 3
ERA+: 202
WHIP: 0.869
Strikeout-to-walk ratio: 7.36
The ace also struck out 265 batters in just 203 2/3 innings, and was a near-unanimous selection for the AL Cy Young. To date, he is the only Indian to win the award more than once.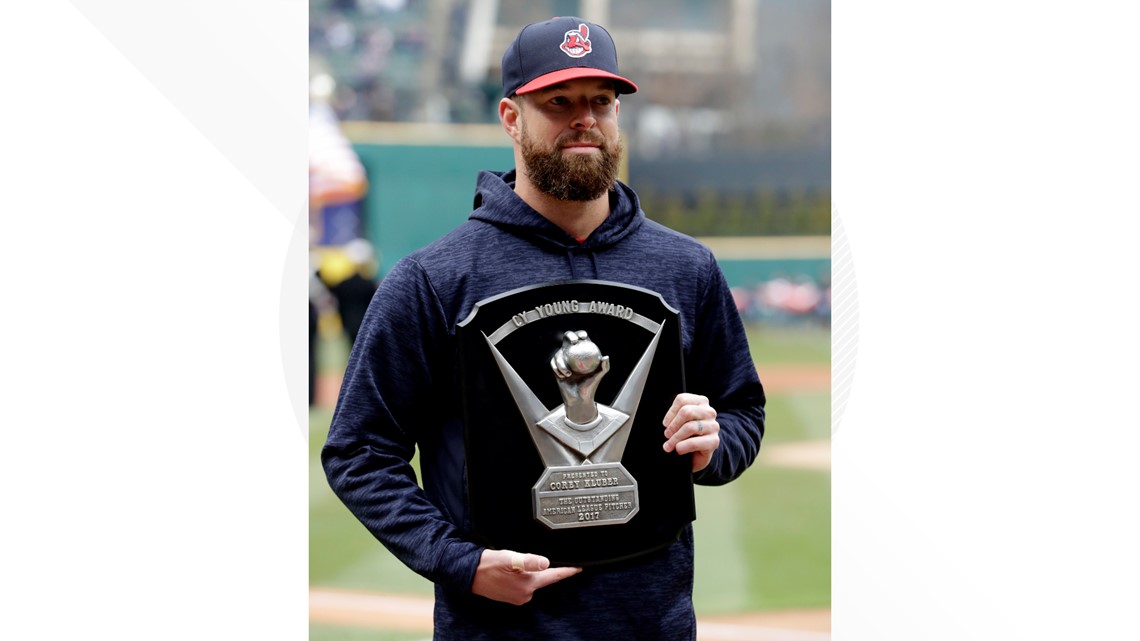 Kluber was a Cy Young finalist again in 2018, and became just the second Tribe pitcher since 1974 to win 20 games in a season. Yet despite his solid performance, some noticed a slight decline in Kluber's abilities, especially with his velocity, This was evident in the ALDS against Houston, when Kluber was lit up in Game 1 on the way to an Astros sweep. It was the second straight first-round knockout for Cleveland, and in both years Kluber had struggled in October.
Unfortunately, despite all he had done for the organization, Kluber would not get the ending he deserved: After a bad start to 2019, Kluber took a line drive off his pitching arm against the Miami Marlins on May 1 and left the game with what turned out to be a fracture. Although he tried to fight his way back, setbacks ensued, and his season would end abruptly. He would never pitch for the Indians again.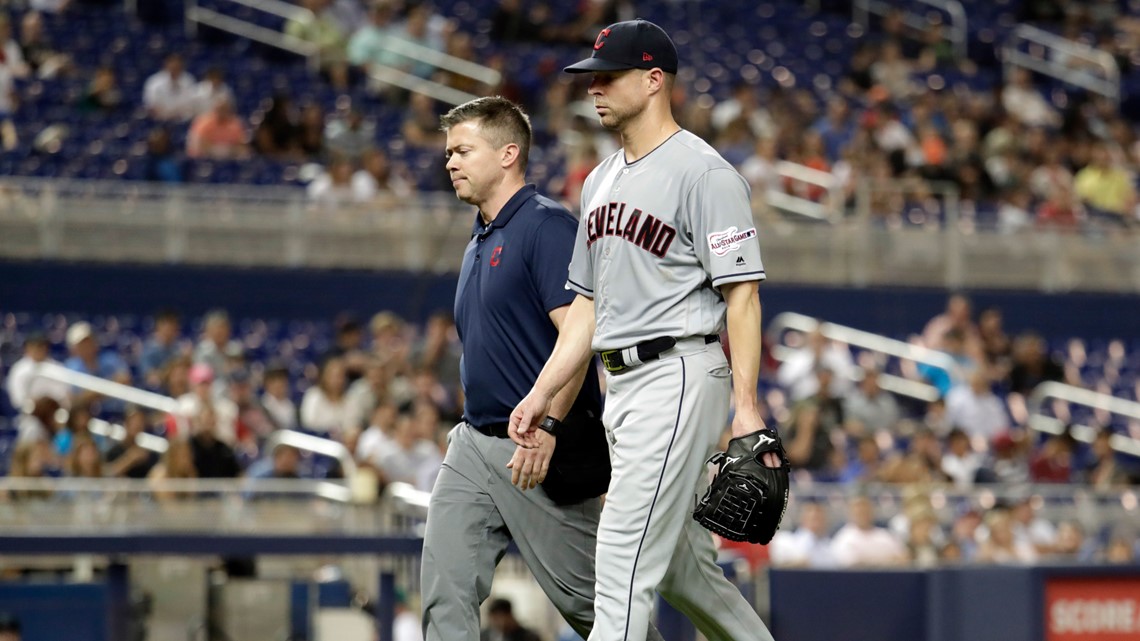 Now, Corey Kluber is gone, off to the Texas Rangers in a deal the Tribe hopes will net a reliever with a wicked fastball. But Kluber's legacy in Cleveland is secure: In parts of nine seasons with the team, the now-33-year-old won 98 games, posted a stellar 3.16 ERA, and was worth 33.1 bWAR (including 32.4 during the aforementioned five-year stretch). His 5.003 strikeout-to-walk ratio is the best ever for an Indians pitcher, and his 1,461 strikeouts are behind only Bob Feller and Sam McDowell for the most in club history.
Off the field, Kluber and his wife Amanda were also active in the community. Their Kluber Family Foundation has raised thousands for ill children in the Cleveland area, and the pitcher often took the time to be with those kids both at local hospitals and at Progressive Field.
The Indians began the 2010s as one of the worst teams in all of baseball, but will end it as of the best. Other than Terry Francona, Corey Kluber was perhaps the driving force behind that renaissance, bringing leadership and an identity to a rotation that remains the backbone of the club even after his departure. He was the true definition of an ace.
Photos: Corey Kluber's career with the Cleveland Indians