CLEVELAND — It's normally hard to make definitive statements just 30 games into a Major League Baseball season, but in a year where nothing has seemed normal, that means the Indians are halfway through their 2020 campaign.
It also means most can feel comfortable saying Shane Bieber is the hands-down front-runner for the American League's Cy Young Award.
Bieber didn't have his best stuff Tuesday night, but perhaps that just made his six-inning, 10-strikeout performance in a 4-2 Tribe win over the Minnesota Twins all the more remarkable. The 25-year-old right-hander is now 6-0 with a 1.35 ERA, and leads the AL in those two categories along with innings pitched (46 2/3), strikeouts (75), strikeouts per nine innings (14.5), ERA+ (341), and FIP (1.70).
"It took a little bit longer to figure it out than I would've liked," Bieber said after the game, modestly. "[I] can't say enough about how the boys picked me up tonight."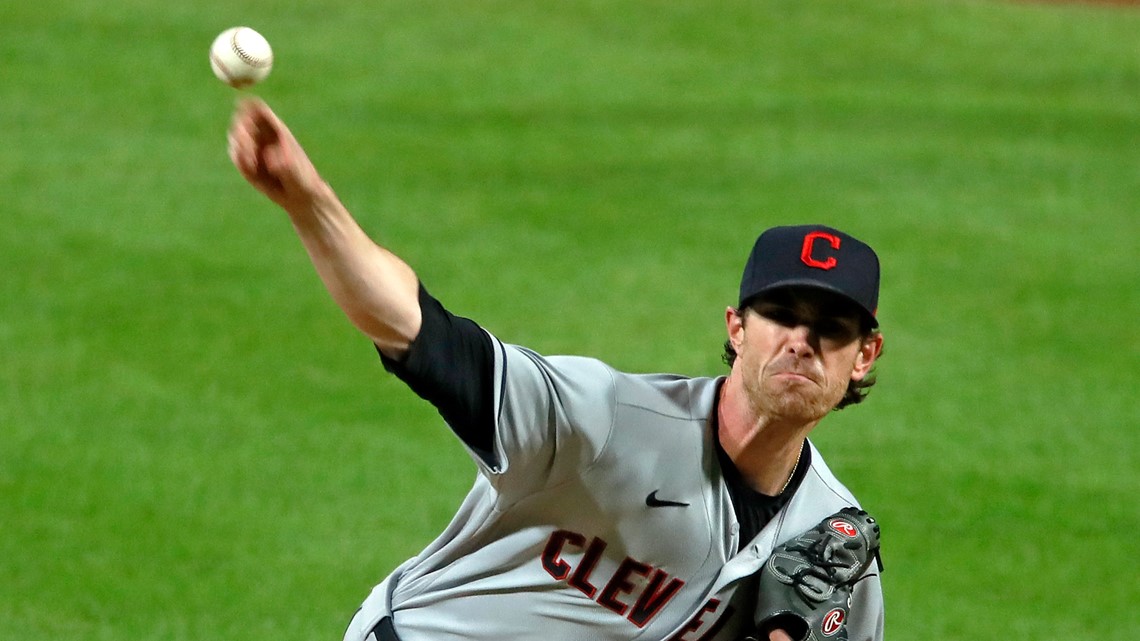 According to the Elias Sports Bureau, Bieber 75 K's are the sixth most by any Major League pitcher through his first seven starts of a season since 1893, when the pitcher's mound was moved to its current distance of 60 feet, 6 inches. The only hurlers ahead of him are two Hall of Famers (Pedro Martinez and Nolan Ryan), a likely future Hall of Famer (Curt Schilling), and a man who just signed a mega-deal with the Yankees (Gerrit Cole).
"When you compete, and you're an ace, you find ways not only to get through a lineup but to fight," acting manager Sandy Alomar Jr. said.
The Indians have had four different pitchers win five Cy Youngs in their history. Here's how their numbers looked through seven outings :
1972 - Gaylord Perry: 5-2, 2.02 ERA, 58 IP, 43 K, .217 AVG against
2007 - CC Sabathia: 5-0, 3.45 ERA, 47 IP, 53 K, .275 AVG against
2008 - Cliff Lee: 6-0, 0.67 ERA, 53.2 IP, 44 K, .175 AVG against
2014 - Corey Kluber: 2-3, 3.60 ERA, 45 IP, 48 K, .274 AVG against
2017 - Corey Kluber: 4-2, 4.36 ERA, 43.1 IP, 51 K, .244 AVG against
Although all except Sabathia threw at least one complete game during these stretches (something Bieber hasn't done), the only one who was possibly better was Lee, and even he couldn't match Bieber's strikeout numbers. Of course, these guys had an entire 162-game season to pad their resumes, and a lot can still change even with only 30 games left this time around. Still, it shows just how rare Bieber's recent performance has been even among the franchise's elite names.
As it stands, Bieber might even be able to look beyond just being the AL's best pitcher: His 2.3 Wins Above Replacement currently put him above anyone in all of baseball, and a good clip better than the AL's best position player in the Chicago White Sox's Jose Abreu (1.8). Should his dominance continue and offense remain somewhat limited across the game, he could be in the conversation for Most Valuable Player as well, something only two pitchers in either league have done since 1992.
Just over two years ago, Bieber was pitching in Double-A Akron before shooting through the minors and making his mark with Cleveland that summer. He was then a late replacement for the All-Star Game last summer, and ended up as the surprise winner of the game's MVP before his hometown fans at Progressive Field. However, it's hard to fathom how he could've foreseen this big of a leap in year three, not just in becoming the staff ace, but cementing himself as one of the best in the game.
It is worth noting that all of the Indians' previous Cy Young winners were traded away from the team with in three years (and in some cases the very next season). Tribe fans can only hope that isn't the case this time, and in the meantime will watch in awe as Bieber works his magic on the mound.