CLEVELAND -- The champagne flowed in the home clubhouse at Progressive Field when the Cleveland Indians clinched their third consecutive American League Central Division Championship with a 15-0 win over the Detroit Tigers Saturday.
And while a good time was had by all, the Indians are focused on the next step of the journey, spending the final two weeks of the regular season preparing for the 2018 Major League Baseball Playoffs, where the players want to handle some unfinished business.
"These are my boys, and I've always hoped to run it back with these guys every time, and this might be a good chance," center fielder Jason Kipnis said. "We've got the same group where for the last time, where guys might not be here next year, so we want to take advantage of it. This is one of the first stages and steps, and we're happy to move on."
PHOTOS | Cleveland Indians celebrate third straight AL Central Division Championship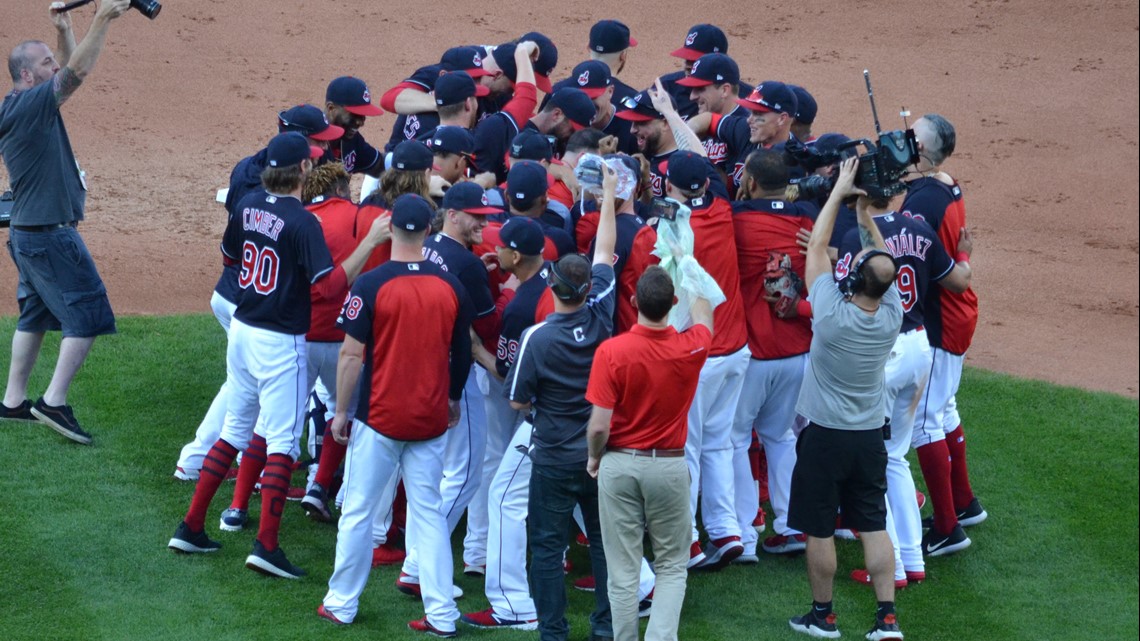 Just as designated hitter Edwin Encarnacion did the year prior when he left the Toronto Blue Jays after eight years with the team, first baseman Yonder Alonso joined the Indians in free agency with the goal of playing deep into October.
After clinching the division title, Alonso is very much looking forward to his first trip to the postseason in nine MLB seasons.
"Since Spring Training, that was obviously our goal, to win the division and get to the playoffs," Alonso said. "My first time in a long time, eight years, that I get to really enjoy this and feel like I was a part of it, obviously, but it's great, man. Just grateful and blessed that we're doing this and I'm here.
"This is the main reason, man. I told them early in the year, I told (GM) Chris (Antonetti) and all the guys my main reason was obviously to come here and win. I've never won before, and I wanted to feel that. They told me I'd definitely have a big chance, and here we are, doing it."
Matt Florjancic, WKYC Digital Sports
The Indians continue their final homestand of the 2018 regular season with a three-game set against the Chicago White Sox (September 18-20), as well as a three-game series, and potential American League Championship Series preview, against the Boston Red Sox (September 21-23).
The Indians conclude the regular-season schedule with a three-day trip to Chicago to face the White Sox (September 24-26) and a four-game series against the Kansas City Royals at Kauffman Stadium (September 27-30).
The 2018 American League Division Series begins on Friday, October 5.