As he has done for each of the past few years, Francisco Lindor fielded questions from reporters in Goodyear, Arizona, as the Cleveland Indians prepared to kick off Spring Training.
It didn't take long, however, for the focus of the conversation to shift toward how many more of these addresses Lindor will be doing while wearing an Indians ballcap.
In the time between Cleveland's 2019 season ended in September and Lindor taking the podium in Goodyear, the 4-time All-Star has been the subject of rumors and innuendo. That's because with just two years of team control remaining on his contract in Cleveland, now is the time in a star player's career that he often either signs an extension with his current team or is traded to another one in order to maximize the value on his return.
Yet despite no shortage of speculation regarding Lindor's future, to this point, neither occurrence has come to fruition.
"To be honest, I really didn't pay much attention when it came to being traded and stuff like that," Lindor said, before admitting, "I definitely heard about it. I can't cover my ears or my eyes. It was interesting, but at the end of the day, it doesn't really affect me because I don't have a no-trade clause in my contract. It's business."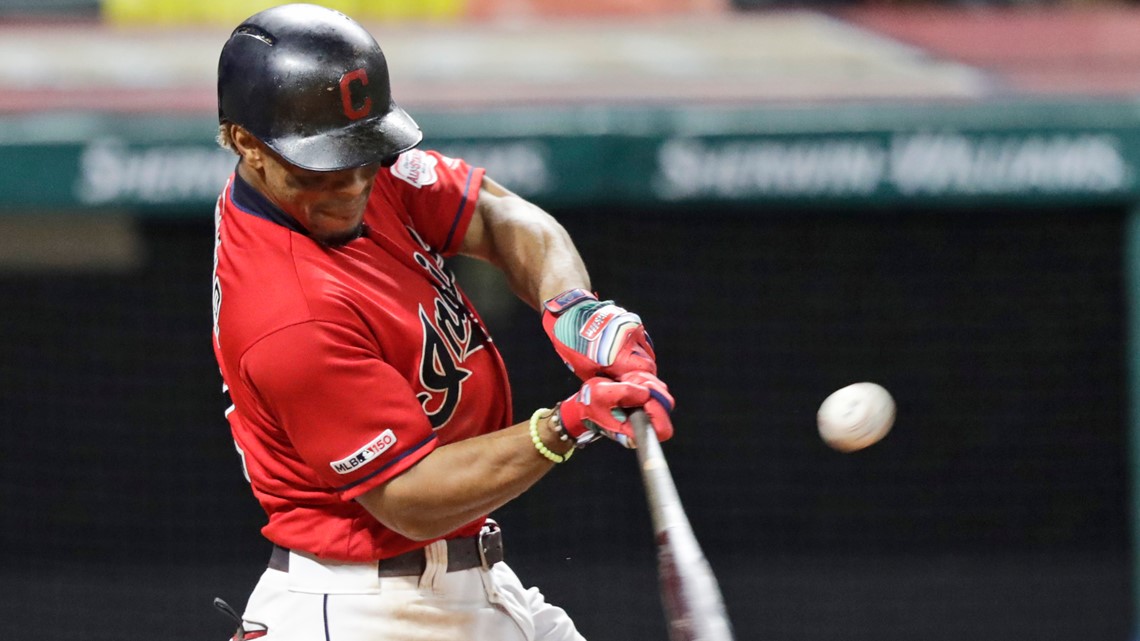 For the better part of 16 minutes, Lindor spoke candidly about his future and the possible range of outcomes. And while the 2-time Gold Glove Award winner stated that it's his preference to remain -- and win -- in Cleveland, the reality remains that there's a reason why an extension has to to be signed.
"If the negotiations or whatever makes sense, you know, it's going to happen," Lindor said. "The team is not broke. The league is not broke. There's good money. However, if it makes sense for both sides, it's going to happen. If not, it's not going to happen."
Considering Lindor's status as one of baseball's brightest young stars, it's not hard to see what the gulf between the two sides is. In a sport that handed out three $300 million contracts last offseason -- and another one to Gerrit Cole this offseason -- the 26-year-old Lindor figures to be in line for one of baseball's next mega deals when he hits the open market following the 2021 season.
Preventing Lindor from getting there and remaining competitive could prove complicated for Cleveland, which has never signed a player to a deal richer than $65 million guaranteed. That the Indians and Lindor are talking about an extension is encouraging. How realistic a potential deal is, however, has yet to be determined.
"That's the biggest challenge. It's not the desire. I think Francisco's been pretty clear about how he feels," Indians president Chris Antonetti told reporters on Monday. "I think we're pretty clear on what we would like to see happen. But is there that right value in which we can extend Francisco and still build a championship team around him? Because that's really what we're seeking to do.
"And that's ultimately what Francisco would want too. He wouldn't want to sign in Cleveland long-term and have that compromise our ability to build a championship team."
Antonetti wasn't willing to reveal much more than that, although he did say that the team was willing to examine "a variety of different structures" for a potential contract extension. He also acknowledged the variety of outcomes that could occur, including the possibility that the Indians keep Lindor through 2021 and see him leave as a free agent the following offseason
As far as the current round of negotiations are concerned, Lindor revealed that a deadline has been set for "early March" before he turns his attention toward baseball and baseball only.
And if that means being traded between then and July's trade deadline, the 2-time Silver Slugger says he'll be prepared.
"I'm blessed, man. I'm blessed to be here playing this game. Single, no kids, just two dogs. I can just pack up and go."