With baseball season officially upon us, let's take a look at what the Indians' pitching staff might look like in 2020:
Starting rotation:
1. Mike Clevinger
After entering 2019 as the No. 4 pitcher in the Indians' rotation, Clevinger seems like the safest bet to become the first Cleveland pitcher not named Corey Kluber to start on Opening Day since Justin Masterson in 2014.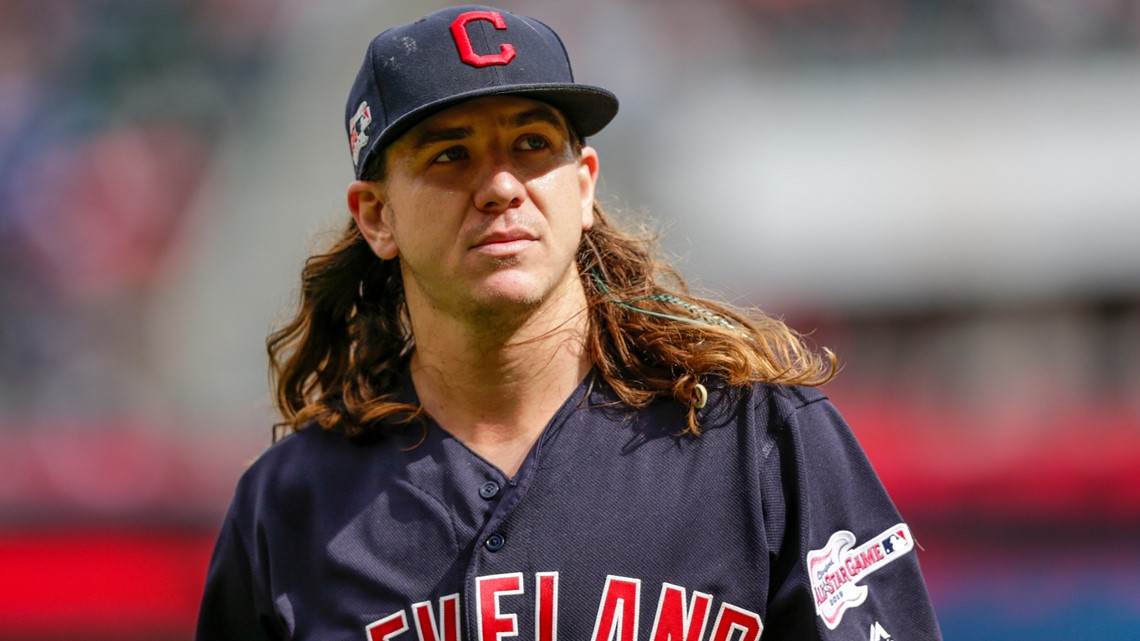 2. Shane Bieber
If it isn't Clevinger starting in Cleveland's season opener, it will almost assuredly be Bieber, who made a similar rise up the team's rotation in the past year. After making his big league debut in 2018, Bieber became a dark horse Cy Young Award candidate, posting a 15-8 record, 3.28 ERA and 259 strikeouts in 33 starts.
A 2019 All-Star Game selection -- and the game's MVP -- the 24-year-old Bieber will combine with Clevinger to give the Indians one of the best young pitching duos in baseball, regardless of who makes the first start of the season for the Tribe.
3. Carlos Carrasco
A mainstay of the Indians' rotation for the past six seasons, Carrasco saw the bulk of his 2019 season derailed by leukemia. After inspirationally overcoming the disease, the 32-year-old right-hander rejoined Cleveland's roster as a member of the team's bullpen, but is expected to reassume his role in the team's rotation.

4. Zach Plesac
Between injuries, illness and trades, the Indians saw the depth of their pitching staff tested in 2019, with those opportunities allowing for Pleasac's unlikely emergence. Making 21 starts, the 24-year-old right-hander put together a more-than-solid rookie season, tallying an 8-6 record, 3.81 ERA and 88 strikeouts.
In any other organization, Plesac would likely be a lock to make the team's big league rotation -- and likely as higher than the No. 4 starter -- to start the 2020 season. But between the Indians' depth and other contract situations, Plesac will likely need a strong showing this spring to secure his spot.
5. Adam Plutko
Truth be told, if the Indians were picking their top five starting pitchers to make their rotation this season, Adam Plutko likely wouldn't make the cut. But with the 28-year-old right-hander out of minor league options entering 2020, it seems plausible -- if not likely -- that Plutko will begin the year as the Indians' No. 5 starter.
If that happens, that would likely mean that either (or probably both of) Aaron Civale and Jefry Rodriguez will begin the season in Triple-A Columbus. And while plenty can change between now and the end of Spring Training, what is certain is that the Indians' pitching depth remains undeniable.
Bullpen:
Brad Hand
An All-Star in each of the past three seasons, Hands returns as Cleveland's closer in 2020 after tallying a career-high 34 saves in 2019. Don't be surprised if the right-hander's name makes appearances in trade rumors, as the right-hander only has two years of team control remaining on his contract.
Adam Cimber
Acquired from the San Diego Padres alongside Hand in 2018, Cimber was up and down in his first full season in Cleveland, amassing a 6-3 record and 4.45 ERA in 68 appearances. Nevertheless, he'll return as a mainstay of the Tribe's bullpen, with the right-hander possessing the potential to become the team's long-term set up man.
Jefry Rodriguez
Even if they don't have a spot for him in the starting rotation, the Indians could rely on Rodriguez as a long reliever -- at least to start the season. Acquired from the Washington Nationals alongside outfield prospect Daniel Johnson in exchange for Yan Gomes, the 26-year-old right-hander totaled a 1-5 record and 4.63 ERA in 10 big league appearances last year with a shoulder injury costing him the bulk of the season.

Oliver Perez
With a pitching staff full of righties, the Indians could use a few reliable left-handed relievers. And they could certainly do worse than the 38-yer-old Perez, who is set to return to Cleveland after posting a 2-4 record, 3.98 ERA and 48 strikeouts in 67 appearances in 2019.
Nick Wittgren
Avoiding arbitration with the Indians after agreeing to a $1.125 million salary, Wittgren will return to Cleveland as arguably the team's most reliable bullpen arm. In 55 appearances last season, the right-hander posted career-highs in wins (5), strikeouts (60) and ERA (2.81), while also adding four saves.
Emmanuel Clase
The Indians have typically taken a conservative approach with their young players, but given that Clase was viewed as the centerpiece of the Kluber trade, it may make sense for them to showcase him sooner rather than later. A 21-year-old right-hander, Clase possesses the type of power and command that could make him a multi-inning weapon for years to come.
James Karinchak
After posting eye-popping numbers in the minors, the hard-throwing Karinchak made his big league debut in late-September and continued to look like Cleveland's future closer. But while that role has already been occupied by Hand, it may make sense for the Indians to begin the season by giving the 24-year-old as much big-league experience as possible.
Hunter Wood
Wood, James Hoyt and Phil Maton will all be vying to make the back end of the Indians' bullpen. And while all three could make it if Cleveland doesn't opt for youthful options like Karinchak and Clase, the edge could go to Wood, who appeared in 17 games after a midseason trade from the Tampa Bay Rays lately.