CLEVELAND — Whether it is because of injuries to the rotation or inconsistent production at the plate, the 2019 season has been a struggle for the Cleveland Indians, and coupled with a hot start from the Minnesota Twins, they find themselves looking up at first place in the American League Central Division.
The Indians entered Thursday's day off with a 34-33 record, 10.5 games in back of the Twins in the Central, and they have been the subject of much trade speculation in recent weeks as the gap between Cleveland and Minnesota stays in the double digits.
Will the Indians be sellers at the trade deadline in late July? Only time will tell, but here is a look at several players who could be on the block if the Indians have fallen further back in the standings.

Shortstop Francisco Lindor
The economics of baseball dictate that the Indians need to be proactive in their approach with Lindor.
While it would hurt to see Lindor's bat out of the lineup and his infectious, positive personality in the clubhouse, if the Indians cannot agree to terms on a long-term extension, it makes sense to explore deals, as he will be on relatively affordable one-year arbitration contracts before going into unrestricted free agency.
If Lindor continues on his current path, it is possible for him to generate contract offers of $300 million or more on the open market.
By trading Lindor now, the return in the deal should be higher than next year or in 2021, as teams will be more interested in acquiring someone who is not just a three-month rental.
Despite a late start to the season because of calf and ankle injuries, Lindor is hitting .302 with 10 doubles, 11 home runs, one triple, 31 runs scored and 24 RBI over 48 games.
In 15 starts this season, Bauer has posted a 4-6 record and 3.71 earned run average over 99.1 innings of work. Bauer has allowed 72 hits, a league-high 45 walks, 50 runs, 41 of which were earned, and 13 home runs against 109 strikeouts in 2019.
Bauer has been a double-digit winner in each of the last four seasons, totaling 52 victories since 2015. Additionally, Bauer has struck out at least 143 batters in each of the last five years, with his single-season career-best, 221, coming in 28 appearances, including 27 starts, for the Indians in 2018.
In seven years with the Indians, Bauer is 62-51 (.549 winning percentage) with a 3.88 earned run average and 1,018 strikeouts against 387 walks, 426 earned runs, 109 home runs and 884 base hits allowed over 987.0 innings.

Over 29.2 innings in 30 appearances with the Indians this year, Hand has posted a 3-2 record and miniscule 0.91 ERA while converting all 19 of his save opportunities. Hand has struck out 44 hitters against eight walks, 14 hits, three earned runs and one home run allowed.
Since being acquired by the Indians, along with reliever Adam Cimber, at the trade deadline last July, Hand has posted a 3-3 record (.500 winning percentage) with a 1.57 ERA and 85 strikeouts against 21 walks over 57.1 innings of work out of the bullpen.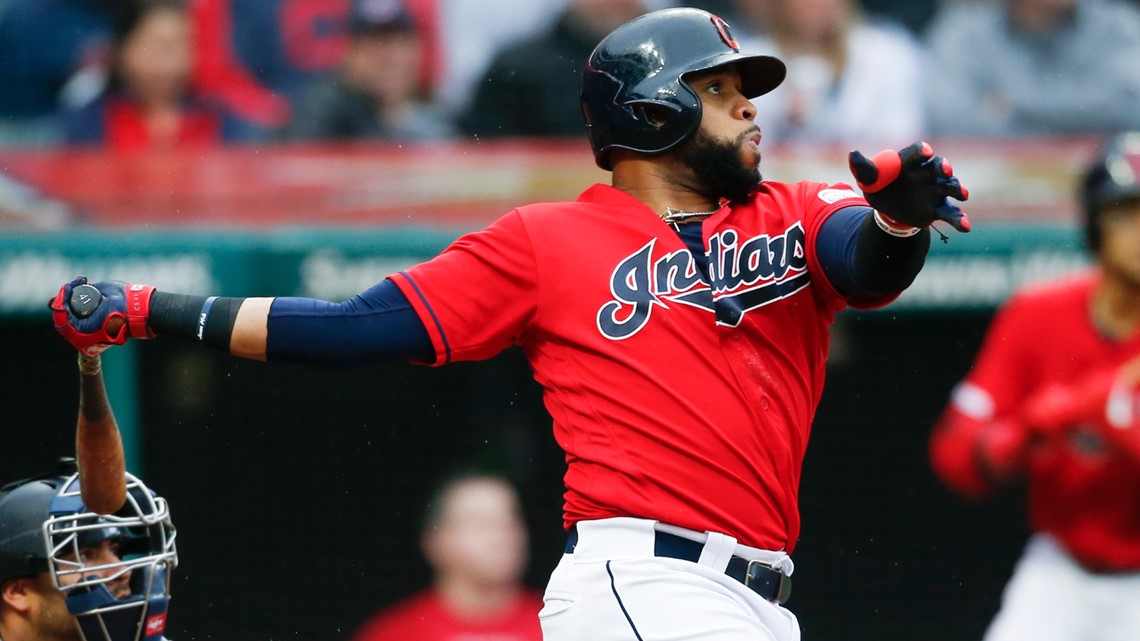 First baseman Carlos Santana
Santana's return to the Indians after one year with the Philadelphia Phillies has gone well, and after several slow starts in previous seasons, the veteran infielder literally came out swinging in 2019.
In 66 games for the Indians, Santana is hitting .285 with a .406/.530/.936 split of on-base, slugging and on-base-plus-slugging percentages. Santana has driven in 42 runs, scored 42 and registered 28 extra-base hits, including 13 doubles and 14 home runs, both of which lead the team.
After 2019, Santana will have one year remaining on a $60 million contract, and there is a club option for 2021 before he would enter free agency again in 2022.
By dealing Santana, the Indians could get an extended look at rising minor-leaguer Bobby Bradley, who continues to hit at every level of the farm system. Bradley has 17 doubles, 18 home runs, 48 runs batted in and a .282 batting average in 59 games for Cleveland's Triple-A affiliate, the Columbus Clippers.