CLEVELAND — Cleveland Indians starting pitcher Trevor Bauer enjoys the arbitration process and the intellectual chess match between a player and an organization when it comes to making their respective cases on the upcoming season's salary.
But this time around, Bauer took exception with the Labor Relations Department's decision to spend the final 10 minutes of the proceedings going through what the 2018 American League All-Star considered a "character assassination."
"I have no ill feelings towards anybody in the organization, nor the representatives that were in the room during the arbitration hearing," Bauer said Thursday after his initial comments went public.
"It was a non-emotional event for me. I thought both sides presented a really strong case. I appreciate all the time spent on my behalf by the Players' Association and my agency. I respect all the time spent by the Indians' representatives and the Labor Relations Department. I thought it was a really well-argued case."

Regardless of their arguments, the Indians lost their second consecutive case against Bauer in front of an arbitrator, and now, will pay him $13 million for the 2019 season.
Prior to the arbitration hearing, the Indians offered Bauer $11 million, and he countered with $13 million. His case was compelling enough for the arbitrator, who sided with Bauer and forced the Indians into a one-year, $13 million deal.
Bauer was offended by the Labor Relations Department's tactics because he chose to do a "69 Days of Giving" campaign throughout the spring last year and pointed out the fact that he "gave to 68 charities" and "donated more than $100,000" to various causes.
"In a completely unemotional way, I thought the decision to end the rebuttal period with the intent to demean my character and present things that I said in a way that was disingenuous. I thought that was a bad play, a bad decision," Bauer said.
Despite the double meanings with the numbers chosen to represent his charitable endeavors, Bauer believes the publicity is good for those he is trying to help.
"It continues the news cycle on that, which is good for all of the charities and all of the people that all of those charities help," Bauer said. "The whole design was a marketing scheme to get more attention to charity."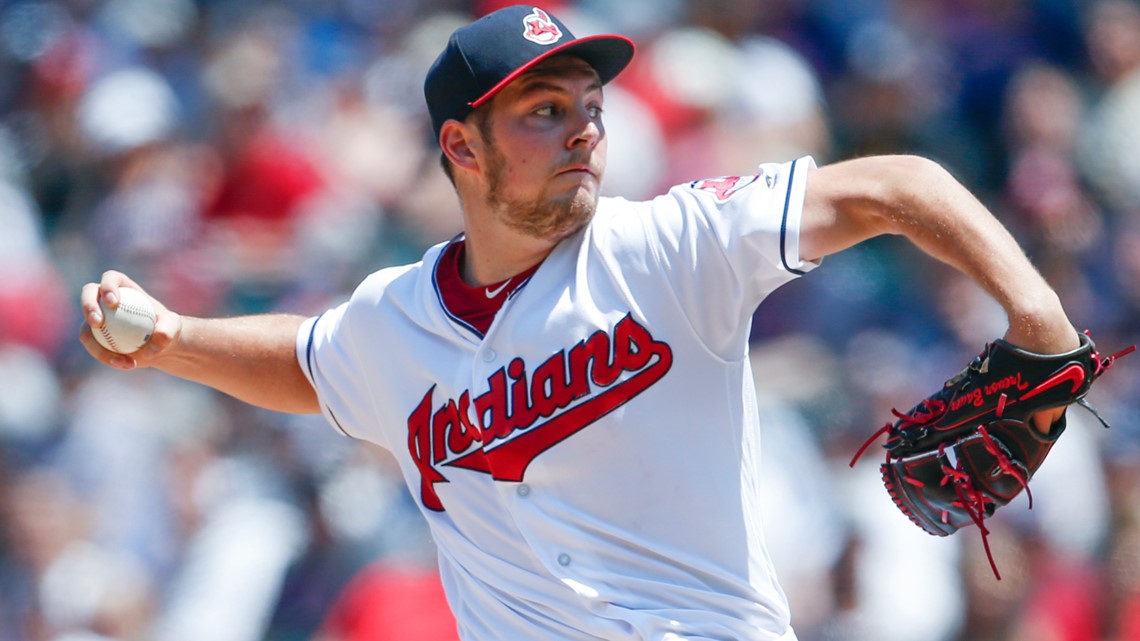 Considered by some to be a potential Cy Young Award candidate for his efforts through the first four months of the season, Bauer set new career highs in several statistical categories despite missing five weeks because of a broken bone in his right leg suffered against the Chicago White Sox on August 11.
Bauer registered 221 strikeouts against 134 hits, 43 earned runs and 57 walks allowed in 175.1 innings of work over his 28 appearances. Bauer compiled a 12-6 record and 2.21 ERA while opposing hitters batted just .208 against him in 2018.
Bauer set a single-season high for strikeouts and personal lows for ERA, hits, runs and earned runs allowed and walks in a year with at least 26 starts.
Bauer has been a double-digit winner in each of the last four seasons, totaling 52 wins since 2015. Additionally, Bauer has struck out at least 143 batters in each of the last five years, with his single-season career-best, 221, coming in 28 appearances, including 27 starts, for the Indians last season.
"Every player comes to spring training, every team comes to spring training wanting to win the World Series," Bauer said. "Every player wants to contribute to that success in some way, so when you hear your contribution was less valuable than what you think it is, that's not something that a player wants to hear."