This time a year ago -- almost to the day -- the Cleveland Indians found themselves linked to the Los Angeles Dodgers in reported trade talks centered around Corey Kluber.
And while no such deal ever came to fruition, with the Dodgers ultimately opting to hold onto outfielder Alex Verdugo, the Indians once again find themselves connected to one of Los Angeles' top prospects.
On Wednesday, Bob Nightengale of USA Today reported that Cleveland has become engaged in "serious trade talks" with the Dodgers regarding All-Star shortstop Francisco Lindor. In return, the Indians are seeking a package that includes Los Angeles' top two prospects, including the No. 2 prospect in all of baseball, Gavin Lux.
While it remains to be seen whether or not a deal will come to fruition, if ever there was a time for Indians fans to get familiar with Lux, it appears to be now. With that in mind, let's take a look at the player who might not only be getting traded for Lindor, but who also might be replacing him in Cleveland's lineup.
Midwest roots
While his current career trajectory has him headed for Southern California, Lux is no stranger to the Midwest. A native of Kenosha, Wisconsin, he spent his high school career at Indian Trail High School and Academy, where he was named the 2016 Wisconsin baseball Gatorade Player of the Year after hitting for a .560 average in his senior season.
Despite committing to Arizona State, Lux never actually became a Sun Devil. After being drafted by Dodgers in the first round (No. 20 overall) of the 2016 MLB Draft, the left-handed hitter signed with the team for a reported $2.31 million signing bonus.
Fast riser
After finishing 2016 in the Arizona Rookie League and Pioneer League, it didn't take long for Lux to rise through the Dodgers' organization.
In 2017, he appeared in 101 games for the Class-A Great Lakes Loons, hitting for a .244 average, 7 home runs, 39 RBIs and tallying 27 stolen bases. In 2018, he began the year in Class-A Advanced and was ultimately selected to the mid-season all-star game and the postseason all-star game.
In the second half of the year, he was promoted to Double-A Tulsa, as he tallied a .324/.399/.514 slash line with 15 home runs and 57 RBIs over the course of 116 combined games at both levels. For his efforts, he was named the Dodgers Minor League Player of the Year.
After beginning 2019 back in Tulsa, Lux was selected to the mid-season Texas League All-Star Game and All-Star Futures Game, which was played at Progressive Field during MLB All-Star Weekend. By late June, he had been promoted to Triple-A Oklahoma City and by the end of the year, he had posted a .347/421/.607 slash line, 99 runs, 61 walks, 8 triples, 26 home runs and 76 RBIs in 113 combined games.
For his efforts, Lux not only repeated as the Dodgers Minor League Player of the Year, but was named Baseball America's Minor League Player of the Year. He was also called up to the big leagues as a part of the September roster expansion and hit a single on his first big-league pitch before doubling later in the game.
In 23 games with the Dodgers, Lux hit for a .240 average, 3 home runs and 9 RBIs. He also made Los Angeles' postseason roster and hit a pinch-hit solo home run during his first playoff at-bat during Game 1 of the NLDS against the Washington Nationals.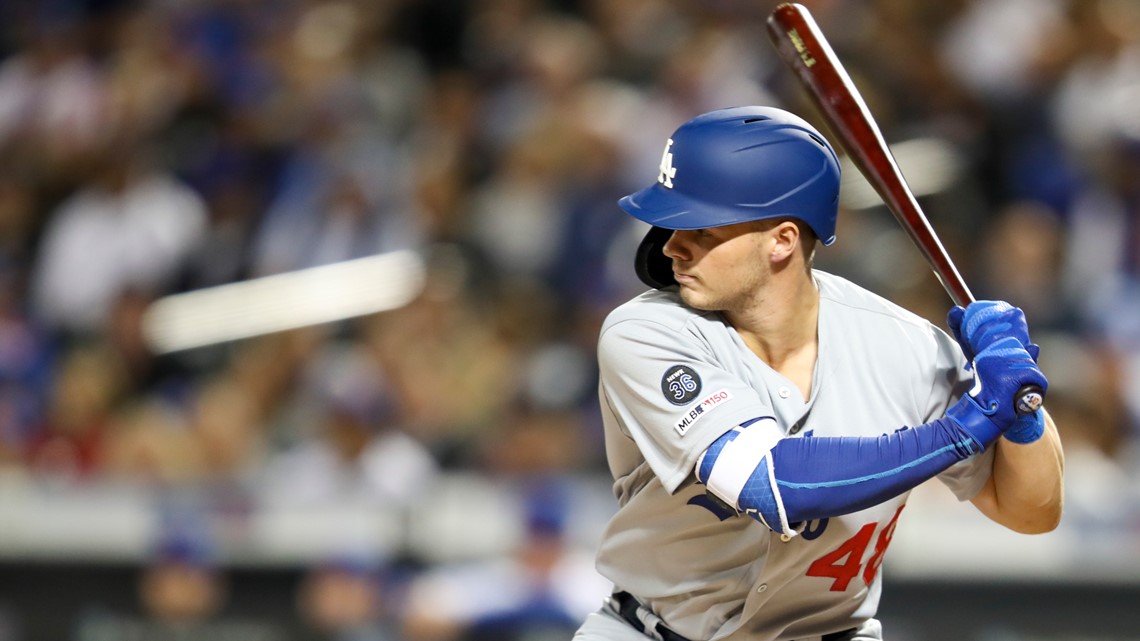 Scouting report
MLB.com's scouting report praises the 22-year-old Lux for his combination of both speed and power, noting that he has the upside of being a 25-25 (home runs and steals) player. It does, however, also note that due to his inconsistent fielding -- specifically as a thrower -- he may be best suited to play second base.
"Lux broke out offensively after getting stronger and using his legs more while adding more launch angle to his left-handed stroke. Those changes as well as his bat speed give him more power than most middle infielders. He's an advanced hitter who has controlled the strike zone well and made consistent contact throughout his pro career, even when he wasn't putting up big numbers," his scouting profile reads.
"With his plus speed and savvy, Lux can steal bases and has the upside of a 25-25 player. He has the raw tools to play shortstop, including quickness, soft hands and solid arm strength, and he has gotten smoother at the position since turning pro. But he also has had issues with throwing accuracy, leading to 61 errors in 208 games at short in his first three seasons, so many scouts think he'll wind up at second base."
Family ties
Lux's uncle is Augie Schmidt, who won the 1982 Golden Spikes Award, which is presented annually to the top amateur baseball player in the United States. After being drafted second overall by the Toronto Blue Jays in 1982, Schmidt spent five seasons playing in the minor leagues. He is currently the head coach of the Carthage College baseball team.