CLEVELAND -- The Cleveland Cavaliers struggled through plenty of issues on the offensive end of the floor in the first quarter of Sunday's 98-80 loss to the Indiana Pacers in Game 1 of the first round of the 2018 NBA Playoffs at Quicken Loans Arena, but creating open shots was not among them.
Rather, it was making open shots that plagued the fourth-seeded Cavaliers in the loss.
"The first quarter, to start the game off, I think we missed five open shots," shooting guard J.R. Smith said.
"We had some good looks that we wanted and that just didn't fall. We've got to take that, but at the same time, they can't come down and just score so easy ether. This is the playoffs. This isn't the regular season. Just because we don't score doesn't mean they have to score."
PHOTOS: Cleveland Cavaliers battle Indiana Pacers in Game 1 of 2018 NBA Playoffs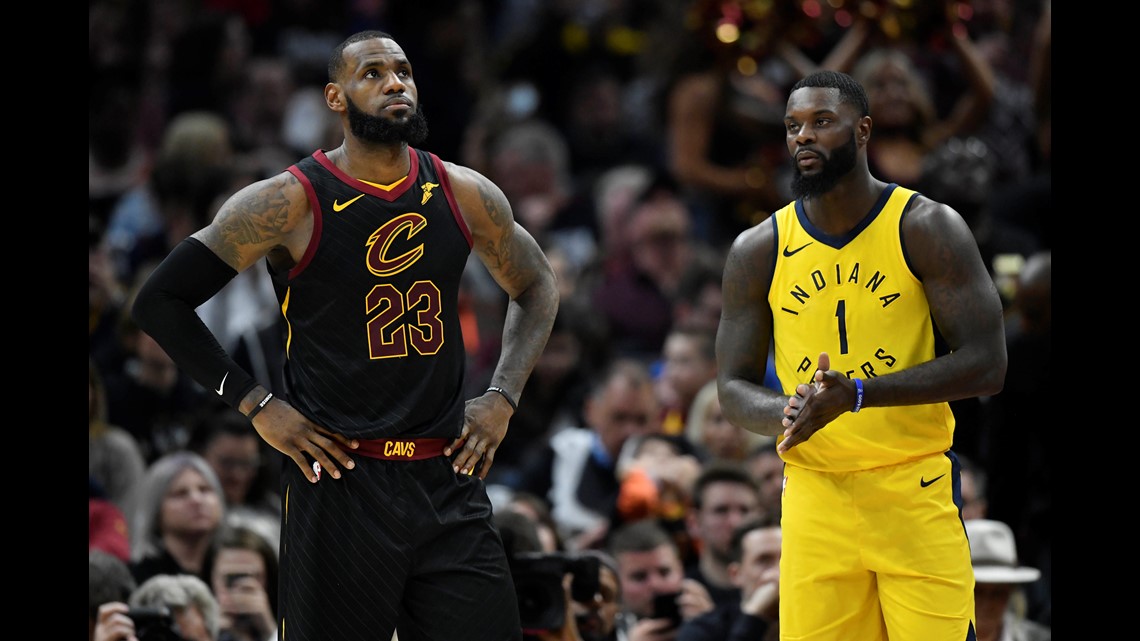 Although there was an emotional lift for the Cavaliers from George Hill's thunderous one-handed dunk on the fast break in the game's early moments, the Pacers quickly stemmed the tide and turned that negative into a positive.
Over the next five minutes, the Pacers outscored the Cavaliers, 14-2, and took an 18-6 lead after forward Bojan Bogdanovic completed back-to-back three-point plays at the 4:58 and 4:33 marks of the first quarter.
During their run, the Pacers got a three-pointer from guard Victor Oladipo, a free throw and 19-foot jumper from forward/center Myles Turner and driving layup from Darren Collison ahead of the consecutive three-point plays.
"We were pleased with all of the looks we were getting," shooting guard Rodney Hood said. "We just can't shoot tight. We've just got to shoot the ball. If we make them, we make them. If we miss, we miss, but I think we were tight with all our shots, and we've got to hit some free throws as well. I think the next game, we'll be more relaxed, and we'll come out, we'll play better."
David Richard
In the first quarter, the Cavaliers made only five of their 20 attempts from the field, and that included an 0-for-8 showing from three-point range, while the Pacers made 12 baskets, including three triples from Oladipo, on the way to a 33-14 lead after the first quarter.
Oladipo led the way for the Pacers with 11 points on three-of-six shooting, including a three-for-four mark from long distance, in the first quarter.
"Especially early on, we just had a number of them just go in and out," power forward Kevin Love said. "We looked up towards the end of the game, and our percentage was just way down. The free-throw line was the same kind of thing.
"We got the first one out the way. The first one's a feel-out game. Obviously, you expect to win every game you approach out there on the floor, especially here at home, but we'll go back to the drawing board and be ready for Game 2."