CLEVELAND – After four years, parts of five seasons, four NBA Finals, one world championship and plenty of ups and downs, J.R. Smith's time in Cleveland has officially come to an end.
On Monday, the Cleveland Cavaliers waived veteran swingman, who will be owed $4.37 million of his partially guaranteed contract. The entirety of Smith's $15.68 million salary was initially set to be due on July 1 before the team and player agreed to extend the deadline to fully guarantee his contract in hopes of finding a trade that ultimately never came to fruition.
Smith, who has not played in an NBA game since mutually parting ways with the Cavs last November, will now become a free agent as the result of his release. Cleveland, meanwhile, will save nearly $11 million in salary, which could be enough money to keep the team under the luxury tax line.
"Unfortunately, it didn't work out through the duration of the season, but it worked out the way it's supposed to," Smith said last week prior to participating in the All-Star Celebrity Softball Game at Progressive Field.
"I don't think it's a farewell, because I'll always come back to Cleveland. I'll always be welcome from the city. That's the most important thing to me, more than anything. I don't think this is a farewell, I think it's to be continued."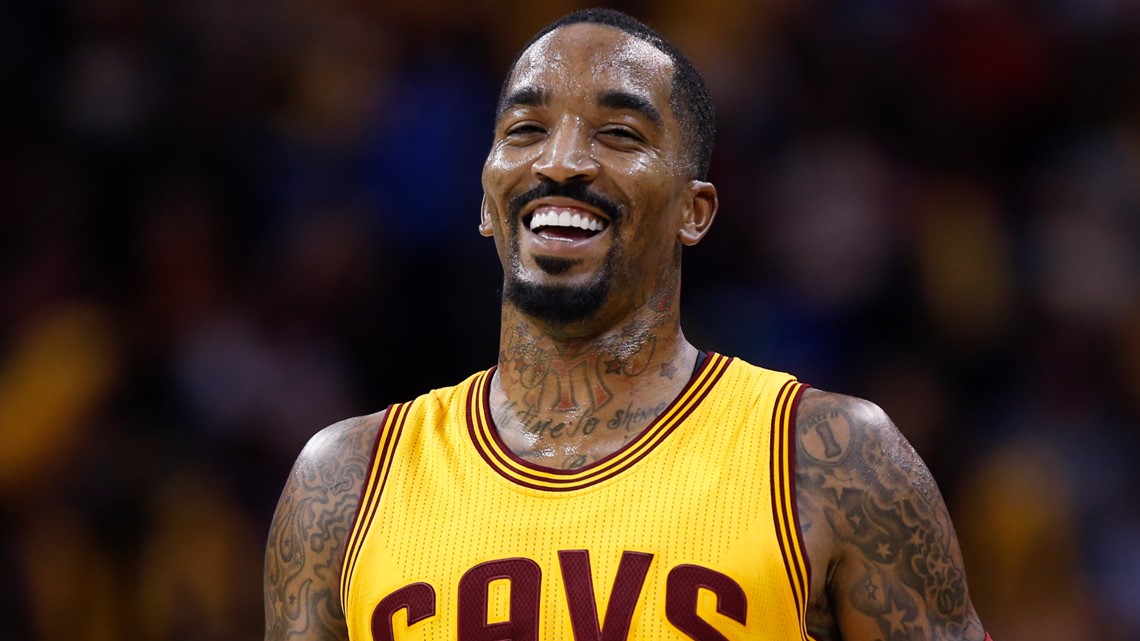 Despite the unceremonious end to his Cavs career, Smith will largely be remembered as a fan favorite in Cleveland, where he started on four straight NBA Finals teams. Acquired from the New York Knicks in a three-way trade just months into the 2014-15 season, Smith arrived in Cleveland with a reputation for being a gunner with an attitude that often resulted in league fines and suspensions.
And while Smith would continue that trend at times with the Cavs – most notably serving a one-game suspension for throwing a bowl of soup at assistant coach Damon Jones in 2018 – some of the most productive seasons of his 15-year career came in Cleveland, where his 3-point shooting helped space the floor for LeBron James, Kyrie Irving and Kevin Love.
In 2015, the former Sixth Man of the Year averaged 12.8 points and 4.7 rebounds in 18 postseason games, a run that resulted in the Cavs losing to the Golden State Warriors in six games in the NBA Finals. A year later, Cleveland would exact its revenge over the Warriors, becoming the first team to overcome a 3-1 series deficit in the Finals en route to winning the city's first major sports professional championship in 52 years.
Smith played no small part in the Cavs' championship-clinching Game 7 victory, scoring 12 points and recording 4 rebounds. With Cleveland trailing Golden State 47-42 at halftime, Smith proceeded to score eight of the Cavs' first 10 second-half points, including a pair of 3-pointers that trimmed Golden State's lead to 2 points.
Following Cleveland's championship victory, Smith notoriously spent the celebratory parade – and much of the season – shirtless. That offseason, he signed a 4-year, $57 million contract with the Cavs, although the final year of the deal was only partially guaranteed.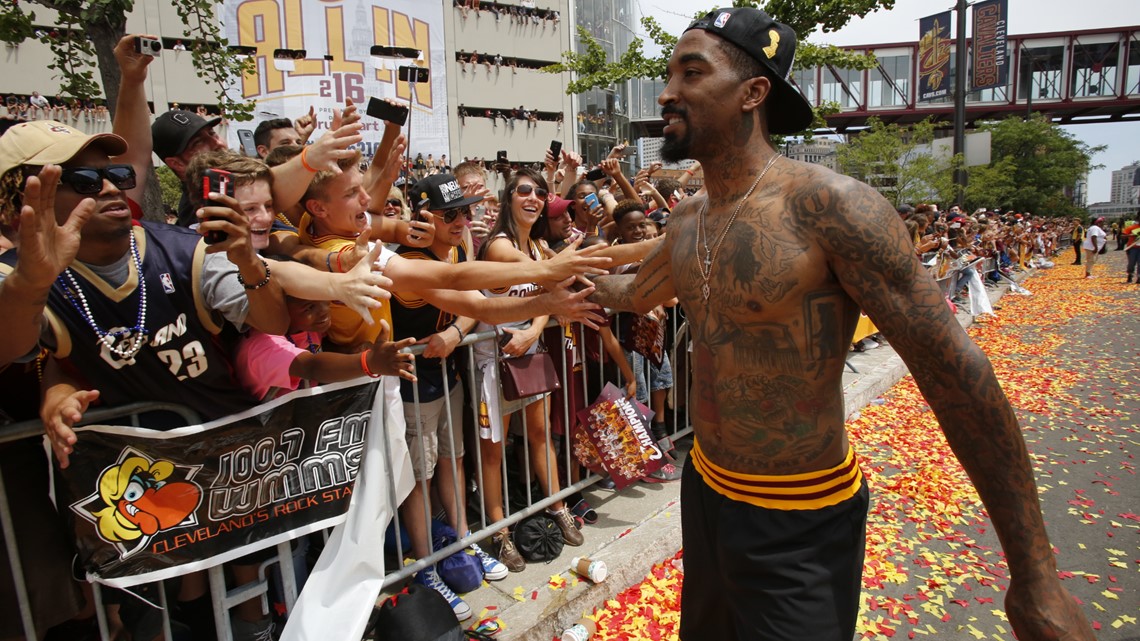 Smith – who grew close with James during their time together in Cleveland – would fail to live up to his lofty deal, as his 8.6 and 8.3 scoring averages in 2017 and 2018 were good for the second and third lowest of his career. His 3-point shooting also fell from .400 percent in 2015-16 to .351 in 2017 and .375 in 2018.
The lowest moment of Smith's on-court career would also occur in 2018 and occurred on basketball's biggest stage. With 4.7 seconds remaining in Game 1 of the NBA Finals, Smith grabbed an offensive rebound off a missed George Hill free throw and proceeded to dribble the ball back toward center court. The only problem was the score was still tied, with the Cavs failing to get off a quality shot before advancing to overtime, where they would ultimately lose the Warriors in what was the first defeat in a four-game sweep.
After initially denying so, Smith later admitted he had simply forgotten the score.
"The Cleveland Cavaliers announced today that JR Smith will no longer be with team as the organization works with JR and his representation regarding his future," the team said in a statement. "The organization wishes JR and his family well and appreciates and thanks him for his contributions in the community, to the team and his role in the 2016 NBA Championship."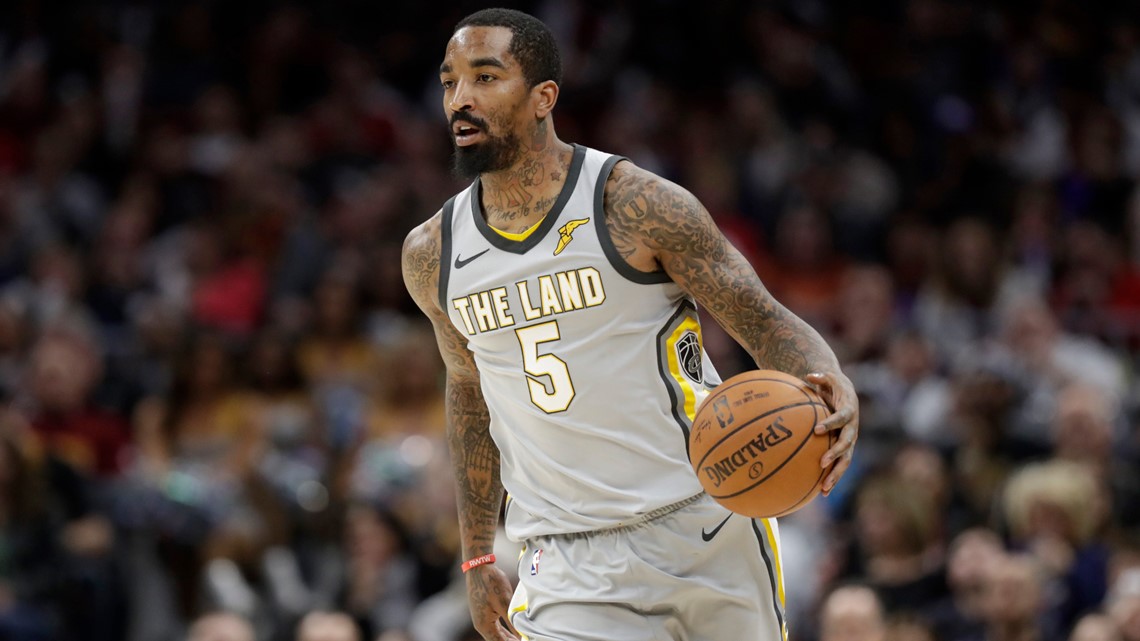 While the non-guaranteed nature of the final year of Smith's contract presented a potential trade opportunity for a team attempting to save money, no such deal came to fruition. Under their new agreement, the Cavs had until Aug. 1 to deal Smith before his contract was fully guaranteed, although they would have owed him an additional bonus had they kept him on their roster past Monday.
"There's an opportunity to [trade Smith]. It's just how deep do we want to go into the [luxury] tax to bring back an asset?" Cavs general manager Koby Altman said on the night of the NBA Draft. "And also, what does it take us out of going into the year? We're still definitely looking to add assets throughout the year. Using J.R. now might take us out of that."
Over the course of five seasons with the Cavs, Smith averaged 10.3 points and 2.9 rebounds on .381 percent shooting from 3-point range. He leaves Cleveland rankings fifth in 3-point makes (585), 3-point attempts (1,537) and eighth in effective field goal percentage (.524).