CLEVELAND — How many times have you watched the Cleveland Cavaliers play this season and said to yourself, "I did not see this coming!"?
I certainly did not see the Cavaliers winning their 30th game of the season by January 26. Heck, I didn't see this team winning 30 games at all this year.
I did not see Darius Garland elevating himself into one of the top point guards in the NBA by this stage of the season. Nor did I see Evan Mobley being as impactful as he's been as a rookie.
But maybe my happiest surprise watching the Cleveland Cavaliers so far is seeing the rebirth of Kevin Love as a productive player on the court as well as a happy teammate off of it.
First things first...
At almost exactly the same time, I was preparing to talk about my mental health struggles for the first time on this platform as well as with Russ Mitchell on 3News. There was concern about what the reaction would be to my story and how well I would be able to cope as a result. Remember, this was a time when there was a stigma to talking about depression and anxiety.
Because of Love's courage, I felt confident that I was ready to share what I had gone through and we put out the story I wrote shortly thereafter.
I'll always be grateful for Love for blazing a trail for myself and many others to come forward about our mental health challenges. He has become one of the leading advocates in the nation on mental health, creating The Kevin Love Fund, which aims to promote emotional and physical well-being, particularly as it relates to mental health. His work has been recognized with many honors, including the Arthur Ashe Courage Award at the 2020 ESPY Awards.
So it's difficult for me to ever criticize Kevin Love-the person. His play on the court is a different story.
'Grandpa K-Love'
Kevin Love is 33 years old. Coming into this season, there were minimal expectations about how well he would be able to perform for the Cavs. Over the summer, he withdrew from the U.S. Olympic basketball team because of a lingering calf injury. "You need to be at absolute peak performance to compete at the Olympic level and I am just not there yet," he said at the time.
In the three seasons since LeBron James departed for Los Angeles, Love appeared to be a shell of his former All-Star self. He was often injured and visibly unhappy at times. Most notably during a low point in Toronto last season, Love slapped a ball while inbounding, putting it into play. The Raptors quickly took possession and nailed an easy three-pointer. It seemed like it might be time for a parting of the ways at the end of last season.
But there would be no divorce between the Cavs and Love. He made it clear that he did not want to be bought out of his $30 million-per-year contract and the team could find no takers in a trade.
As this season began and the Cavs looked to feature a starting lineup with 7-footers Mobley, Jarrett Allen, and Lauri Markkanen, Love was moved to the Cavs bench to be part of a second unit with fellow veterans Ricky Rubio and Cedi Osman. But instead of pouting, Love has been superb both in performance and leadership.
With the Cavaliers managing his load to keep him healthy, Love is efficiently averaging 13.9 points and 7.2 rebounds per game, logging 21.4 minutes per contest. On several occasions, Love has still flashed the ability to hit big baskets in key moments. He led the Cavs with 25 points during their 115-99 victory over the defending NBA Champion Bucks on Wednesday, in what might have been the biggest win for the franchise since James' departure.
Love's connection with his young teammates has been even more impressive. He has become a mentor, while meshing superbly with Garland, Mobley, Allen, and the rest of the surprising Cavaliers.
"K-Love is definitely a big brother to me. He's been here since I got drafted here. He's one of the first [people] I talked to when I got drafted. So the relationship always been there and it's definitely growing every day. It's always growing since then. It's cool to have a Hall of Famer around the gym. It's cool just to get his input about the basketball game or anything in life, really," says Garland.
Garland has taken to calling his 33-year-old teammate "Grandpa K-Love" or just "Grandpa Love." Other Cavs are calling him "Old Man" or "Uncle Kevin."
"For him to be back and feel like he's a part of something greater than himself, that's why we do what we do," adds his coach J.B. Bickerstaff.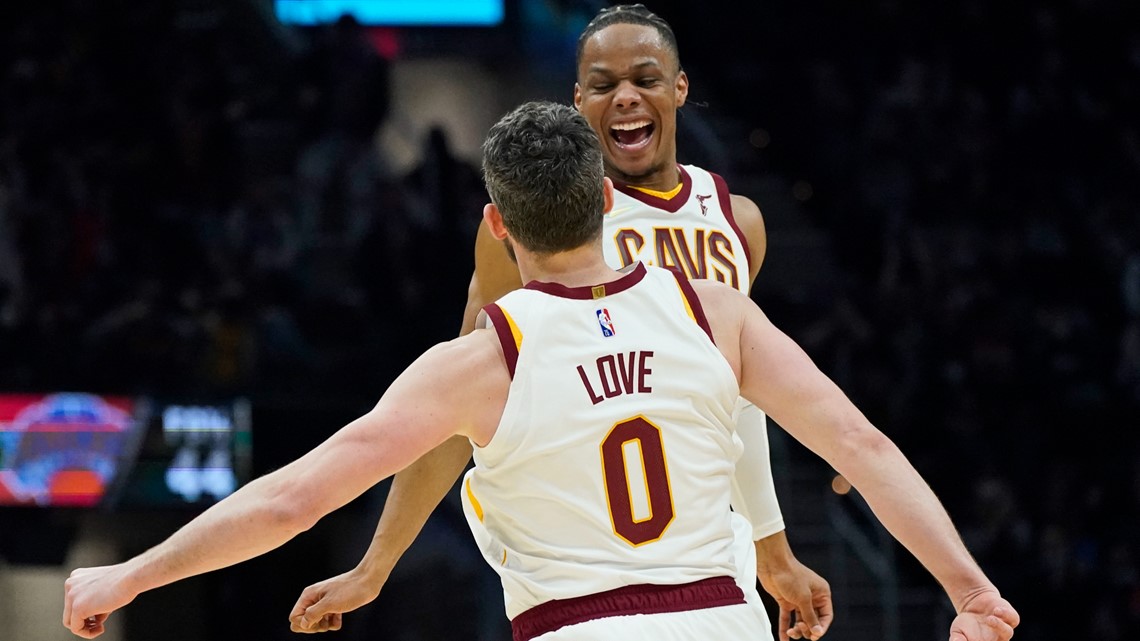 Love is giving teammates flying chest bumps. He's embracing Garland and the other youngsters when they come off of the floor. He's having fun. In fact, Love told JJ Redick and Tommy Alter that "outside of '15-'16 ... I don't know that I've had more fun in the NBA," on a recent edition of the "Old Man and the Three" podcast.
Guess what? We're all having fun watching you have fun, Kevin.