CLEVELAND -- From starter and key contributor off the bench to primary scorer and facilitator, point guard Jordan Clarkson has played many different roles during his four-year NBA career in order to best serve the needs of his team.
And that team-first mindset has served him well since being traded from the Los Angeles Lakers to the Cleveland Cavaliers on February 8, as he has settled into a reserve role and one of the primary scorers in the second lineup for a team fighting to hold onto the No. 3 seed in the Eastern Conference over the final 10 days of the regular season.
"I'm real comfortable," Clarkson said of his role. "I just come in there, play free and try to change the game with energy, playmaking and scoring. That's the way I try to impact the game. I'm comfortable doing it with the second unit, so it's just been a good thing for me."
PHOTOS: Jordan Clarkson embraces 'super sub' role with Cleveland Cavaliers
In 23 games with the Cavaliers, Clarkson has averaged 13.6 points, converted 47.3 percent of his field goal attempts and 40.8 percent of his three-point tries. A 79.6 percent shooter from the free-throw line, Clarkson has averaged 2.3 rebounds, 1.8 assists and 0.7 steals per game since coming to Cleveland.
"I love his game," power forward Kevin Love said. "Jordan, he doesn't care if he starts, if he plays 45 minutes.
"He just goes out there and plays, so in a lot of cases, it feels like he rolls the ball out and he's a professional scorer. He was great for us (Friday). He's been great at scoring in bunches for us and he just gives us a whole other dynamic, another threat out there."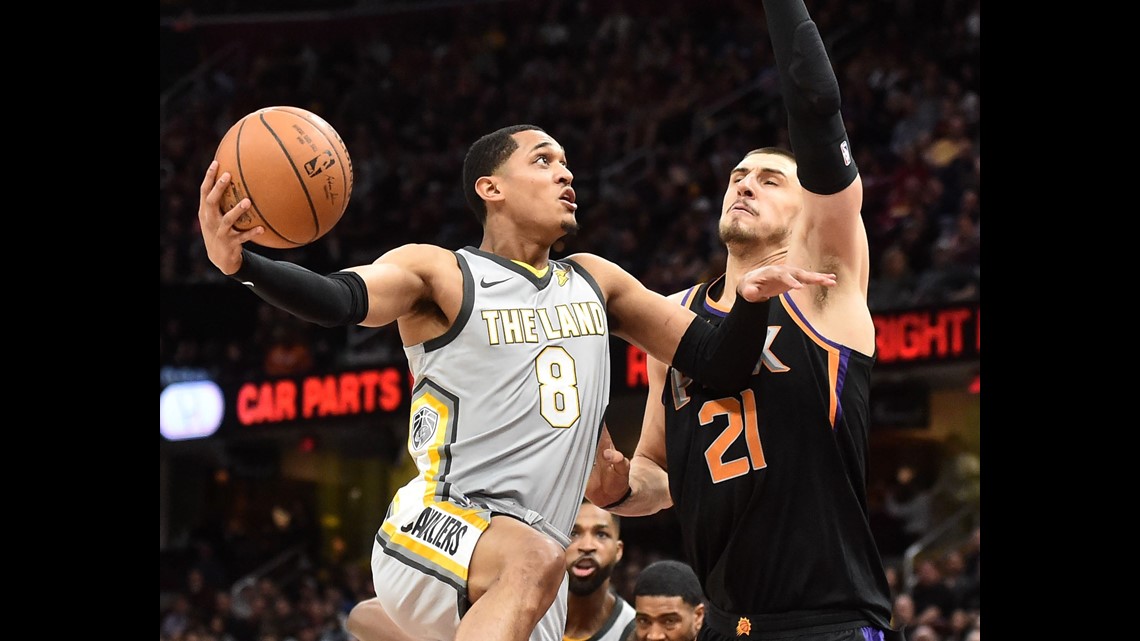 Clarkson enters tonight's game against the Toronto Raptors having scored in double digits in four of the last five games.
That includes matching a season-best with 23 points on 9-of-13 shooting, including a four-for-four mark from three-point range, in a 107-102 victory over the New Orleans Pelicans at Quicken Loans Arena last Friday night.
"It's always kind of been my thing," Clarkson said of scoring in bunches. "That's why I continue to shoot the shots, have confidence because I know once I see one go in, I got a good feeling the next one's going in, the next one after that."
Cavaliers coach Larry Drew added, "You can't expect to play well or get off to great starts every night, but you do have somebody on that bench that when things get a little shaky for you, you can throw them in there and you know that they have that ability. Whether they're able to get it done, that's another thing, but it's nice to have a guy like that. When other guys are struggling, you can throw a guy in a game like that, and that's who Jordan is. He was really good for us."
Although there are just five games remaining in the regular season, Clarkson is not looking ahead to his first-ever trip to the playoffs, not when there is still work to be done for the Cavaliers, who are only a half-game in front of the Philadelphia 76ers for the No. 3 seed in the Eastern Conference and a game ahead of the Indiana Pacers in the Central Division.
"Right now, I'm just taking it a day at a time, just trying to continue growing with the team," Clarkson said. "We're getting everybody back healthy. I'm just trying to get the chemistry with the bench guys that got moved down, Swish (J.R. Smith), T.T. (Tristan Thompson) and everybody, so that's it."