CLEVELAND -- Throughout the regular season, Cleveland Cavaliers point guard Jose Calderon has been in and out of the lineup, playing 27 minutes one night and only a few more the next time out.
But by doing whatever is necessary to help benefit the team, Calderon, a 36-year old with 12 years of NBA experience, has played an integral role for the Cavaliers (42-29), especially as of late as the injury bug has shortened up the rotation by four players.
"Just a true professional at the end of the day," small forward LeBron James said. "We don't ask for him to make shots. He's just solid, just a solid point guard. He's not going to do anything that he can't do, and he's not going to make mistakes. You can always win with a guy like that."
PHOTOS: Jose Calderon, George Hill provide Cleveland Cavaliers with leadership at point guard
In Wednesday's 132-129 win over the Eastern Conference's top team, the Toronto Raptors, Calderon knocked down five of his seven looks from the field and went four for four from three-point range on the way to 14 points, to go along with one rebound and four assists over 27 minutes of play.
"It was just going into the game, doing whatever it takes to win the game, no matter if it's us scoring, Kevin scoring or anybody else," fellow point guard George Hill said. "We don't try to feed into self-stats or things like that. We just play the game the right way."
Although there has been some tentativeness to Hill's game since the early-February trade from the Sacramento Kings, he followed the advice of teammates and coaches alike, played with a more aggressive mindset and finished with 22 points in the win over the Raptors (53-19).
"George is kind of that company guy that wants to do everything the right way, and I totally get that, but it gets to a point where we need him to be aggressive," interim coach Larry Drew said. "We need him to really look to get downhill on pick and rolls.
"If he has an open shot, we need him to take it. In transition, 'Don't be passive. Attack the basket,' and I thought that he was very aggressive, and it got him going. You could kind of see he had a little more bounce in his step when he got to the rim. He dunked one, didn't hesitate to take the three-ball, and that's just how we needed him to play."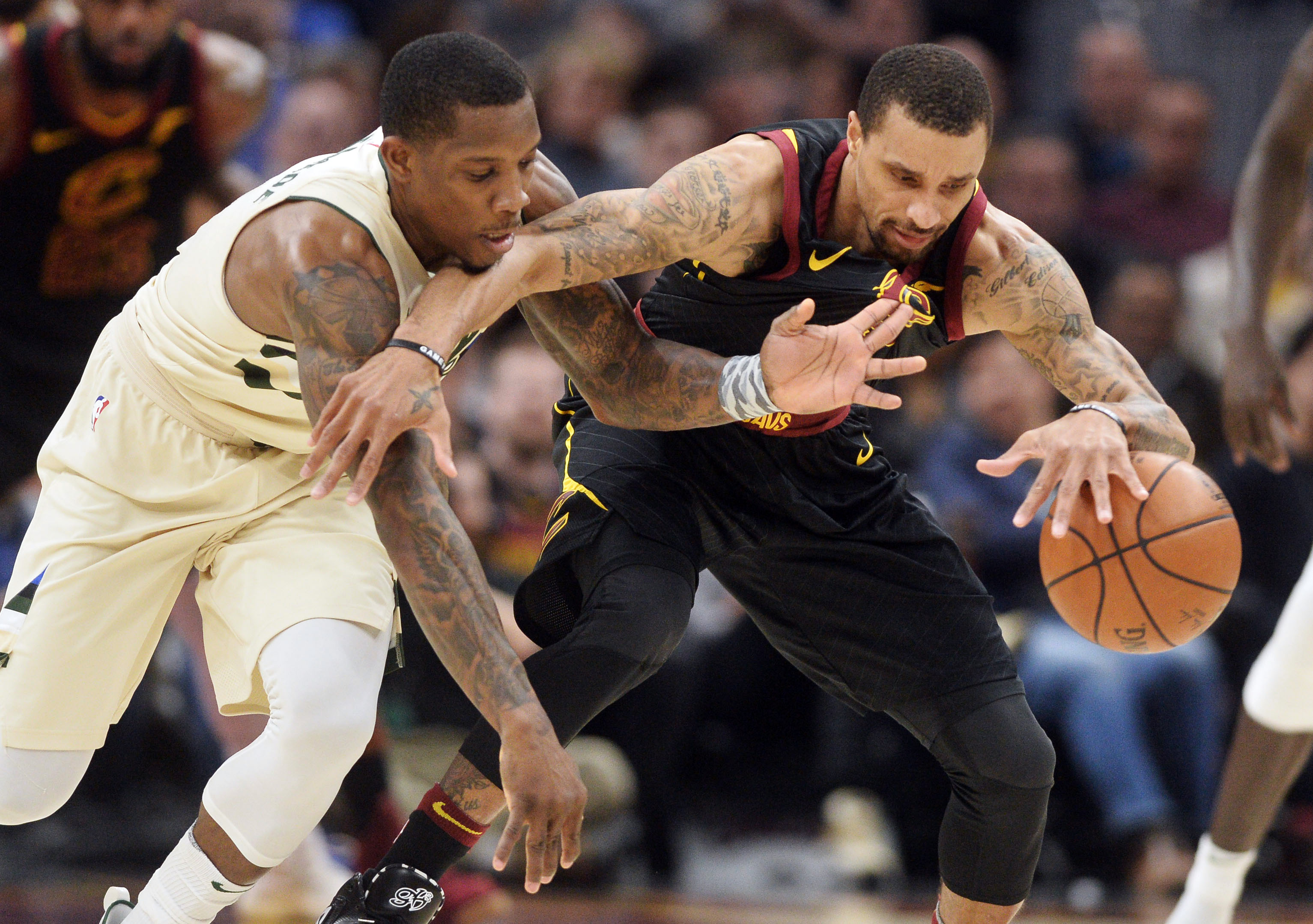 The 22 points were Hill's second-best individual game since joining the Cavaliers, and it was by far his most efficient showing in the wine and gold.
Hill converted 10 of his 11 field goal attempts, both of his three-point tries, pulled down three rebounds, stole two passes and blocked one shot over 36 minutes of play in the Cavaliers' come-from-behind victory over the Raptors.
Prior to the win over Toronto, Hill went scoreless and took only two shots in Monday's 124-117 win over the Milwaukee Bucks and had scored 10 points or less in all but one of the Cavaliers' 10 March outings. Additionally, Hill shot just 41.8 percent from the field and 34.3 percent from three-point range.
"It was just the case of trying to be aggressive," Hill said. "I've been saying it all along that I need to be more aggressive and look to play better. My teammates believed in me, and I just tried to make plays."