CLEVELAND -- Cleveland Cavaliers small forward LeBron James got a vote of confidence from an unlikely source, Boston Celtics point guard Kyrie Irving, as it relates to the race for the NBA's Most Valuable Player Award.
"MVP, it's hard to gauge nowadays because now, you have the people's MVP and you have like the NBA's MVP," Irving said in an interview with Hot 97 in New York Wednesday.
"I think the people's MVP was definitely James (Harden), but the NBA MVP is definitely LeBron."
PHOTOS: Cleveland Cavaliers continue to marvel at LeBron James' achievements

James finished second to Houston's James Harden, as the Rockets guard picked up 86 first-place votes and 15 second-place tallies on the way to 965 points. Conversely, James finished with only 15 first-place votes, worth 10 points each, to go along with 79 second-place votes and seven third-place tallies for a total of 738 points.
Before requesting a trade from the Cavaliers last summer, Irving spent three years alongside James, including a memorable run through the 2016 NBA Playoffs, all the way to the league championship, where a late three-pointer from Irving gave Cleveland its first major sports championship since 1964.
"If we're talking strictly based off stats, like he checks every mark," Irving said of James. "He's incredible. He's incredible."

Despite being 33 years old and in his 15th NBA season, James played in all 82 regular-season games for the first time in his career, averaging 27.5 points, 8.6 rebounds, 9.1 assists and 1.4 steals over 36.9 minutes per contest.
Always one to pride himself on efficiency, James shot 54.2 percent from the field and 36.7 percent from three-point range. James' shooting percentage from three-point range was the third-best single-season mark of his career.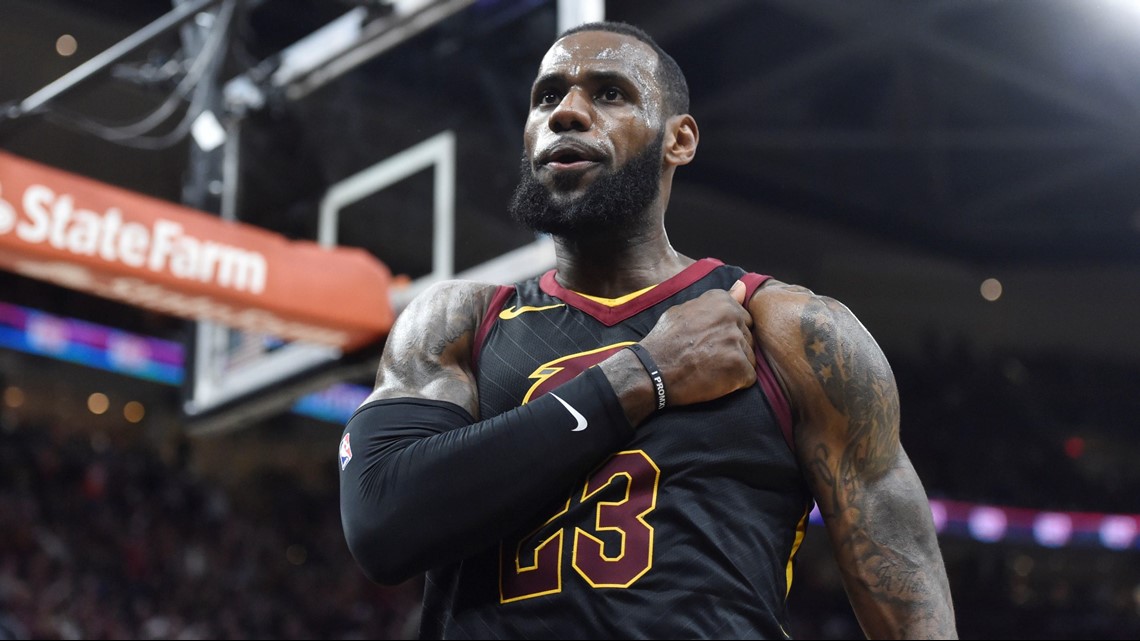 James may have the ability to take over games from a scoring standpoint, but he has proven time and time again ready and willing to involve teammates into the flow of the action, even giving them chances at hitting game-winning jumpers.
With his 31-point, 12-rebound, 11-assist showing in a 129-123 win over the Brooklyn Nets at Quicken Loans Arena in late February, James made NBA history as he became the first player ever to eclipse the 30,000-point, 8,000-rebound and 8,000-assist plateaus in his career.
Then, with a two-handed dunk midway through the first quarter against the New Orleans Pelicans at Quicken Loans Arena in late March, James surpassed the 10-point mark for the 867th consecutive game, which moved him ahead of Chicago Bulls legend Michael Jordan for the most in NBA history.
James extended that streak to 873 straight games by the end of the regular season.

James finished the regular season with 17 double-doubles of points and rebounds and 15 of points and assists, as well as 18 triple-doubles of points, rebounds and assists.
Over 22 playoff games this past spring, James registered four triple-doubles, four double-doubles of points and assists and seven double-doubles of points and rebounds.